Data Management News for the Week of September 8; Updates from Cloudera, Monte Carlo, Teradata & More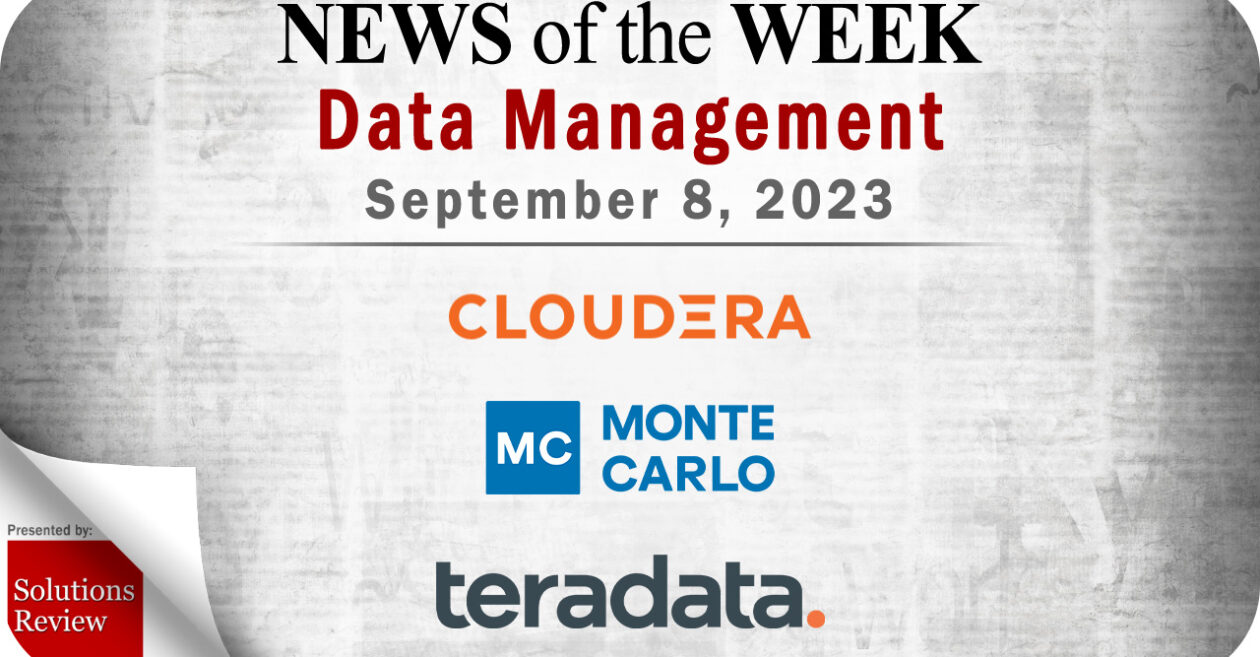 Solutions Review editors curated this list of the most noteworthy data management news items for the week of September 8, 2023.
Keeping tabs on all the most relevant big data and data management news can be a time-consuming task. As a result, our editorial team aims to provide a summary of the top headlines from the last week, in this space. Solutions Review editors will curate vendor product news, mergers and acquisitions, venture capital funding, talent acquisition, and other noteworthy big data and data management news items.
Top Data Management News for the Week Ending September 8, 2023
Airbyte Partners with Datadog on Data Pipeline Reliability
The integration is available immediately. To begin using it, existing Datadog customers can configure their Airbyte deployments to send metrics to Datadog. Users not already on Datadog can sign up and get started with a free trial. Users not already on Airbyte can sign up for free.
Cloudera Signs Strategic Collaboration with AWS
As an AWS Independent Software Vendor (ISV) Workload Migration Program (WMP) Partner who also has a Cloudera Data Platform (CDP) Public Cloud listing available in AWS Marketplace, Cloudera makes it easy for customers to utilize credits to accelerate migrating workloads to the cloud and purchasing CDP on AWS.
Collibra Acquires Husprey Data Notebook Platform
The collaborative data workspace features intelligent automation through AI to simplify workflows, a streamlined fluid text editor, data explorer tool and documentation, browsable query history, and a modern user experience.
DataForge Unveils Data Lakehouse Architecture & Automation Tool
Tailor-made for companies building new data lakehouses on the Databricks platform, DataForge streamlines the largest bottleneck to digital enablement and gives enterprises the flexibility they need to mature their data capabilities effectively and efficiently.
EDB Makes Trusted Postgres Architect Available as Open-Source
This deployment automation and configuration management tool streamlines the setup of High Availability (HA) Postgres clusters, helping organizations effortlessly deploy robust, production-ready clusters while saving time and reducing the chance of errors.
InfluxData Announces Self-Managed Time-Series Database
Now with the release of InfluxDB Clustered, those same customers gain all the capabilities of the reimagined InfluxDB 3.0, but now specifically packaged and configured for their own unique hosting environments and data storage requirements.
Molecule Releases Data Lake Platform for Commodity Traders
As a value-add to Molecule, the Bigbang data lake platform empowers risk managers, quantitative analysts, and anyone who needs direct access to data in Molecule to perform complex queries on time-series data.
Opendatasoft Launches New Collaborative Form Feature
This enables faster, easier real-time data collection with users able to quickly create, edit, customize, and share forms through the Opendatasoft platform, without requiring technical skills or solutions. Once forms have been published, any collected data automatically enriches existing datasets on the organization's data portal, and/or creates new datasets.
Safe Software Releases FME 2023.1 at Annual User Conference
FME helps you simplify and streamline complex tasks so your organization can deliver work faster and achieve cross-departmental success. Discover new and enhanced ways to accelerate the authoring experience and boost collaboration to achieve ultimate productivity.
Salesforce & Snowflake Launch Bring Your Own Lake Data Sharing
In the coming months, Salesforce and Snowflake plan to launch BYOL Data Federation so Snowflake data can be accessed within Salesforce Data Cloud, completing the bidirectional data sharing capability.  Once unified, data accessed in Salesforce Data Cloud becomes natively available throughout existing applications and processes within the Customer 360.
TDWI Drops New Report on Achieving Success with Data Management
Written by TDWI's senior research director for business intelligence, David Stodder, the report explains that data-driven business initiatives depend on scalable, agile, and comprehensive data management and data governance. However, legacy technologies and practices often force data scientists and business users to spend too much of their time acquiring and preparing data.
Validity Unveils New Salesforce Data Quality Features
DemandTools offers four editions: Free, Elements, V Release, and one non-CRM specific edition for merging duplicates in spreadsheets, DemandTools File edition. DemandTools Free edition now has email address verification for Contact and Lead records on a pay-as-you-go basis.
Expert Insights Section
Watch this space each week as Solutions Review editors will use it to share new Expert Insights Series articles, Contributed Shorts videos, Expert Roundtable and event replays, and other curated content to help you gain a forward-thinking analysis and remain on-trend. All to meet the demand for what its editors do best: bring industry experts together to publish the web's leading insights for enterprise technology practitioners.
Solutions Review Covers Safe Software's The Peak of Data Integration 2023
Join Safe Software (and Solutions Review!) at the Peak of Data Integration 2023, the largest gathering of FME users on earth. The event, which took place from September 5-7 in Bonn, Germany, offered attendeed learning and networking opportunities, as well as hands-on training with FME.
What to Expect at Denodo DataFest 2023 on September 12-14
This event offers opportunities to learn about best practices and tips for leveraging the Denodo Platform's logical approach for cloud modernization, self-service analytics, data science and machine learning (ML), data fabric, data mesh, and more.
Solutions Review Set to Host BARC, Sigma Computing, Monte Carlo & Databricks for AI Expert Roundtable on September 14
With the next Expert Roundtable event, the team at Solutions Review has partnered with BARC Research, Sigma Computing, Monte Carlo, and Databricks to showcase real-world examples of success and help you understand new strategies for augmenting your existing data and analytic investments to innovate, better leverage AI and realize greater ROI.
Teradata Engineering Fellow Offers Commentary on Conversational AI and the Issue of Trust
When ChatGPT burst into the vernacular late last year, discussions around Large Language Models (LLM) and Artificial Intelligence (AI) were elevated from IT backroom meetings to dinner party conversations overnight. And just as quickly, finding ways of capitalizing on this new "conversational interface" wave of AI – which now includes solutions like Google Bard and Claude.ai — became an imperative for nearly every enterprise.
For consideration in future data management news roundups, send your announcements to the editor: tking@solutionsreview.com.