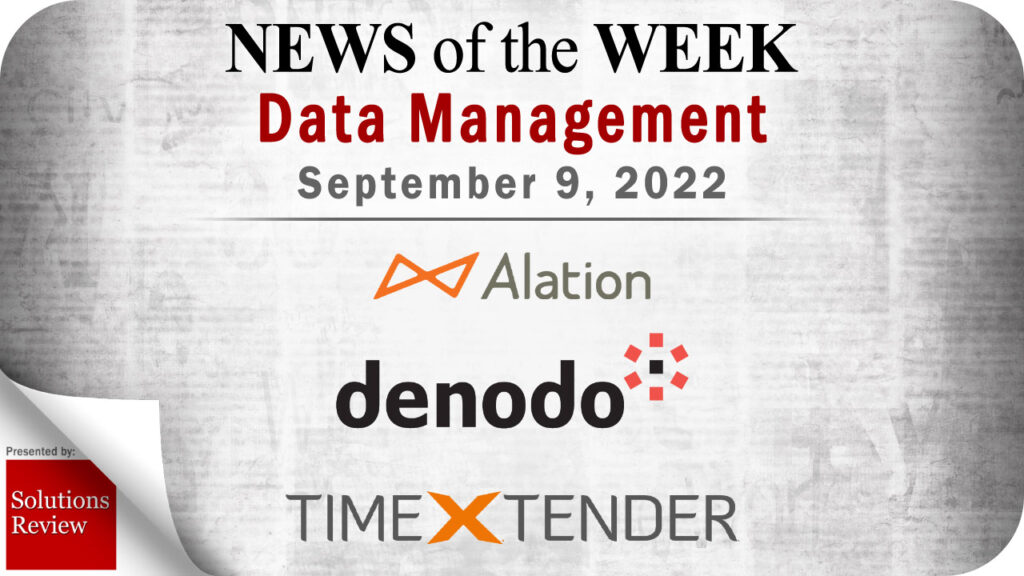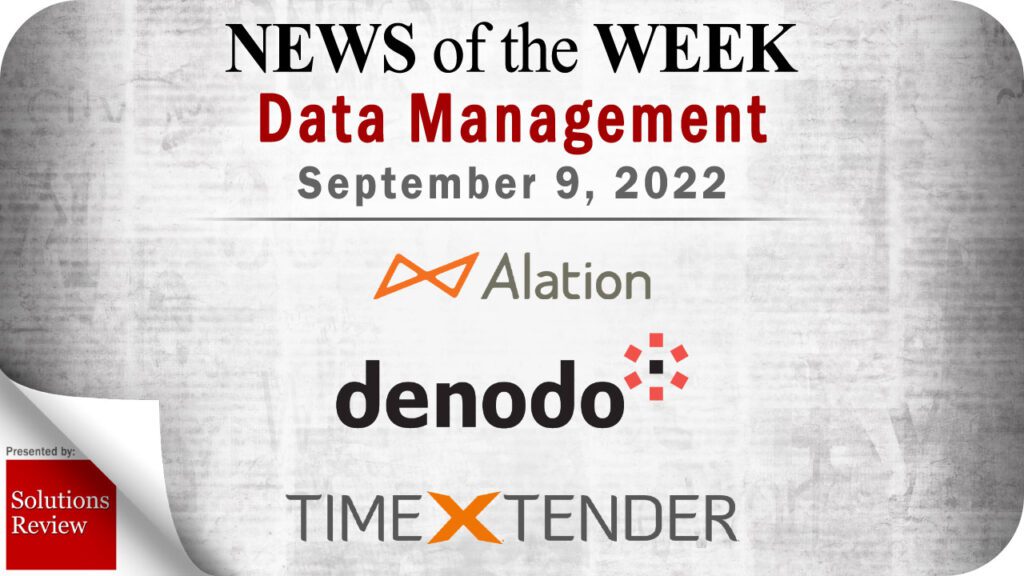 The editors at Solutions Review have curated this list of the most noteworthy data management news items for the week of September 9, 2022.
Keeping tabs on all the most relevant big data and data management news can be a time-consuming task. As a result, our editorial team aims to provide a summary of the top headlines from the last week, in this space. Solutions Review editors will curate vendor product news, mergers and acquisitions, venture capital funding, talent acquisition, and other noteworthy big data and data management news items.
Top Data Management News for the Week Ending September 9, 2022
Alation Achieves AWS Data and Analytics Competency
Alation achieved Amazon Web Services (AWS) Data and Analytics Competency in the data governance and security category. This competency recognizes that Alation has demonstrated success in helping customers evaluate and use the tools and best practices for collecting, storing, governing, and analyzing data at any scale. In addition to achieving AWS Data and Analytics Competency status, Alation is an AWS ISV Accelerate Partner Program participant and its services are available in AWS Marketplace.
Denodo Unveils New Subscription Services for Mid-Market Organizations
Available on leading cloud marketplaces, the new subscriptions align with Denodo customers' cloud migration and adoption initiatives by allowing organizations to purchase them directly from their cloud marketplace of choice (AWS, Microsoft Azure, and Google Cloud Platform) and are available with hourly, monthly, or annual pricing.
Immuta Finds More than 60 Percent of European Organizations Have Data Access Trouble
The lack of a modern, continuously governed and well-audited data access strategy across the business is an issue for 61 percent of organizations, with 14 percent citing it as a "critical challenge." In some instances, as much as 60 percent of a data life cycle is spent waiting for data access. In addition to compliance issues, the report highlighted several key reasons why business outcomes are not being met and why challenges are increasing with the paradigm shift in data creation, use, and regulations.
Privacera Releases New Data Governance Features for Cloud Data Lakes
Privacera is expanding its support and native integration for diverse AWS environments with the new AWS Lake Formation integration. Simplify data access governance for complex and heterogeneous data lake and data mesh environments by extending Lake Formation enforcement to third-party services like Databricks, enabling additional governance use-cases.
Redgate Software Reveals the Top 100 Database Community Influencers
The Redgate 100 is a list of this year's top 100 online influencers, recognized for their impact in the database community across nine categories. They've identified The Redgate 100 by leveraging an established algorithm to assess resonance, relevance, and reach across social media and online publications.
Tamr Partners with Dun & Bradstreet to Provide "Master Data as a Service"
To help companies accelerate their master data journey, Tamr and Dun & Bradstreet are launching a Master Data as a Service solution. Leveraging patented machine learning technology and unparalleled breadth and depth of data, the solution can provide more efficient workflows and consistent interactions. It improves decision-making with enriched and standardized data leveraging the Dun & Bradstreet D-U-N-S Number, while tracking changes globally to ensure the data remains up-to-date.
ThinkData Works Now Available on Google Cloud Marketplace
The ThinkData Works catalog platform allows customers to make better business decisions by connecting to both internal and external data sources and providing metadata, governance, and discoverability features. Unlike alternative solutions, it offers unique enriched data feeds on global trade, demographics, business attributes, and more to fuel insights when combined with existing internal data assets.
TimeXtender Announces the Release of its Next-Gen "Data Estate Builder"
TimeXtender's data estate builder allows organizations to quickly integrate their siloed data into a data lake, model their data warehouse, and define data marts for multiple BI tools and endpoints – all within a drag-and-drop user interface. With the release of the next generation of its data estate builder, TimeXtender makes it easier than ever for everyone, regardless of skill level, to get access to reliable data, without writing a single line of code.
UiPath Partners with Snowflake on Cloud Data Integration Project
The two vendors are launching a new bi-directional integration that will extend the value of automation across the enterprise. UiPath and Snowflake are enabling joint customers to design and build workflows based on 360-degree views of trusted and accessible data on Snowflake's platform. By leveraging the Snowflake Data Cloud, UiPath robots can quickly connect data directly to business processes in the Data Cloud without using complex code.
For consideration in future data management news roundups, send your announcements to the editor: tking@solutionsreview.com.