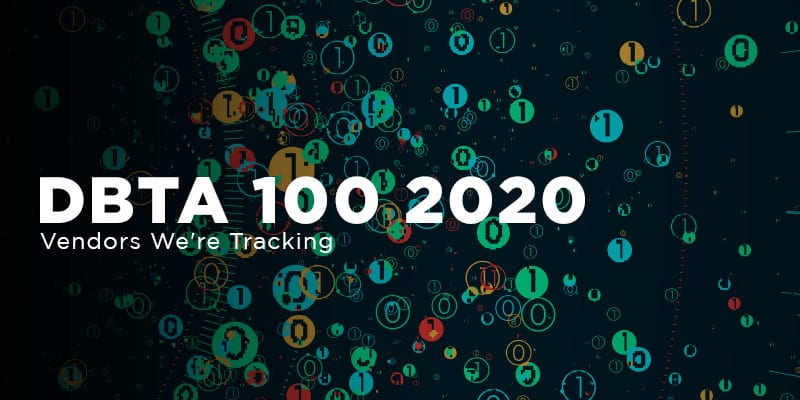 Our coverage of the DBTA 100 2020 features 15 data management vendors our editors are tracking. For a larger list, see our Data Management Solutions Directory.
Database Trends and Applications recently released its DBTA 100 2020, an annual listing of data, information management, big data, and data science companies that are preparing for the future. The list spans the spectrum of both "well-established and cutting edge" solution providers offering data platforms, tools and technologies to organizations around the globe. Some of the vendor entries are published alongside View From the Top articles which are penned by executives from the companies themselves.
The editors at Solutions Review have reviewed the DBTA 100 2020 with a fine-tooth comb to identify the data management vendors that matter most. Look at it as a sneak peak into which solution providers we track against in our daily coverage of the marketplace. You'll even find some of these company names below in our freshly pressed Buyer's Guide for Data Management Platforms.
Actian
Actian Avalanche Real-Time Connected Data Warehouse incorporates Actian DataConnect, the company's data integration offering. The addition of this functionality will limit the complexities of having to manage a standalone data integration product in conjunction with an enterprise data warehouse. The integration control pane is featured in a single user interface that operates and is managed in the cloud.
ASG Technologies
ASG Technologies offers a data intelligence platform that can discover data from more than 220 traditional and big data sources. The tool features automated data tagging by pattern matching, integration of reference data, and enriched metrics. Automated business linage allows users to better understand their data, and governance capabilities include those for tracing data in the data lake and traditional sources. ASG's EDI product offers an impressive capabilities portfolio, with reference customers touting the vendor's support for a variety of business use cases.
Cambridge Semantics
Trademarked 'The Smart Data Company', Cambridge Semantics is a data management and analytics provider that offers a semantic layer to connect enterprise data. The company's flagship product, the Anzo Smart Data Lake, allows users to link, analyze, and manage enterprise data in a variety of formats including structured, unstructured, internal, and external. The vendor also develops a massively parallel processing graph database called AnzoGraphDB.
Cloudera
The Cloudera Data Platform Private Cloud is built on Red Hat OpenShift and powered by Kubernetes, which means that customers can now collect, enrich, report, serve and model enterprise data for any use case in any cloud. Cloudera claims that CDP Private Cloud can deliver data analytics and machine learning services "up to 10x faster than traditional data management solutions and cloud services." Companies can also optimize and share compute infrastructure across different data processes which may eliminate the need for data replication.
Collibra
The Collibra Platform is made up of five distinct solutions. Headlined by an enterprise data catalog called Collibra Catalog, the platform also includes Collibra Governance, Collibra Privacy & Risk, Collibra Lineage, and now Collibra Data Intelligence Cloud. Collibra documents an organization's technical metadata and how it is used. It describes the structure of a piece of data, its relationship to other data, and its origin, format, and use. The solution serves as a searchable repository for users who need to understand how and where data is stored and how it can be used.
erwin
erwin offers a unified software platform for combining data governance, enterprise architecture, business process, and data modeling. The product is delivered as a managed service that allows users to discover and harvest data, as well as structure and deploy data sources by connecting physical metadata to specific business terms and definitions. erwin imports metadata from data integration tools, as well as cloud-based platforms, and can evaluate complex lineages across systems and use cases.
Informatica
Informatica is recognized as a prominent vendor in the data management software market. The Redwood City-based solution provider's big data management platform allows organizations to access, integrate, clean, master, govern, and secure big data. The tool features purpose-built connectors to hundreds of data sources, real-time streaming, and mass ingestion. Informatica's visual developer interface also ensures that the best open-source platforms can be adopted without sacrificing usability. Public cloud support for Big Data Management is available on AWS and Microsoft Azure.
Precisely
Precisely's solution portfolio is broken into five distinct categories based on the use case. Integrate is its data integration line that features Precisely Connect, Ironstream, Assure, and Syncsort. The Verify unit of data quality tools includes Precisely Spectrum Quality, Spectrum Context, and Trillium. The location intelligence line (Locate) touts Precisely Spectrum Spatial, Spectrum Geocoding, MapInfo, and Confirm, while Enrich features Precisely Streets, Boundaries, Points Of Interest, Addresses, and Demographics. There's also Precisely Engage on the company's Engage unit.
Qubole
Qubole's flagship data management product is its Autonomous Data Platform, a solution that self-manages and self-optimizes by sending alerts and Insights and Recommendations (AIR) based on cloud agents connected to the customer's data policies and preferences. Qubole uses a combination of heuristics and machine learning for workload continuity as well.
Reltio
Reltio Connected Customer 360 is a SaaS platform built on a cloud-native big data architecture. The product features graph technology and machine learning capabilities as well. Users can quickly onboard new data sources, add, change or remove customer profile attributes without downtime, and enable developers to build and launch new products. Reltio can scale up to billions of profiles and can support thousands of users, and remains the only cloud-native MDM solution in the marketplace.
SAS Software
SAS Software
SAS is the largest independent vendor in the data management marketplace. The company's main product is built atop a data quality platform that allows users to improve, integrate, and govern enterprise data. SAS Data Management can ingest data from legacy systems and Hadoop, and create rules once and reuse them. In addition, users can update data, tweak processes, and analyze results themselves. A built-in business glossary as well as third-party metadata management and lineage visualization capabilities allow for collaboration.
Snowflake
Snowflake offers a cloud data warehouse built atop Amazon Web Services. The solution loads and optimizes data from virtually any source, both structured and unstructured, including JSON, Avro, and XML. Snowflake features broad support for standard SQL, and users can do updates, deletes, analytical functions, transactions, and complex joins as a result. The tool requires zero management and no infrastructure. The columnar database engine uses advanced optimizations to crunch data, process reports, and run analytics.
Stibo Systems
Stibo Systems offers an integrated suite of MDM tools that enable users to connect, govern, enrich and syndicate data based on specific business needs. The Multidomain product consolidates master data from across domains into a single source. It also integrates data across the enterprise, applications and systems to provide data accuracy and visibility. Stibo Systems is available in different iterations based on domain specificity or user personas.
Syniti
Syniti (formerly BackOffice Associates) lets users choose from an array of supported MDM implementation styles. The product enables the creation of a single point of reference to master and application data from multiple domains. Syniti automatically notifies users when work needs to be performed, as well as monitor processes against SLAs. It also links the business semantic later to all master and application data mastered by the solution.
Teradata
Teradata's data management portfolio includes products and services in data warehousing, big data analytics, and marketing applications. The company offers what we consider to be the most pure database and data warehousing capabilities of any provider in the space. Teradata covers nearly every enterprise use case, and its ability to integrate with Hadoop and other data sources make it increasingly flexible.