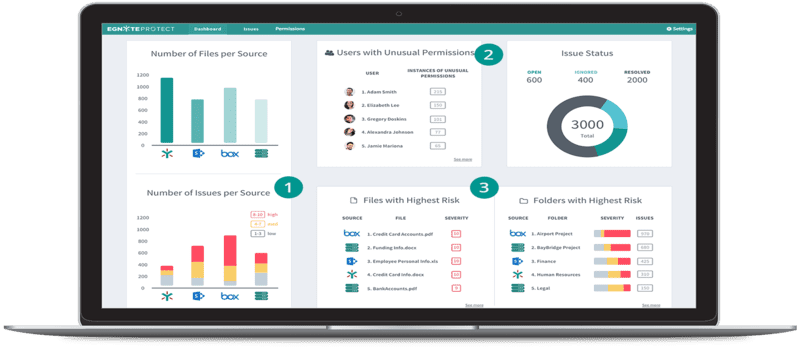 Egnyte, a leader in file services for enterprise organizations, recently announced the launch of their hybrid Data Governance solution, Egnyte Protect. The newly unveiled tool provides users with visibility, insight and control over files accessed inside any content environment, which has been developed to include services like Box, Sharepoint and others. As a result of Egnyte's stance as a storage agnostic solution provider, the company believes it can provide customers with a unique perspective when it comes to the collection, analysis and classification of activities surrounding customer business content no matter where it lies.
Egnyte Protect is comprised of four separate file services, including:
Access Control: Allows organizations to identify issues with permissions to ensure that only the people who are granted access files can share them.
Selective Encryption: Enables users to keep a select subset of owned files encrypted at all times, even if they leave to prevent unauthorized viewing of data that may be sensitive, confidential or unregulated.
Data Residency: Enables content location control between cloud or on-premise storage across geographical locations.
Data Retention: Enables control over how long your files can be retained and who has access to modify or share them.
Egnyte Protect provides IT departments universal control over their content, no matter how it is created, accessed, edited or shared. As a result, organizations can safely allow all employees to customize their digital workplace with the applications and devices that they choose to use, which enables optimization and added productivity. Egnyte's CEO Vineet Jain adds: "The reality is 85% of content currently lives on-premises, but 85% of apps are running in the cloud, so organizations need solutions that orchestrate all content, without compromising time, investment or existing workflows. While our roots have been in the Enterprise File Sync and Share space, we saw a real opportunity to capitalize on all the analytics we acquired and learned from our platform file usage to help customers get smarter about how they manage their content."
Starting with Access Control, Egnyte Protect will continue to roll-out its service offerings over time in alignment with customer demand. Click here for Egnyte's full press release.

Latest posts by Timothy King
(see all)