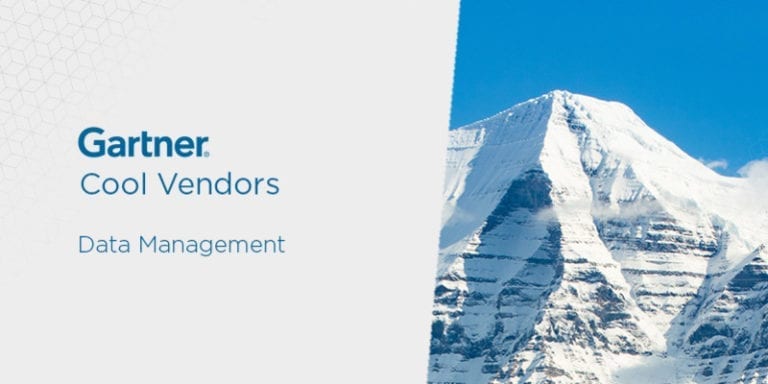 Gartner's newest research highlights four 2021 Cool Vendors in Data Management that offer innovative alternatives in the marketplace.
Analyst house Gartner, Inc. has released its newest research highlighting four emerging solution providers that data and analytics leaders should consider as compliments to their existing architectures. The 2021 Cool Vendors in Data Management report features information on startups that offer some disruptive capability or opportunity not common to the marketplace. Gartner analysts Phillip Russom, Ehtisham Zaidi, Jason Medd, Eric Thoo, and Robert Thanaraj.
Solutions Review's editors have read the complete report, which is available here, and want to take the opportunity to provide a brief, independent introduction to each of the cool vendors listed. Though Gartner's process for selecting Cool Vendors is somewhat mysterious, we believe our unique view of the space can help you to better understand how these analytics solutions will fit into the marketplace as time goes on.
Nexla
Nexla offers a unified data operations platform that helps users create repeatable data flows for any data use case. Organizations deploy Nexla to integrate, automate, and monitor their incoming and outgoing data flows. Nexla features a Flex API technology for data integration that enables users to integrate with complex-non-standard APIs. The solution can also connect to basically any data format. Nexla's data fabric architecture means that continuous metadata intelligence delivers data-as-a-product with self-service tools as well.
Soda
Soda offers a data observability platform that allows teams to discover, prioritize, and resolve data issues. The integrated product features automated monitoring across all data with easy instrumentation, anomaly detection, and intelligent monitoring. Soda also hastens the process of validating data against business rules that matter. Users can define what's expected and what's important. The tool is available in three versions, Soda Developer Tools, Soda Team, and Soda Enterprise.
Tada Cognitive Solutions
Tada Cognitive Solutions offers a data platform for automotive, industrial, and medical equipment manufacturers. The product ingests all your information to provide connectivity across the organization. Tada is headlined by its ability to create a Digital Duplicate, which is a digital replication of your entire business. It can input any type of data, from any type of source. The tool's data cleansing layer purges and updates information to fit the desired perspective based on your relevant business priorities while previously siloed pieces of information will be connected under a pertinent lens.
timbr.ai
timbr.ai offers an SQL Knowledge Graph platform that installs on top of existing databases. The product enables you to create and explore virtual SQL ontologies, map them to your databases and external data sources, and query the knowledge graph in SQL, Apache Spark, Python, R, Java, or Scala. timbr.ai also features the ability to visualize and traverse your database as a graph and use graph algorithms over relational data to solve problems. Users can connect analytics and data science tools via the BI module as well.