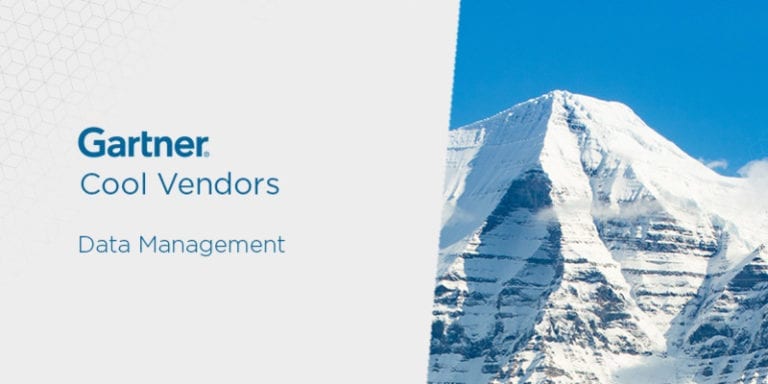 Gartner's newest research highlights four 2020 Cool Vendors in Data Management that offer innovative alternatives in the marketplace.
Analyst house Gartner, Inc. has released its newest research highlighting four emerging solution providers that data and analytics leaders should consider as compliments to their existing architectures. The 2020 Cool Vendors in Data Management report features information on startups that offer some disruptive capability or opportunity not common to the marketplace. Gartner analysts Merv Adrian and Adam Ronthal compiled the materials for this report.
Solutions Review's editors have read the complete report, which is available here, and want to take the opportunity to provide a brief, independent introduction to each of the cool vendors listed. Though Gartner's process for selecting Cool Vendors is somewhat mysterious, we believe our unique view of the space can help you to better understand how these data management solutions will fit into the marketplace as time goes on.
QuasarDB
QuasarDB offers a high-performance, distributed time-series database that combines in-memory capabilities with data storage. The product features a single binary for analytics, storage, and clustering, as well as hybrid in-memory, on-disk technology with automatic data pagination. QuasarDB also touts an SQL-like query language and tooling for high-speed CSV/TSV ingestion, data exports, and backups. Data access is immediate, which enables you to utilize QuasarDB directly from Excel, Spark, or Python.
Varada
Varada offers a data virtualization platform that serves as an acceleration layer on data lakes. The product enables data teams to operationalize the entire data lake while ensuring interactive performance without the need to move data, model, or manually optimize. Varada automatically hastens queries according to workload behavior and automatic detection of hot data and bottlenecks. Adaptive and dynamic indexing capabilities break data across any column into nano blocks and then automatically chooses the most effective index based on data content and structure.
Yugabyte
Yugabyte offers an open-source, cloud-native database the lets users develop, deploy, and operationalize modern applications. The database leverages PostgreSQL-compatible SQL and distributed ACID transactions. Yugabyte also ensures continuous availability even when underlying compute, storage or network fails. Users can add and remove nodes at will, and the solution lets organizations manage data alongside Kubernetes applications across public and private clouds.

Latest posts by Timothy King
(see all)