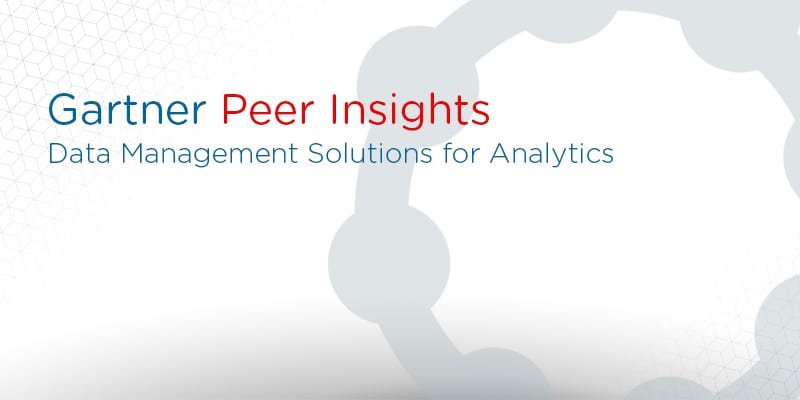 Analyst house Gartner, Inc. has officially announced the winners of its 2018 Peer Insights Customer Choice Awards for Data Management Solutions for Analytics. According to Gartner, the Customer Choice Awards are a ranking of vendors by "verified end-user professionals" on the company's Peer Insights website, a peer review site in the mold of G2Crowd, Capterra, and TrustRadius. Recognition is given to a maximum of seven vendors in the marketplace. The awards take into account both the number of end-user reviews, and the overall user ratings.
Awards are given based on several criteria. The vendor must have at least 50 published reviews in the market guide during the submission period and must pass Gartner's validation, conflict of interest and moderation process. Additionally, any solution provider must have a at least one tool designated by Gartner's analysts as relevant in the space. In markets where more than seven vendors meet the thresholds, those with the highest number of approved ratings are named winners.
Peer Insights Customer Choice Awards are designed to "help IT professionals make better purchase decisions by leveraging the knowledge and feedback by fellow verified end users" according to Gartner's executive VP of Products and Services Ken Davis. He adds: "We work hard to ensure that all of the reviews are submitted by an IT professional or business user who has had experience purchasing, implementing and/or using the enterprise solution they are reviewing — free from conflicts of interest."
Amazon Web Services and Splunk lead the pack
It's no surprise to see Amazon Web Services capture gold status with a rating of 4.5 stars. AWS was the market's biggest mover in Gartner's February Magic Quadrant and trailing only Oracle. End users mostly rated Amazon Redshift, but of the 80 verified reviews, 78 of them were either 4 or 5 stars. Given the breadth of available options and AWS's gaudy market share, we expect these high scores to continue indefinitely.
Splunk's 4.4-star rating surprised us a bit, not because of the company's product portfolio, but because they were not included amongst the other top vendors in the space by Gartner earlier in the year. The vast majority of Splunk's ratings came on its Splunk Enterprise product, and the tool had 155 4 and 5-star ratings out of a possible 162 verified by Gartner.
Cloudera, Microsoft and Teradata remain formidable challengers
Cloudera is a major player in this marketplace, and is making real strides at branching out to the left and right of data management, re-branding themselves as a machine learning analytics provider. Just today the company made a slew of updates to account for this evolution. Of the remaining three companies, Cloudera had the fewest, but still legitimate, number of ratings with 100. End users ratings were spread out amongst three products, including Cloudera Distribution on Hadoop, Cloudera Enterprise Data Hub, and Cloudera Enterprise.
Microsoft scored an excellent 4.3 with 227 Gartner-verified reviews, touting 95 5-star ratings and 114 4-star reviews. Gartner placed Microsoft amongst the market's elite in February, trailing only AWS and Oracle in terms of standing. Teradata also scored a 4.3, but with 183 verified reviews. The company was near the pinnacle of Gartner's 2017 Magic Quadrant but regressed slightly in the analyst's ability to execute metric this year. The majority of Teradata's reviews were for its flagship data warehouse product, with finance, healthcare and communications as top applications.
We encourage you to read Gartner's complete listing of Peer Insights vendor and product reviews.