Informatica Cloud Data Quality Gets New Intelligent Automation Features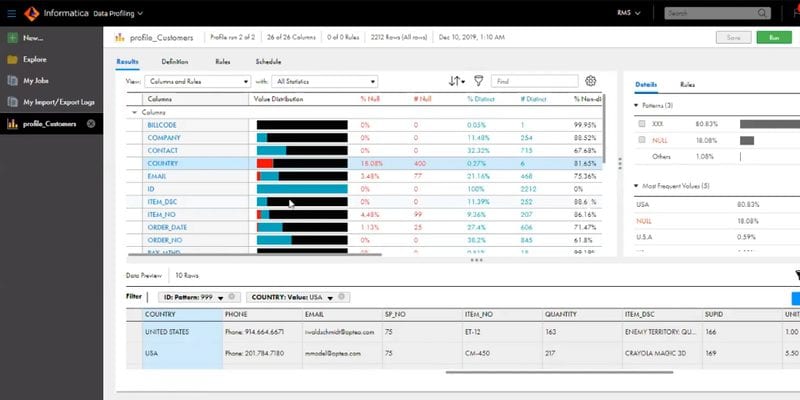 Informatica recently announced the release of an updated version of Informatica Cloud Data Quality, the vendor's micro-services based cloud data quality product. Key enhancements include profiling intelligence and automation through Informatica's AI-powered CLAIRE engine, as well as parsing an deduplication add-ons. The solution is integrated with Informatica's Intelligent Cloud Services Integration Platform as a Service solution. The company dropped the news at its Cloud Data Quality Summit earlier this week.
Informatica Cloud Data Quality uses a consistent process and methodology to automate scaling and data profiling to enable centralized rule management across data sources in any environment. The product lets cross-enterprise users identify and resolve data quality issues in a self-service manner. The solution also features simple data cleansing and the ability to build data pipelines so insight can be delivered from a cloud data warehouse.
The new intelligent data profiling capability automatically assigns best practice data quality rules based on cloud application data sources. Users can profile data to examine its structure and context using pre-loaded templates as well. Drill down functionality lets you see details, filter on results and compare profile runs to identify trends over time. Business rule definitions also help to reduce project cycles.
Centralized re-usable rules apply data quality rules across an organization in support of data governance, which helps to reduce the costs of re-using centrally managed data quality rules, as well as streamline data quality resolution. New manage and monitor features provide continuous insight by aligning data quality and data governance efforts together while tracking quality improvements over time.
In a media statement on the news, Informatica SVP and GM of Data Management Jitesh Ghai said: "With Cloud Data Quality combined with the industry-leading iPaaS, Informatica is empowering enterprises to realize the full potential of their cloud and data warehouse investments by enabling employees to use data effectively."
Learn more about Informatica Cloud Data Quality or watch this video introduction.