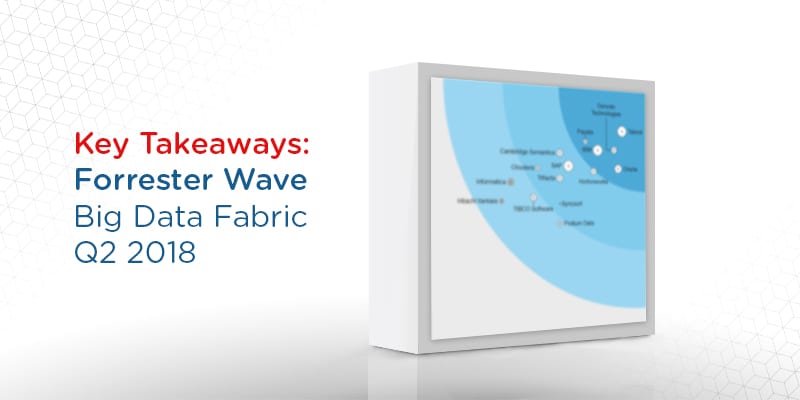 Independent technology advisory firm Forrester Research has released its latest Forrester Wave for Big Data Fabric, Q2 2018. Big data fabric is an emerging technology category that hastens data insight by the use of automated ingestion, curation, discovery, preparation and integration from data silos. It enables the ability to orchestrate data flow and curation across a variety of platforms, including data lakes and Hadoop. Big data fabric solutions are mainly used in for Internet of Things analytics, advanced and predictive analytics, and to obtain a complete customer view.
In their 26-criteria evaluation of Big Data Fabric solutions, Forrester researchers Noel Yuhanna, Gene Leganza and Elizabeth Hoberman identified the 15 providers whom they consider most significant in the category – Cambridge Semantics, Cloudera, Denodo, Hitachi Vantara, Hortonworks, IBM, Informatica, Oracle, Paxata, Podium Data, SAP, Syncsort, Talend, TIBCO Software and Trifacta – then researched, analyzed, and scored them. The Wave report details their findings and examines how each vendor meets (or falls short of) Forrester's evaluation criteria and where vendors stand in relation to each other.
In order to help data and analytics leaders select the right tools, The Forrester Wave Report outlines the current state of the market and separates the top providers into Leaders, Strong performers and Contenders. At Solutions Review, we've read the report, available here, and pulled a few of  the most important takeaways.
The market is maturing, with use case support the main focus
The market, as Forrester explains, is growing as a result of data and analytics leaders needing data fabric to scale their big data strategies. Additionally, the tools and vendors outlined in this study are differentiating themselves based on available use cases. Forrester included those that offer a broad spectrum of support, most notably for AI and machine learning capabilities.
Talend and Denodo are the clear-cut market leaders
Talend occupies the top spot in Forrester's graphic with a cushy position on the top right-hand corner due to its vast use case support. The analyst house notes that Talend has several technologies that support real-time, batch, and data-driven use cases in on-prem, cloud, and hybrid environments. However, Denodo is hot on Talend's heels, and continues to extend its offering to help users build big data fabric. According to Forrester, Denodo's biggest strength comes from its integration of data management components used to support real-time data analytics, fraud detection, and portfolio management.
Hortonworks is on the cusp of of leadership itself
Hortonworks focuses on the development and support of Apache Hadoop. Hortonworks DataFlow (HDF) manages streaming data by securely acquiring and transporting it to the Hortonworks Data Plattform. What differentiates Hortonworks from the pack is that they are building their platform as a completely open source framework. Forrester is intrigued by the Hortonworks DataPlane Service, noting that the company's 2017 release of the new tool builds on existing projects like Apache Ranger and Apache Atlas.
Read the Forrester Wave: Big Data Fabric, Q2 2018.