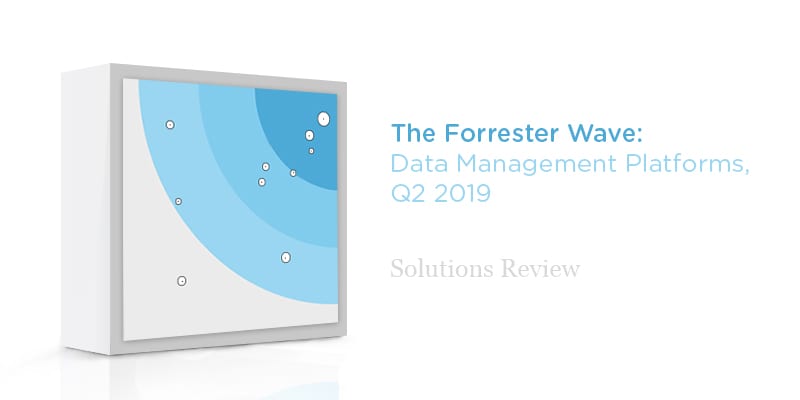 Technology advisory firm Forrester Research has released its latest Forrester Wave for Data Management Platforms, Q2 2019. The researcher notes that data management platforms are the "anchor for marketing orchestration" as advertisers and publishers push for better ways to manage customer data. Marketing data management platform providers are heeding this sentiment and trying to find a space alongside other marketing software in the enterprise technology stack. Key differentiators among vendors in marketing data management include omnichannel marketing integrations and advanced analytics.
In their 34-criteria evaluation of the master data management space, Forrester researchers Tina Moffett and Arleen Chien identified the 7 providers whom they consider most significant in the category: Adobe, Lotame, Neustar, Nielsen, Oracle, Salesforce and The ADEX – then researched, analyzed, and scored them.
The Wave report details their findings and examines how each vendor meets (or falls short of) Forrester's evaluation criteria and where vendors stand in relation to each other.
Quantity over quality
Forrester recommends that marketers invest in a data management platform to extend first-party data and reach the audiences they seek. Marketing leaders will also want to partner up with vendors that source accurate data using a formal data quality and audit process, which will ensure the quality over quantity measure. Another thing to note is that few vendors offer third-party data source supplementation. Other things buyers should keep in mind include prioritizing consumer consent management and focusing on integrations beyond the adtech ecosystem.
Salesforce and Adobe are the runaway leaders
Salesforce scored a perfect 5.0 in six of Forrester's data management platforms scorecard that ranks for current offerings, strategy, and market presence. The Salesforce Audience Studio operates on top of automatic data rights and consumer rights controls and protections. These consent controls enable the solution to bridge both known and unknown customer data while respecting compliance. Most of Salesforce's Audience Studio users are in North America and Europe, and the tool is supported by its parent product called Marketing Cloud.
Neustar is on the cusp
Neustar received perfect 5.0-star scores for its data onboarding and supporting products and services. The vendor offers identity-driven data insights so marketers can create more contextual experiences. Neustar touts more than 400 clients, many of which are concentrated in North America. However, the provider is actively expanding its customer service and technical support around the globe.
Neustar's placement on the Forrester Wave has them only a stone's throw away from joining Salesforce and Adobe among the market leaders, a feat which could occur as soon as 2020. Forrester recommends Neustar to organizations looking for strong data connectivity features.