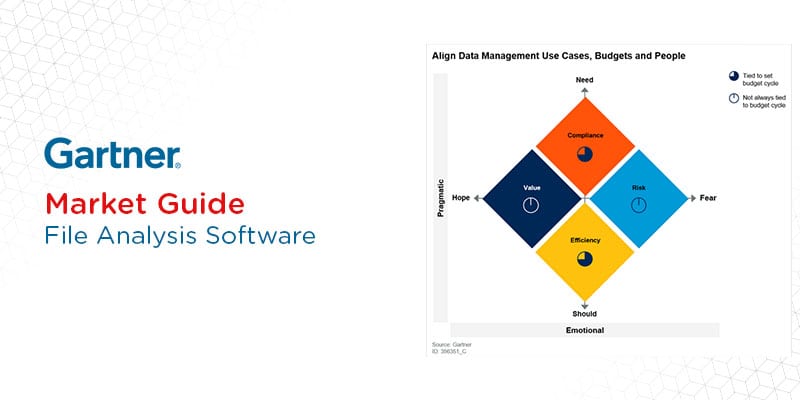 Analyst house Gartner, Inc. recently released its new Market Guide for File Analysis Software. The researcher's Market Guide series is meant to cover new and emerging markets where software products and organizational requirements are in limbo. Gartner's Market Guides can be a great resource for understanding how a fledgling space may line up with current and future technology needs.
According to Gartner, "With the focus on early, more chaotic markets, a Market Guide does not rate or position vendors within the market, but rather more commonly outlines attributes of representative vendors that are providing offerings in the market to give further insight into the market itself." Though Gartner's Market Guide is not provider-centric, it aims to provide a more overarching view of the software space. However, the researcher does mention the major players as things take shape.
Gartner highlights the following providers in augmented analytics tools: Active Navigation, Adlib, Condrey, Druva,  Egnyte, Everteam, Formpipe, FTI Technology, IBM, Index Engines, Ground Labs, Micro Focus, Netwrix, SailPoint, Spirion, STEALTHbits Technologies, Titusm Varonis, Veritas Technologies, and ZL Technologies. At Solutions Review, we read the report, available here, and pulled out the key takeaways.
File analysis software, according to Gartner "scans, maps and manages unstructured data stores." This enables infrastructure and operations leaders to "make better data management decisions for unstructured data, which in turn reduces risk and lowers costs associated with data." Risk mitigation, governance and policy management, and optimization and analytics are they key uses cases for this software category. There are both well-established vendors and a number of small niche players currently offering products for metadata and content analysis.
The report recommends selecting file analysis software that can scale to handle a complete environment, and prioritize options surrounding unstructured data. Buyers should ultimately select the product most likely to solve for their pain points or use cases. Examining the broad functionality of available tools isn't always the best route. File analysis software is best used in tandem with data management policy for data governance. As a strategic planning assumption, Gartner projects that 80 percent of governance programs that do not include unstructured, semistructured or structured data will fail.
Gartner estimates that this software space features at least 200 solution providers. The 20 included in this report are a representation of the overall marketplace and most closely match capabilities considered critical for file analysis. The vendors listed above offer commercial products currently being leveraged by Gartner reference customers.