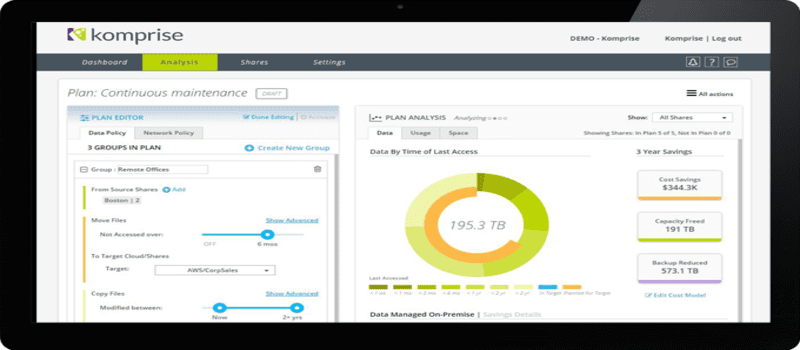 Komprise recently announced a new Series B funding round worth $12 million, led by Walden International, with participation from existing investors. In addition, the vendor also made its Data Management Grid product generally available. Komprise will use the new funds to scale global operations and quicken the company's growing momentum with customers and partner networks. Some of their most notable partnerships include the likes of Amazon Web Services, Google Cloud Storage, Microsoft Azure, HPE, NetApp, and EMC.
According to the vendor: "Komprise is disrupting the multi-billion dollar market for unstructured data management with an easy to adopt, easy to scale, storage agnostic solution that costs a fraction of the alternatives. Komprise enables businesses to squeeze data growth into flat budgets and cut 70% of costs, without disrupting users or the existing storage infrastructure."
The Komprse Data Management Grid adds on-demand linear scaling without any central bottlenecks, and is the industry's first adaptive scale-out Data Management tool that requires no hardware and is storage agnostic. Scaling Komprise involves a single button-click to add more virtual appliances – and the Komprise grid automatically load balances, manages high availability through redundancy, and provides Disaster Recovery.
EMC Fellow and co-author of the ZFS filesystem Bill Moore speaks to what Komprise has been able to do, saying: "What impressed me with Komprise is that they have they built an analytics-driven, scale-out approach to automate tiering of data across storage systems.  Not only that, but it is dead simple to try out and deploy, showing up front how it will manage your data across both on premise and cloud storage, saving you management time and storage costs.  Something every CIO I've talked to has had as a top priority."
Komprise was founded in 2014 and is based in Campbell, California. To date, they've raised more than $18 million in capital funding. Their co-founder and CEO Jumar Goswami is a serial entrepreneur with more than 20 years experience in founding and running startups.