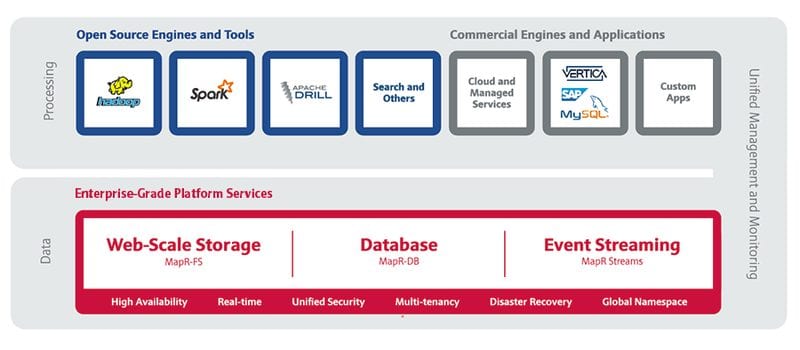 Enterprise Data Management solution provider MapR Technologies, Inc. recently announced that they've received equity financing worth $50 million. The new funding comes on the heels of another record quarter for the vendor, with more than a 100 percent increase in bookings over the previous year. License and support agreements for the company's Converged Data Platform represented 90 percent of total bookings, which further reinforces the value that MapR's platform represents to the enterprise software business model.
The equity funding was led by Future Fund, with participation from all existing investors, including Google Capital, Lightspeed Venture Partners, Mayfield Fund, New Enterprise Associates, Qualcomm Ventures, and Redpoint Ventures. In securing this round of financing, MapR has now raised a whopping $194 million in equity since its founding in 2009. Barry Eggers, Managing Partner at Lightspeed Venture Partners adds: "Enterprise computing is going through one of the biggest transformations in decades and companies that are serious about leveraging data as a disruptive advantage are relying on MapR. The company has consistently demonstrated strong growth over several years and we believe its technology lead will continue to drive its success."
MapR touts an outstanding customer retention rate of 99 percent and a dollar-based net expansion rate of 143 percent. New and expanded customers secured in Q2 2016 include American Express, Audi, Ericsson, JLL, Philips, Qualcomm, and Rubicon Project. MapR has multiple software license transactions of more than $5 million from these new and expanding customers, and has demonstrated strong demand for enterprise-grade and real-time features included in its Converged Data Platform.
In a statement, MapR's President Matt Mills concluded: "Demand for the MapR Converged Data Platform continues to grow as it enables customers to lower IT costs by unifying data into a single platform and simultaneously drive innovative applications to generate new revenue streams. MapR addresses the transition of on premise to cloud computing by unifying all data within a single converged data architecture."