Oracle Debuts the Next Generation of its Autonomous Data Warehouse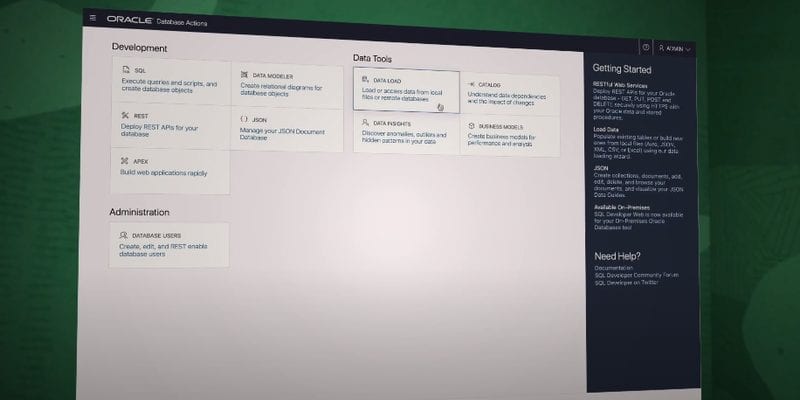 Oracle announced updates to its self-driving Oracle Autonomous Data Warehouse, according to a press release on the company's website. The release is highlighted by this product's evolution into an intuitive point-and-click, drag-and-drop experience for data analysts, data scientists. and business users. The mega-vendor adds "The latest enhancements to Oracle Autonomous Data Warehouse provide a single data platform built for businesses to ingest, transform, store, and govern all data to run diverse analytical workloads from any source, including departmental systems, enterprise data warehouses and data lakes."
Oracle's suite of data management capabilities allows users to manage both traditional and new data sets on its cloud platform. The company also offers an autonomous data warehouse cloud with more than 2,000 SaaS applications. The platform runs the gamut of big data functionality, with support for data integration and analytics as well. Its other data management offerings include Oracle Big Data Cloud, Oracle Big Data Cloud Service, Oracle Big Data SQL Cloud Service, and Oracle NoSQL Database.
The Autonomous Data Warehouse now includes new self-service graph modeling and graph analytics. Oracle also offers Oracle Application Express Application Development (APEX) to developers. APEX is a low-code application development tool built directly into its cloud data warehouse, as well as RESTful services. Other notable upgrades are new built-in data tools for business analysts, Oracle Machine Learning AutoML UI, Oracle Machine Learning for Python, Oracle Machine Learning Services, property graph support, graph studio UI, and seamless access to data lakes.
In a media statement on the news, Oracle Vice President of Database Server Technologies Andrew Mendelsohn said "Oracle Autonomous Data Warehouse is the only fully self-driving cloud data warehouse today. With this next generation of Autonomous Data Warehouse, we provide a set of easy-to-use, no-code tools that uniquely empower business analysts to be citizen data scientists, data engineers, and developers."
Read the Oracle Autonomous Data Warehouse technical blog to learn more.