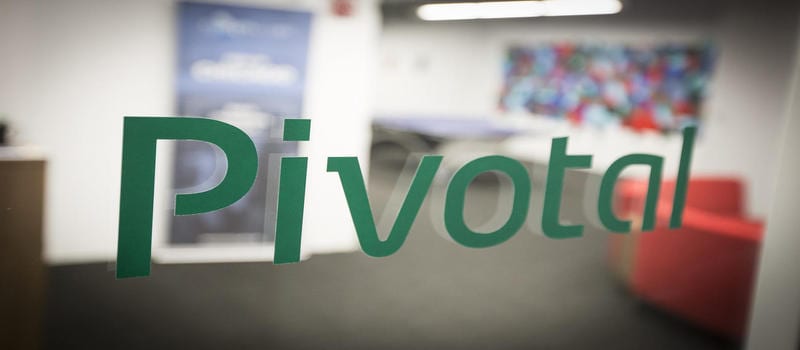 Pivotal recently announced that they have secured a whopping $653 million in Series C funding. The investment was led by EMC, who converted $400 million in debt to equity to account, and Ford Motor Company in conjunction with new investor Microsoft. Previous investors GE and VMware were also involved. According to Pivotal, the deal will officially close sometime this month, subject to customary conditions. Founded in April of 2013, Pivotal just celebrated its three-year anniversary, and the company continues to see growing demand for their software. Pivotal has raised more than $750 million dollars in two investment rounds to date.
Pivotal's customers include seven of the top 10 banks in the United States, three of the top five global auto manufacturers, and five of the top 10 telcos, which shows that the company's unique product offering are in demand in a wide variety of verticals. Pivotal enables enterprises to build and operate software at startup speeds and deliver new experiences to their customers. Pivotal currently works with nearly a third of the Fortune 100 companies, assisting them in digitally transforming their businesses and disrupting established markets.
The new round of funding comes on the heels of several other major milestones for Pivotal. The company recently announced a Q1 2016 revenue of $83 million, representing a 56 percent increase year over year. In addition, Pivotal's annualized recurring revenue of $116 million is up more than 200 percent year over year for the company's subscription products. Finally, Pivotal's two flagship offerings – Pivotal Cloud Foundry and Pivotal Big Data Suite, have surpassed the $200 million and $100 million annual bookings run-rate milestones, respectively.
Pivotal's CEO Rob Mee adds: "Here at Pivotal we are partnering with customers to create a world where the largest and most admired companies can build and run software like Google, Uber or any venture-backed startup. This investment will accelerate our global reach to bring our unique software development methodology and modern cloud platform and analytics tools to every forward-thinking CEO. We are excited to announce Ford and Microsoft as strategic partners to help introduce Pivotal's transformative cloud and analytics software to the next thousand customers."
Pivotal and Ford will build upon an existing relationship to expand the use of software development methodologies, analytics tools, and a modern cloud platform through Ford's Product Development and IT teams that are now innovating and operating at startup speeds. Last week, Ford launched FordPass, a consumer platform that was the first to benefit from the collaboration with Pivotal.
Pivotal was recently named a visionary in Gartner's new 2016 Magic Quadrant for Data Warehouse and Data Management Solutions for Analytics.
Click here for Pivotal's full press release.

Latest posts by Timothy King
(see all)