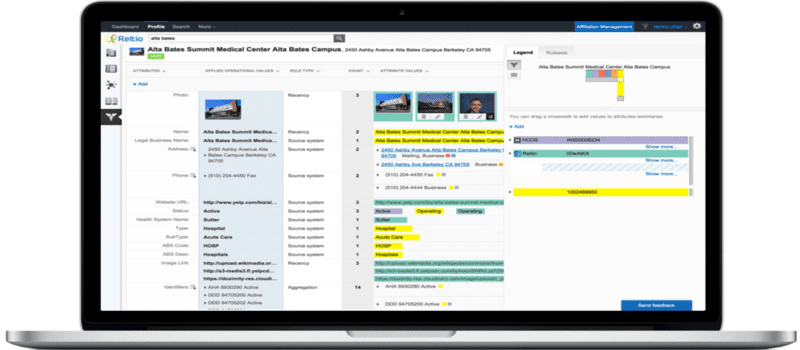 Modern Data Management Platform as a Service (PaaS) provider Reltio announced that it has raised $22M in Series B funding. Venture capital firm New Enterprise Associates (NEA) led the funding, with existing investors adding to their $10M Series A investment, bringing the company's total venture funding to $32M to date. The new cashflow will be used to extend the company's leadership position in modern Data Management through accelerated hiring across all positions, and continued expansion into global enterprise technology sectors. As a result of the deal, Chetan Puttagunta, Partner at NEA, will join Reltio's board of directors.
In the first half of 2016, Reltio has added leading companies in high tech, retail, media and entertaining, and insurance customers. The company's momentum in healthcare & life sciences also continues with the signing of three of the top-ten global pharmaceutical organizations. Over 30 companies are now part of the Reltio Connect partner program. Reltio has worked closely with all partners, resulting in significant joint successes. With unlimited mutual opportunities, Reltio plans to form more alliances across all partner categories and industries.
Reltio has recently earned the highest score in strategy in the Forrester Wave for Master Data Management, attaining the standing as a market leader. Reltio also received the highest score possible in relation to the business value and context criteria in the same report. IDC also named Reltio an innovator in its 2016 Platform as a Service report, which recognizes the most ground-breaking products. A selection of additional leading analyst firms and industry experts who have published independent reports highlighting Reltio's capabilities and value proposition include Constellation Research, Ovum, 451 Research and Bloor Research.
Reltio CEO Manish Sood explains: "We were fortunate enough to receive multiple indications of interest in our funding round, and are very excited to have NEA join our team of supportive investors. Over the last 12 months, our modern data management Platform as a Service has been validated by customers and partners as they execute on a wide range of initiatives, including better customer experience, digital transformation, M&A, commercial excellence and compliance, to name a few. However, our success comes down to the innovation and hard work of Reltio's employees. I would like to extend my heartfelt thanks to them, and invite those who are interested to join us in what continues to be a rewarding and fun journey."
Read Reltio's official press release.

Latest posts by Timothy King
(see all)