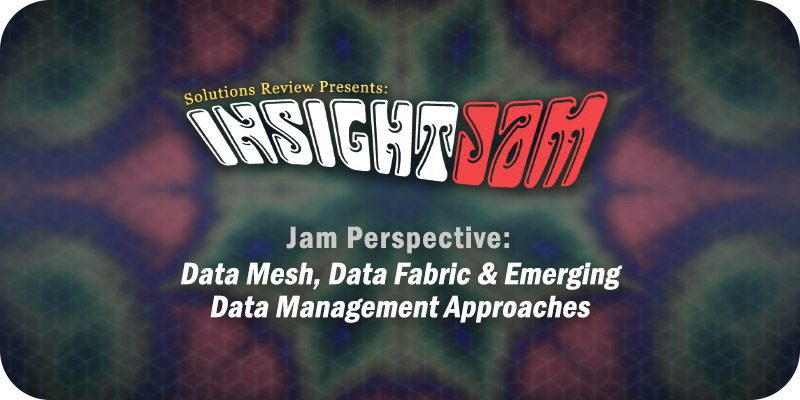 Robert Eve's Jam perspective on data mesh, data fabric, and emerging data management approaches for BI Insight Jam.
Data-driven business. Advancing technologies. Analytically-empowered employes. Opportunities abound!
Yet, in a world where data is a primary competitive advantage, does your organization struggle to modernize your data management environment apace these rapid changes?
Without Struggle, there can be no progress.
Frederick Douglass, the famed American abolitionist, once said, "Without struggle, there can be no progress."
But why struggle toward progress when you need data to complete better and win today?
Modernizing your data environment is a journey that accelerates your data-driven business.
Before you start, ask yourself these questions.
Progress from where?  How does your legacy environment enable or constrain forward progress?
Progress to where? What are your unmet requirements and priorities?
And progress how? There are so many remarkable new technologies; which are best for your organization?
While everyone's journey is unique, you don't have to be a technology pioneer to go where you need to. Instead, you can follow others' paths by modernizing with proven data management solutions such as data fabric, data mesh, and more.
Modern Data Management Incorporates Powerful Capabilities
There are many new data management options you can choose from, with data fabrics and data meshes getting much of the recent buzz. They provide potent capabilities you can use to support your diverse requirements within the context of your existing legacy data environment.
Many vendors offer such solutions, each addressing the challenges in distinct ways.
Modern data management solutions provide a broad mix of capabilities:
Integration across diverse structured and unstructured data repositories to bring together your data wherever it lies.
Semantic knowledge catalog with data enrichment to address your data complexity and quality challenges.
Organizational guidance on sharing, accessing and controlling data products.
Self-service data access to arm your many user types with the data each requires.
Intelligence that eliminates many classic data management activities so your data teams to deliver additional value.
Agile data product development and deployment to your speed time-to-solution when new requirements arise.
Built-in data governance, security, and compliance to ensure the right data to the right people at the right time.
Reference architectures and best practices to simplify adoption and accelerate return on your data technology investments.
Take the First Step
"The journey of a thousand miles starts with one step," according to Chinese philosopher Lau Tzu.
The best first step is self-educating regarding your journey to data fabric, data mesh, and other modern data management approaches.
You might start with Google searches on key terms such as "data fabric" and "data mesh."  But you will likely be overwhelmed by the millions of results.  And while more complex searches such as "'data fabric' vs. 'data mesh'" narrow the results to the thousands, there has to be a better way.
A better way to improve your modern data management knowledge is to get the straight scope directly from industry experts.
We've made it easy for you at the Solutions Review BI Jam on December 15.  In the Data Mesh, Data Fabric & Emerging Data Management Approaches – brought to you by Denodo session at 1:00 PM EST, an expert panel will answer common questions, including
What are the business drivers behind data management modernization?
What technology advancements power this new generation of data management solutions?
How are data fabrics, meshes, and other emerging data management approaches solving real problems today?
What are the tangible benefits you can expect?
What are the best starting points on your path to success?
And other relevant questions.
To participate, sign up now. I look forward to meeting you there.
FAQ
What: The 4th-annual Solutions Review BI Insight Jam
When: Thursday, December 15, 2022 from 8:30 AM to 8:30 PM Eastern
Where: Twitter (using the hashtag #BIInsightJam), YouTube, LinkedIn


Latest posts by Robert Eve
(see all)