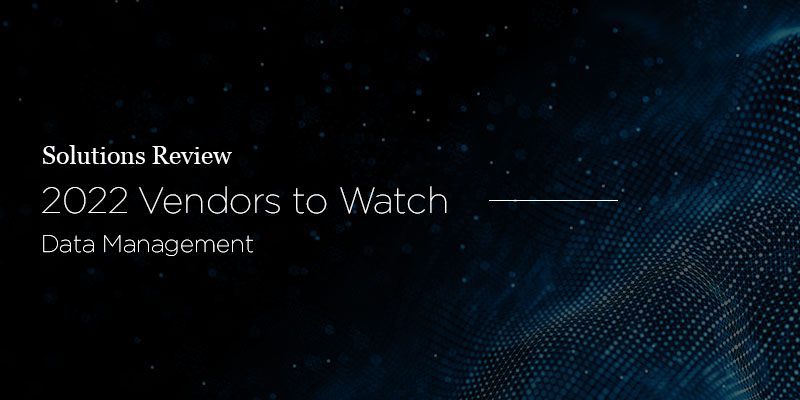 Solutions Review's Data Management Vendors to Watch is an annual listing of solution providers we believe are worth monitoring. Companies are commonly included if they demonstrate a product roadmap aligning with our meta-analysis of the marketplace. Other criteria include recent and significant funding, talent acquisition, a disruptive or innovative new technology or product, or inclusion in a major analyst publication.
Data management solutions are complete software systems capable of managing data in one or more file management repositories. Oftentimes these solutions oversee analytical processing as well. The umbrella of analytical processing includes relational and nonrelational processing, machine learning, and the use of several programming languages. Different data models are available, including those that use XML, JSON, key-value, text, graph, and even geospatial schemes.
These data management Vendors to Watch have met at least two of our five points of inclusion and represent to some degree the evolution of the marketplace. It's in that spirit we turn our attention to the immediate future. Providers are listed in alphabetical order. Provider names and logos are linked so you can learn more.
CluedIn streamlines the process of making data ready for insights without compromising data fidelity or flexibility. CluedIn data fabric capabilities sit between data source systems and applications to solve common pain points in data integration, data governance, and data management. The product uses a graph database to automatically infer connectivity straight from the data source.
Bigeye is a data observability platform that helps teams measure, improve, and communicate data quality. The product enables users to find missing and busted reporting data before executives see it in a dashboard. Customers are then warned about data issues in training data before models ger retrained on it. Bigeye also lets users monitor for freshness, volume, formats, categories, outliers, and distributions. The solution can be connected to your infrastructure with APIs as well.
Firebolt offers a cloud data warehousing platform that is built for AWS and with an efficient SQL query engine that separates storage and computes. This framework allows users to spin up multiple isolated resources on the same databases. It also features a columnar data structure, vectorized processing and SIMD, just-in-time query compilations using LLVM, and continuously aggregated indexing for fast data ingestion and near-instant data updates.
Immuta's automated data governance platform lets users discover and access data through a dedicated data catalog. The product features an intuitive policy builder that provides author policies in plain English, without code so security leaders can write policies across any data. Immuta also enables compliant collaboration via projects, controlled workspaces where users can share data. When users switch projects, they assume the right permissions and controls. Immuta runs as a containerized solution on-prem, in the cloud, or via a hybrid model.
MANTA offers a unified data lineage platform that maps all information flows to provide a complete overview of your data pipeline. The product reveals the data's origins and its journey through all data processing systems to you. MANTA automatically updates lineage whenever necessary and shows data flows in a way that is user-friendly, clear, and understandable. The solution was designed to be integrated into any data management ecosystem as well.
Monte Carlo's data observability platform utilizes best practices and principles of automatic application observability and applies them to data pipelines. This provides data engineers and analysts with visibility across all data pipelines and data products. Monte Carlo also offers machine learning that gives users a holistic view of an organization's data health and reliability for important business use cases.
Nexla offers a unified data operations platform that helps users create repeatable data flows for any data use case. Organizations deploy Nexla to integrate, automate, and monitor their incoming and outgoing data flows. Nexla features a Flex API technology for data integration that enables users to integrate with complex-non-standard APIs. The solution can also connect to basically any data format. Nexla's data fabric architecture means that continuous metadata intelligence delivers data-as-a-product with self-service tools as well.
Yellowbrick Data offers a data warehouse for distributed clouds that lets customers deploy in private data centers, public clouds, and the network edge. It touts a modern, MPP analytic database designed for demanding batch, real-time, interactive and mixed workloads. Yellowbrick continuously implements the latest advances in software and hardware protocols and combines them with smart thinking about database architecture. As a result, Yellowbrick's data warehouse is quickly provisioned and easy-to-use regardless of where it is deployed.

Latest posts by Timothy King
(see all)