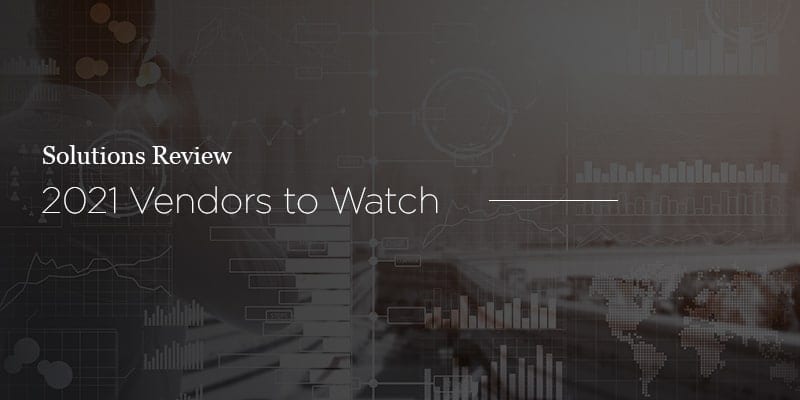 Solutions Review's Data Management for Analytics Vendors to Watch is an annual listing of solution providers we believe are worth monitoring. Companies are commonly included if they demonstrate a product roadmap aligning with our meta-analysis of the marketplace. Other criteria include recent and significant funding, talent acquisition, a disruptive or innovative new technology or product, or inclusion in a major analyst publication.
Data management for analytics solutions are complete software systems capable of managing data in one or more file management repositories. Oftentimes these solutions oversee analytical processing as well. The umbrella of analytical processing includes relational and nonrelational processing, machine learning, and the use of several programming languages. Different data models are available, including those that use XML, JSON, key-value, text, graph, and even geospatial schemes.
These data management for analytics Vendors to Watch have met at least two of our five points of inclusion and represent to some degree the evolution of the marketplace. It's in that spirit we turn our attention to the immediate future. Providers are listed in alphabetical order. Provider names and logos are linked so you can learn more.
Atlan's data workspace platform offers capabilities in four key areas, including data cataloging and discovery, data quality and profiling, data lineage and governance, and data exploration and integration. The product features a Google-like Search interface, automatic data profiling, and a searchable business glossary for generating a common understanding of data. Users can also manage data usage and adoption across an ecosystem via granular governance and access controls, no matter where your data goes.
Cazena offers a data lake platform that includes end-to-end SaaS orchestration of all capabilities. Cazena Cloud Data Lakes are immediately available during data ingest, storage and analytics. SaaS orchestration intelligently manages the configuration based on user-set requirements. This means that Cazena Data Lakes are always optimized for user-specific workloads, and the optimizations adjust automatically as needs change. Cazena is also engineered to automatically provision hybrid network connectivity between the cloud and on-prem data sources.
Dremio offers a product called Data Lake engine that provides fast query speed and a self-service semantic layer that operates directly against data lake storage. The solution connects to S3, ADLS, Hadoop or wherever enterprise data resides. Apache Arrow, Data Reflections and other Dremio technologies work together to hasten query speeds, and the semantic layer enables IT to apply security and business meaning. Users do not have to send data to Dremio or have it stored in proprietary formats to access it.
Promethium offers an augmented data management platform called Data Navigation System. Designed with data analysts in mind, the product lets users automatically discover, validate and assemble data to provide data to business intelligence tools. The product finds and matches data required to address each user request. Once complete, Promethium provides users with a visual view of how the data should be assembled, then automatically generates the SQL statement to get the right data and executes the query across multiple repositories.
Zaloni Arena operationalizes data along the entire pipeline, from data source to consumer. The product automates repeatable data management tasks and processes and provides central management of all enterprise data sources whether on-prem, cloud, multi-cloud, or hybrid. Zaloni is compatible with all major Hadoop distributions, most data processing engines, and applicable deployment models. It also features a modern interface and a suite of DataOps capabilities like data unification, discovery, governance, metadata management, mastering, and collaboration.

Latest posts by Timothy King
(see all)