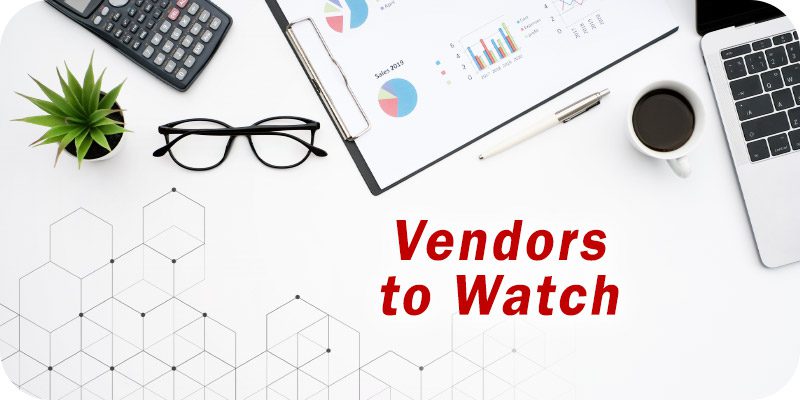 Solutions Review's Data Management Vendors to Watch is an annual listing of solution providers we believe are worth monitoring. Companies are commonly included if they demonstrate a product roadmap aligning with our meta-analysis of the marketplace. Other criteria include recent and significant funding, talent acquisition, a disruptive or innovative new technology or product, or inclusion in a major analyst publication.
Data management solutions are complete software systems capable of managing data in one or more file management repositories. Oftentimes these solutions oversee analytical processing as well. The umbrella of analytical processing includes relational and nonrelational processing, machine learning, and the use of several programming languages. Different data models are available, including those that use XML, JSON, key-value, text, graph, and even geospatial schemes.
These data management Vendors to Watch have met at least two of our five points of inclusion and represent to some degree the evolution of the marketplace. It's in that spirit we turn our attention to the immediate future. Providers are listed in alphabetical order. Provider names and logos are linked so you can learn more.
Anomalo helps enterprises build confidence in the data they use to make decisions and build products. Enterprises can easily connect Anomalo's complete data quality platform to their data warehouse and begin monitoring their data quickly. Anomalo integrates with the platforms and tools your team already uses, and you can view data quality metrics in the same place you discover and assess your data sources.

ChaosSearch is a massively scalable ELK-compatible log analysis platform delivered as a fully managed service. The product enables search and analysis of a customer's cloud data via a proprietary UltraHot universal data format and associated architecture that allows for direct and accelerated analytics. ChaosSearch is stateless and decouples storage from compute. It also streamlines and automates the data management process within your own S3 account. No data movement, transformation, or schema definition is required.
Datafold is a data reliability platform that helps data teams deliver reliable data products. It has the unique ability to identify, prioritize, and investigate data quality issues proactively before they affect production. The company was founded in 2020 by veteran data engineers. Datafold can find where mismatches reside across databases at scale and can verify 25 million rows in less than 10 seconds. The solution can be used by a variety of data workers, which is a major strength.
Datometry offers a suite of SaaS solutions that enables enterprises to re-platform existing data warehouses to the cloud. Powered by Datometry Adaptive Data Virtualization technology, the company's SaaS offerings include: Datometry Hyper-Q, the flagship product enabling replatforming of existing applications on any cloud database in real-time; Datometry qInsight, which provides unprecedented insights into data warehouse workloads; and, Datometry qShift automating the generation of optimized destination data warehouse schema.
The Dryv Platform enables organizations to identify, organize and manage unstructured data within their existing enterprise content repositories – including personally identifiable information (PII), intellectual property, and other sensitive information. Foundational artificial intelligence and machine learning technologies, along with pre-built policy packs, automate the remediation and orchestration of this content across information silos.
Modern Data Company offers DataOS, a multi-cloud, programmable data operating system. DataOS simplifies an organization's data by decoupling it from tools, pipelines, and platforms. It puts data at the center of the enterprise and provides them the freedom to pick platforms used to manage data and the tools to operationalize it. Modern is moving enterprises from a tool and platform-centric data architecture to a true data-centric architecture.

CluOnehouse offers a managed data lakehouse experience via high throughput streaming ingestion, change data capture, automated data management, and cloud-native tables and metadata. The tool allows you to merge, update, and insert all of your rapidly changing data from transactional sources with record-level indexes. You can also get fully managed table services that perform clustering, Z-order/Hilbert-Curves, compaction, masking, encryption, and more.
Percona offers enterprise-class support, consulting, managed services, and software for MySQL, PostgreSQL, MongoDB, and other open-source databases. Percona is free from locked-in licenses or commercial upsells. Their products are open-source, enterprise-ready, and backed by 24/7 support and on-demand services as well. Percona also handles multi-database complexities.
Syniti (formerly BackOffice Associates) lets users choose from an array of supported MDM implementation styles. The product enables the creation of a single point of reference to master and application data from multiple domains. Syniti automatically notifies users when work needs to be performed, as well as monitor processes against SLAs. It also links the business semantic later to all master and application data mastered by the solution.

Latest posts by Timothy King
(see all)