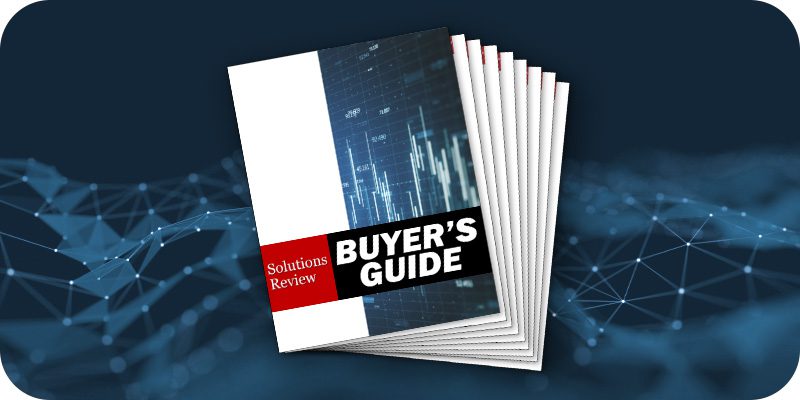 Solutions Review is proud to release an all-new resource for comparing metadata management and data cataloging software, the 2021 Buyer's Guide for Metadata Management and Data Cataloging. Solutions Review has developed this new product comparison guide to assist buyers in search of the best possible tool to fit the needs of their organization. This resource features an at-a-glance reference of 16 metadata management and data catalog vendors, the solutions they provide, and the markets they address.
Top providers highlighted include Alation, Alex Solutions, ASG Technologies, Collibra, data.world, erwin, IBM, Infogix, Informatica, MANTA, Octopai, Oracle, OvalEdge, SAP, Smartlogic, and Zaloni.
The process for evaluating metadata management and data cataloging solutions has continued to grow increasingly complex. Commonly used as a reference for business-centric projects, metadata is instrumental for describing, inventorying and understanding data for multiple use cases.
Metadata simply summarizes data, which has the ability to make finding and working with relevant data easier. Metadata commonly describes how and when and by whom a particular data set was created and what native format it resides. Data cataloging follows the process of data mapping and uses metadata (which is data that describes or summarizes data) to collect, tag, and store datasets. Data catalogs are designed to help data workers quickly find the most appropriate data for analytical or business purposes.
This resource features 10 important questions to ask during the buying process and full, one-page vendor profiles that provide a solution overview, three key features, contact information, and our own 'Bottom Line' analysis. Companion research, including our comparative Data Management Vendor Map, can be found at solutionsreview.com. 
About Solutions Review
Solutions Review is a collection of technology news sites that aggregates, curates, and creates the best content within leading technology categories. Solutions Review's mission is to connect buyers of enterprise technology with the best solution sellers. Over the past four years, Solutions Review has launched ten technology buyer's guide sites in categories ranging from cybersecurity to wireless 802.11, as well as mobility management, business intelligence and data analytics, data integration, and cloud platforms.

Latest posts by Timothy King
(see all)