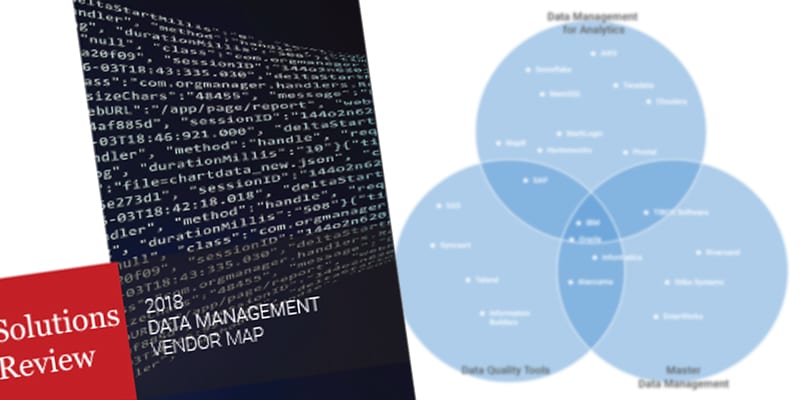 Solutions Review is proud to release an all new resource for comparing data management software, the Data Management Vendor Map. The report provides an expansive overview of key frameworks involved in organizing and cleaning data: data management for analytics, data quality tools, and master data management. The included visual maps notable providers in this market to give buyers an overarching view of how specific feature offerings overlap and differ.
Top providers highlighted include: Amazon Web Services, Snowflake, Teradata, MemSQL, Cloudera, MarkLogic, MapR, Hortonworks, Pivotal, SAP, SAS, Syncsort, Talend, Information Builders, IBM, Oracle, Informatica, Ataccama, TIBCO Software, Riversand, Stibo Systems, and EnterWorks.
Data Management solutions meet at the intersection of big data and business analytics. An increasing number of enterprise companies now require dedicated data management tools for running complex analysis on disparate data. These demands are being filled with hybrid and cloud platforms that allow for flexible deployment, ingestion, integration, and security. As a result, providers have adopted technologies and techniques from vendors on horizontal markets, such as security and backup and recovery.
Businesses now face a bewildering array of choices and options around various types and features of data management platforms. Coupled with our Buyer's Guide for Data Management Platforms, this release further enhances the ability of the IT professional to make the right product buying decisions. In using these two tools in conjunction, solutions-seekers will be armed with all of the materials they need to ensure selection of the best software for their organization.