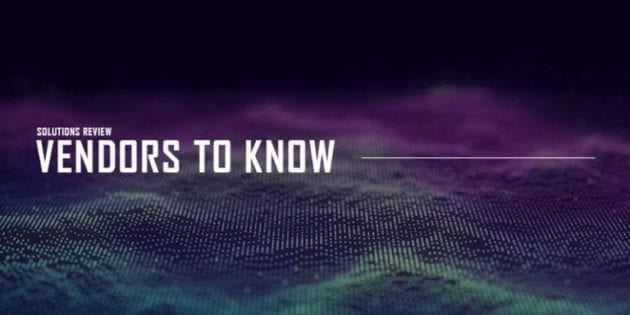 Solutions Review's annual Vendors to Know in Master Data Management Solutions provides the details on the most critical solution providers in the space.
The editors at Solutions Review continually research the most prominent and influential Master Data Management vendors to assist buyers in search of the tools befitting the needs of their organization. Choosing the right vendor and solution can be a complicated process; it requires constant market research and often comes down to more than just the solution and its technical capabilities. To make your search a little easier, we listed the vendors to know in Master Data Management tools.
Note: Companies are listed in alphabetical order.
Vendors to Know in Master Data Management Tools, 2021
Ataccama offers an augmented data management platform that features data discovery and profiling, metadata management and a data catalog, data quality management, master and reference data management, and big data processing and integration. The product is fully integrated yet modular for any data, user, domain or deployment type. Ataccama also includes text analytics and machine learning, as well as data enrichment with external sources and data lake profiling.
IBM InfoSphere Master Data Management manages all aspects of critical enterprise data regardless of system or model, and delivers it to application users via a unified view. The tool provides compliance with data governance rules and policies and features a configurable framework that supports hybrid cloud environments. InfoSphere MDM is available in two editions (standard and advanced), and both are available on-prem or as fully-managed cloud offerings.
Informatica offers a modular MDM solution that provides a single view of data. The product enables users to create an authoritative view of business-critical data from disparate, duplicate and conflicting sources. Informatica MDM also features AI and machine learning, and includes data quality, data integration, business process management, and data security functionality that allows you to easily enrich master data records with data from external providers. Informatica's MDM capabilities can be deployed on-prem or in the cloud.
The Innovative Systems Synchronos platform is an enterprise MDM solution used for operational or analytical purposes. The product can be deployed on-prem, in the cloud, or via a hybrid environment. Synchronos features data profiling, data discovery and monitoring, as well as a 360-degree view that lets users uncover information about extended relationships within data. Workflow management functionality lets customers construct and modify workflows while hierarchy management enables a graphical display and navigational tools.
Magnitude Software's MDM functionality is available via its Kalido solution. The product features domain-agnostic modeling, matching and mapping capabilities, as well as visual models for common and obscure domains without the need to purchase customizations. Kalido also includes audience-specific interfaces, workflow and model-driven APIs for real-time collaboration, and policy-driven governance. Customers gain universal access from mobile devices, and audit, validation and security are easy to manage.
Pimcore lets users consolidate master data across heterogeneous system landscapes via its open source tools. The product is compatible with any master data domain (product, customer, employee, asset, partner/vendor, location, reference, IoT). Pimcore offers flexible data models, multiple implementation styles, and support for both analytical and operational MDM. Key features include data quality, hierarchy management, rich content integration, audit trail and workflow management.
Profisee offers an MDM platform in three different iterations. The product touts a highly flexible modeling engine that allows users to model master data as it exists. Profisee also features batch integration, archiving and deployment, data steward FastApps, data analytics, hierarchy management and data quality rules. Customers can deploy Profisee on any applications and devices that are delivered on-prem, in the cloud or via a hybrid model.
Reltio Connected Customer 360 is a SaaS platform built on a cloud-native big data architecture. The product features graph technology and machine learning capabilities as well. Users can quickly onboard new data sources, add, change or remove customer profile attributes without downtime, and enable developers to build and launch new products. Reltio can scale up to billions of profiles and can support thousands of users, and remains the only cloud-native MDM solution in the marketplace.
Riversand offers MDM and product information management (PIM) solutions. Its MDM offering features a multi-domain core designed to provide a complete view of enterprise data. In addition, Riversand includes high-scale computing, a set of streamlined collaboration tools, and data governance functionality. Reporting via the vendor's data visualization product is included with each license and offers users the ability to run advanced analysis via charts, tables, and dashboards.
SAP offers enterprise MDM functionality through its SAP Master Data Governance product. The solution can be deployed on-prem or in the cloud and enables users to consolidate and centrally govern master data. SAP includes support for all master data domains and implementation styles, pre-built data models, business rules, workflow, and user interfaces. Master Data Governance also lets you define, validate, and monitor your established business rules to confirm master data readiness and analyze the performance of data management.
Semarchy offers a master data management solution called xDM. The product utilizes machine learning algorithms to enable stewardship and advanced matching, survivorship, curation, and classification. The tool features a native data model that facilitates transparent lineage, audibility, and governance as well. xDM can integrate any data source via real-time and batch APIs to integrate the data hub with existing applications and business processes. Semarchy offers a 30-day license key free trial of xDM for on-prem and cloud.
Stibo Systems offers an integrated suite of MDM tools that enable users to connect, govern, enrich and syndicate data based on specific business needs. The Multidomain product consolidates master data from across domains into a single source. It also integrates data across the enterprise, applications and systems to provide data accuracy and visibility. Stibo Systems is available in different iterations based on domain specificity or user personas.
Syniti (formerly BackOffice Associates) lets users choose from an array of supported MDM implementation styles. The product enables the creation of a single point of reference to master and application data from multiple domains. Syniti automatically notifies users when work needs to be performed, as well as monitor processes against SLAs. It also links the business semantic later to all master and application data mastered by the solution.
Tamr offers a machine learning-based data integration product called Unify. The solution allows organizations to connect to any tabular data and publish it anywhere. Users can map schemas with machine learning suggestions and normalize data formats using Spark and SQL. Tamr's Master Records feature provides a complete view of all entities via simple yes and no questions as well. Tamr has also begun offering an issue tracker specifically designed for data called Steward (beta).
TIBCO Software offers its MDM capabilities via TIBCO EBX, a single solution that manages workflow, data quality, and role-specific applications. EBX is designed with different user personas in mind by providing self-service so all individuals can manage, govern, and consume key data assets. Customers can model any master data (including relationships between domains) without buying separate tools. This means that you can put any domain of master or reference data inside. EBX works with SAP, BCP, TM1, and OneStream.
Winshuttle EnterWorks is a multi-domain MDM and PIM platform that lets enterprise organizations get data to the systems and channels that matter most. Featured platform capabilities include Product Information Management for creating, managing, and sharing differentiated product data, Digital Asset Management for storing and sharing digital assets, and MDM for creating a single, governed source of data truth across systems. The flexible data modeling architecture powers a content repository with data attributes for managing complex product relationships and real-time phased pricing management.