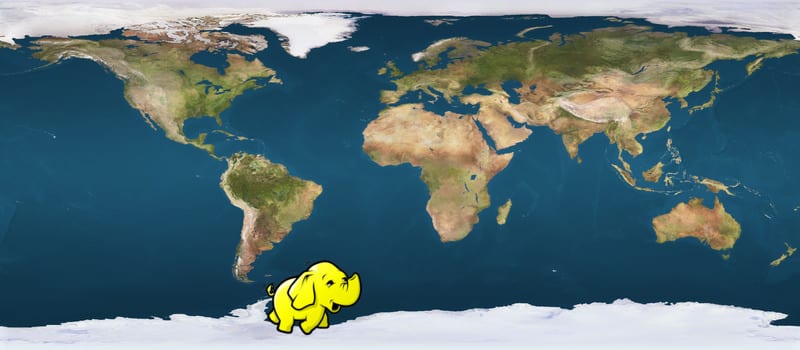 According to Research and Markets, the global Hadoop market is expected to garner revenue of $84.6 billion by 2021, registering a CAGR of 63.4 percent from 2016 to 2021. North America accounted for the vast majority of this growth at 52 percent in 2015, which can be attributed to high adoption rates in IT, banking and the government sector. However, Europe is expected to witness the fastest growth from 2016 to 2021 with a CAGR of 65.7 percent.
The Hadoop ecosystem comprises Hadoop software, hardware and services. The services segment dominated the market in 2015, accounting for approximately 49 percent market share due to growing demand for Big Data analysis across a variety of industries.
Major end-users of Hadoop-based offerings and services comprise mainly of those in manufacturing, banking and financial institutions (BFSI), retail, telecommunication, healthcare, hospitality and travel, media and entertainment, trade and transport, and government. Among all of these markets, BFSI would be the highest revenue generating sector from 2016 to 2021, with 14.7 percent of the overall market by 2021. However, the trade and transportation sectors are expected to witness the fastest rate of growth, with a CAGR of 76.3 percent during the period from 2016 to 2021.
Additional findings of the study include:
North America currently generates the most revenue for Hadoop-based products and services
Trade and transportation would witness the fastest adoption of Hadoop services and products over the next 5 years
The European Hadoop market would witness the fastest growth during the period of 2016 to 2021
The integration and deployment service segment would grow at the fastest CGR of 64.8 percent by 2021
The packages software segment would grow at the fastest CAGR of 67.3 by 2021
Key companies profiled within this report include Amazon Web Services (AWS), Cisco Systems, Cloudera, Datameer, Hortonworks, Fair Isaac Corporation, MapR Technologies, Teradata Corporation and MarkLogic.
Click here to read the World Hadoop Market report by Research and Markets.