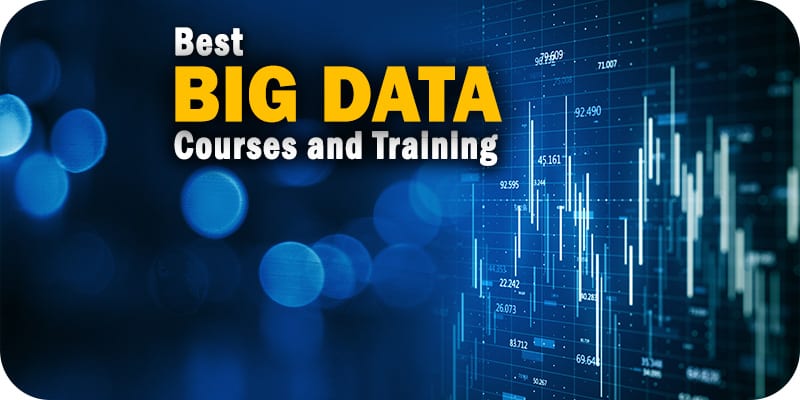 The editors at Solutions Review have compiled this list of the best big data courses and online training to consider.
The growing importance of data management best practices and techniques for delivering against big data are becoming paramount in the enterprise. The big data landscape is evolving in real-time, which has organizations scrambling to utilize their data architectures soundly. Coupled with this, Hadoop and the data lake have emerged as technologies no company can ignore, as they complement the data warehouse quite nicely, and in some cases are even replacing it.
With this in mind, we've compiled this list of the best big data courses and online training to consider if you're looking to grow your data management or analytics skills for work or play. This is not an exhaustive list, but one that features the best big data courses and training from trusted online platforms. We made sure to mention and link to related courses on each platform that may be worth exploring as well.
The Best Big Data Courses
OUR TAKE: The beginner-level Big Data Specialization from Coursera takes roughly 8 months to complete, and no prior experience is necessary. Students also receive a shareable certification upon completion.
Platform: Coursera
Description: You will gain an understanding of what insights big data can provide through hands-on experience with the tools and systems used by big data scientists and engineers. Previous programming experience is not required! You will be guided through the basics of using Hadoop with MapReduce, Spark, Pig, and Hive. By following along with the provided code, you will experience how one can perform predictive modeling and leverage graph analytics to model problems.
More "Top-Rated" Coursera paths: Data Engineering, Big Data, and Machine Learning on GCP Specialization (Google Cloud), Modern Big Data Analysis with SQL Specialization (Cloudera),
GO TO TRAINING
OUR TAKE: The DataCamp Big Data Fundamentals training will teach you the basics of working with big data and PySpark. It features 4 hours of training, 16 videos, and 55 separate exercises.
Platform: DataCamp
Description: This course covers the fundamentals of Big Data via PySpark. Spark is a "lightning-fast cluster computing" framework for Big Data. It provides a general data processing platform engine and lets you run programs up to 100x faster in memory, or 10x faster on disk than Hadoop. You'll use PySpark, a Python package for spark programming and its powerful, higher-level libraries such as SparkSQL, MLlib (for machine learning), etc., to interact with works of William Shakespeare, analyze Fifa football 2018 data, and perform clustering of genomic datasets.
More "Top-Rated" DataCamp paths: Visualizing Big Data with Trelliscope in R
GO TO TRAINING
OUR TAKE: This module is great for learning all the different parts of the Hadoop ecosystem, including its architecture, the MapReduce framework, advanced Hadoop, and more.
Platform: Edureka
Description: Edureka's Big Data Hadoop Certification Training course is curated by Hadoop industry experts, and it covers in-depth knowledge on big data and the Hadoop ecosystem tools such as HDFS, YARN, MapReduce, Hive, Pig, HBase, Spark, Oozie, Flume, and Sqoop. Throughout this online instructor-led Hadoop training, you will be working on real-life industry use cases in retail, social media, aviation, tourism and finance using Edureka's Cloud Lab.
More "Top-Rated" Edureka paths: Big Data Architect Masters Program, Advanced Executive Program in Big Data Engineering
GO TO TRAINING
OUR TAKE: The edX Knowledge Management training takes roughly 8 weeks to complete, and is a great resource for introductory learning. The instructors are Eric Tsui and W.B. Lee from Hong Kong Polytechnic University.
Platform: edX
Description: The course is offered by the Knowledge Management and Innovation Research Center (KMIRC) of the Hong Kong Polytechnic University. Capabilities and competencies of the KMIRC are further strengthened by the international alliances it has formed with leading practitioners, many of which are regarded as members of the "Hall of Fame" in knowledge management, and renowned worldwide. The course is suitable for participants with a background in humanities, management, social science, physical science, or engineering.
More "Top-Rated" edX paths: Big Data Analytics Using Spark, Big Data Analytics, Big Data Fundamentals, IoT Programming and Big Data
GO TO TRAINING
OUR TAKE: This training shows students real-world usage and ROI of big data, which can prepare managers to make optimal decisions about the use, resourcing, risks, and value of big data.
Platform: Experfy
Description: This course is designed to explain and demystify big data in non-technical terms. It bridges the gap between market buzz and business realities. It documents real-world usage and ROI of big data, delineates successes and failures of big data, and the reasons for both. In short, the course peels away the complexities surrounding big data, boiling it down to the essence that managers need to know to make optimal decisions about the use, resourcing, risks, and value of it.
More "Top-Rated" Experfy paths: Introduction to Big Data & Cloud, Big Data Analyst, Big Data Implementation, Migration, Ingestion, Management, & Visualization
GO TO TRAINING
OUR TAKE: This module is designed for professionals looking to grow their career in data analytics or data science, or analysts, software engineers, and project managers. It takes roughly 9 months to complete and features more than 230 hours of on-demand learning.
Platform: Intellipaat
Description: This Certification Program in collaboration with E&ICT, IIT, Guwahati, aims to provide extensive training on Big Data Analytics concepts such as Hadoop, Spark, Python, MongoDB, data warehousing, and more. This program warrants to provide a complete experience to learners in terms of understanding the concepts, mastering them thoroughly, and applying them in real life.
More "Top-Rated" Intellipaat paths: Big Data Hadoop Certification Training, Big Data Hadoop, Spark, Storm and Scala Training, Big Data Hadoop Developer Certification Training, Big Data Hadoop Analyst Training Online
GO TO TRAINING
OUR TAKE: Taught by industry veteran Kumaran Ponnambalam, the learning objectives in this training include Spark and Kafka for data engineering, moving data with Kafka, how Spark works, and complex accumulators.
Platform: LinkedIn Learning
Description: In this course, discover how to build big data pipelines around Apache Spark. Join Kumaran Ponnambalam as he takes you through how to make Apache Spark work with other big data technologies. He covers the basics of Apache Kafka Connect and how to integrate it with Spark for real-time streaming. In addition, he demonstrates how to use various technologies to construct an end-to-end project that solves a real-world business problem.
More "Top-Rated" LinkedIn Learning paths: Big Data in the Age of AI, Architecting Big Data Applications: Real-Time Application Engineering
GO TO TRAINING
OUR TAKE: The Mindmajix specialty certification training features 30 hours of live training, 20 hours of lab sessions, and a flexible schedule to work with. The module was designed by a team of big data professionals.
Platform: Mindmajix
Description: Gain in-depth knowledge in designing and managing big data solutions on the AWS platform through real-time examples. You will also get an opportunity to work on industry-based real-time projects in our training, and this will enable you to become a certified AWS big data developer.
GO TO TRAINING
OUR TAKE: This intermediate-level Pluralsight training will teach you about big data concepts, major technologies, and dominant software tools. The module is taught by industry expert Andrew Brust.
Platform: Pluralsight
Description: In this course, ZDNet's big data correspondent Andrew Brust teaches you all about big data. This course will get you up and running with the definitions and technologies you need to know, and the vendors you need to know about. By the end of the course, you'll know what big data is, how it can integrate with conventional database and Business Intelligence (BI) technologies, and how to devise a strategy for adopting big data in your organization.
More "Top-Rated" Pluralsight paths: Big Data on Amazon Web Services, Big Data on AWS: The Big Picture, Real World Big Data in Azure, SQL Big Data Convergence – The Big Picture, SQL on Hadoop – Analyzing Big Data with Hive, Big Picture: Enterprise Data Management
GO TO TRAINING
OUR TAKE: This program includes live interaction with IBM leadership, more than 120 hours of live interactive learning, a capstone, and 15 real-life projects. Students earn a certificate for each course completed.
Platform: Simplilearn
Description: This Big Data Engineer Master's Certification program in collaboration with IBM provides online training on the best big data courses to impart skills required for a successful career in data engineering. Master the big data and Hadoop frameworks, leverage the functionality of AWS services, and use the database management tool MongoDB to store data.
More "Top-Rated" Simplilearn paths: Big Data Hadoop and Spark Developer, AWS Big Data Certification Training Course
GO TO TRAINING
OUR TAKE: With nearly 15,000 reviews and 4.5 stars, this is one of the most popular and top-ranked big data training on the web. It features more than 10 hours of on-demand video, 4 articles, and 4 downloadable resources.
Platform: Udemy
Description: This course will teach the basics with a crash course in Python, continuing on to learning how to use Spark DataFrames with the latest Spark 2.0 syntax. Once we've done that we'll go through how to use the MLlib Machine Library with the DataFrame syntax and Spark. All along the way, you'll have exercises and mock consulting projects that put you right into a real-world situation where you need to use your new skills to solve a real problem.
More "Top-Rated" Udemy paths: The Ultimate Hands-On Hadoop – Tame your Big Data!, Apache Spark with Scala – Hands On with Big Data!, Taming Big Data with Apache Spark and Python – Hands On!, Taming Big Data with MapReduce and Haoop – Hands On!
GO TO TRAINING
OUR TAKE: Students will learn the skills to build production-ready data infrastructure. This module can be completed in as little as five months. Prerequisites include intermediate Python and SQL.
Platform: Udacity
Description: Learn to design data models, build data warehouses and data lakes, automate data pipelines, and work with massive datasets. At the end of the program, you'll combine your new skills by completing a capstone project. To be successful in this program, you should have intermediate Python and SQL skills.
More "Top-Rated" Udacity paths: Data Streaming Nanodegree
GO TO TRAINING
Solutions Review participates in affiliate programs. We may make a small commission from products purchased through this resource.