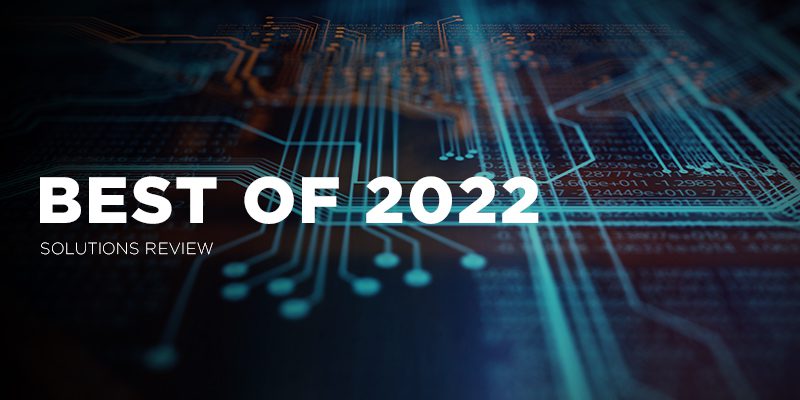 Solutions Review's listing of the best data fabric tools is an annual mashup of products that best represent current market conditions, according to the crowd. Our editors selected the best data fabric tools and software based on each solution's Authority Score; a meta-analysis of real user sentiment through the web's most trusted business software review sites and our own proprietary five-point inclusion criteria.
The editors at Solutions Review have developed this resource to assist buyers in search of the best data fabric tools to fit the needs of their organization. Choosing the right vendor and solution can be a complicated process — one that requires in-depth research and often comes down to more than just the solution and its technical capabilities. To make your search a little easier, we've profiled the best data fabric tools and software all in one place. We've also included platform and product line names and introductory software tutorials straight from the source so you can see each solution in action.
Note: Companies are listed in alphabetical order.
The Best Data Fabric Tools
Platform: Atlan
Description: Atlan's data workspace platform offers capabilities in four key areas, including data cataloging and discovery, data quality and profiling, data lineage and governance, and data exploration and integration. The product features a Google-like Search interface, automatic data profiling, and a searchable business glossary for generating a common understanding of data. Users can also manage data usage and adoption across an ecosystem via granular governance and access controls, no matter where your data goes.
Platform: Dataware Platform
Description: Cinchy offers a data collaboration platform that tackles enterprise application and data integration. The product was designed as a secure tool for solving data access challenges, and features real-time capabilities for data governance and solutions-delivery. Cinchy works by connecting fragmented data sources into its network architecture. The unique design enables what the company calls "autonomous data" which means that data managed within the platform is self-describing, self-protecting, self-connecting, and self-managing.
Tool: data.world
Description: data.world offers a cloud-native enterprise data catalog that provides complete context so users can understand their data, regardless of where it resides. This includes metadata, dashboards, analysis, code, docs, project management, and social media collaboration capabilities. The product automatically builds a connected web of data and insights so users can explore relationships as well, and provides recommendations on related assets to improve analysis. data.world is unique due to its continuous release cycle.
Platform: Denodo Platform
Description: Denodo is a major player in the data virtualization tools marketplace. Founded in 1999 and based in Palo Alto, Denodo offers high-performance data integration and abstraction across a range of big data, enterprise, cloud, unstructured and real-time data services. Denodo also provides access to unified business data for business intelligence, data analytics, and single-view applications. The Denodo Platform is the only data virtualization solution to be provisioned as a virtual image on Amazon AWS Marketplace.
Platform: IBM Cloud Pak for Data
Related products: IBM Cloud Integration, IBM InfoSphere Classic Federation Server, IBM InfoSphere Data Replication, IBM InfoSphere DataStage, IBM App Connect, IBM Streams, IBM Data Refinery, IBM BigIntegrate, IBM InfoSphere Information Server, IBM WebSphere Enterprise Service Bus, IBM Integration Designer
Description: IBM offers several distinct integration tools in both on-prem and cloud deployments, and for virtually every enterprise use case. Its on-prem data integration suite features tools for traditional (replication and batch processing) and modern integration synchronization and data virtualization) requirements. IBM also offers a variety of prebuilt functions and connectors. The mega-vendor's cloud integration product is widely considered one of the best in the marketplace, and additional functionality is being rolled out on a perpetual basis.
Platform: K2View Data Fabric
Description: K2View Data Fabric is a unified platform for data integration, transformation, enrichment, orchestration, and delivery. The product was designed to support real-time operations while fragmented data for each business entity is unified into its own micro-DB to deliver a holistic view. One micro-DB is manages for every instance of a business entity while web services componentize and expose data from the micro-DBs for consumption by external applications. K2View is scalable to support hundreds of millions of micro-DBs concurrently via a distributed architecture.