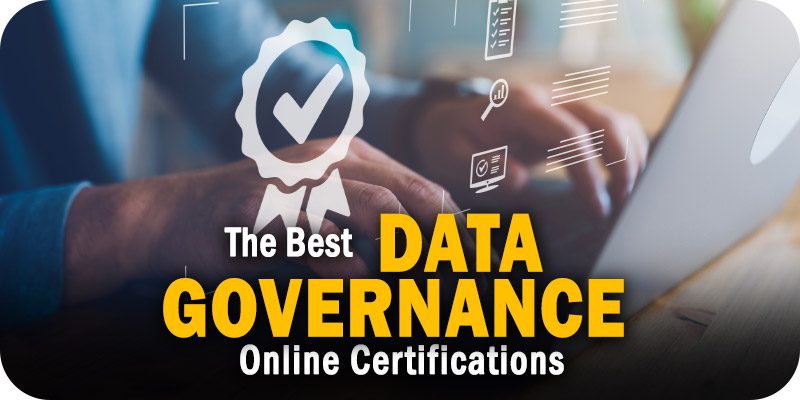 The editors at Solutions Review have compiled this list of the best data governance certifications online to consider acquiring.
Not only is data governance one of the most common data management use cases, but it's also the most difficult to solve for. Data governance is perhaps the most important factor in modern data management and bridges the gap between data quality and democratization. In order for organizations to enable cross-enterprise data access (which is a major pain point in and of itself), data needs to be overseen in the correct fashion using industry-standard best practices.
With this in mind, we've compiled this list of the best data governance certifications from leading online professional education platforms and notable experts in the field. The certifications listed offer students the training they need to develop new skills and advance their careers. This is not an exhaustive list, but one that features the best data governance certifications from verified sources. We made sure to include certificate descriptions and Solutions Review's personal take on each.
Note: The best data governance certifications online are listed in alphabetical order by platform.
The Best Best Data Governance Certifications Online
OUR TAKE: CIGO offers a variety of information governance training options through executive courses, live online modules, on-demand media, webinars, and podcasts. They also offer relevant certification prep.
Platform: CIGO (Certified Information Governance Officers Association)
Description: Through their partnership with the Institute for Information Governance, which has trained more IG professionals than any other organization worldwide, and their lead trainer, Robert Smallwood MBA, CIP, IGP, along with support from its distinguished Board of Governors, intensive CIGO training provides a broad foundation for the IG professional, and the CIGO Exam Study Guide helps to focus on key areas of the exam.
GO TO TRAINING
OUR TAKE: AIIM is an information management resource for professionals in the field, and offers a variety of related courses, training, and certification programs. We recommend starting with How to Manage Legacy User Information Stores.
Platform: edX
Description: Courses require membership to AIIM+ Pro and to gain unlimited access to their entire library of practical lessons for solving today's information-centric challenges. New lessons are added each month. Your monthly or annual subscription gives you access to the learning library for as long as you need it.
GO TO TRAINING
OUR TAKE: This data governance training comes recommended by the folks at CIO Magazine and offers a thorough professional certificate. Pre-requisites for certification are different based on which level you are applying for certification in. there is also an education substitution for valid expeirence.
Platform: ICCP
Description: This certification is available via several different "levels" with requirements of 1,400 hours of direct data governance. Executive management is required to pass a 4-day in-person workshop on data governance and stewardship and written assessment at 70 percent or better while adhering to the ICCP Code of Ethics. Other levels are there for Principles, Mastery, Associate/Practitioner, and Foundation.
GO TO TRAINING
OUR TAKE: To ensure success, SAP recommends combining education courses and hands-on experience to prepare for your certification exam as questions will test your ability to apply the knowledge you have gained in training. You are not allowed to use any reference materials during the certification test.
Platform: SAP
Description: The SAP Certified Application Associate – SAP Master Data Governance certification exam validates that the candidate possesses the fundamental and core knowledge required of the application consultant profile. This certification proves that the candidate has an overall understanding and in‐depth technical skills to participate as a member of a project team in a mentoring role. This certification exam is recommended as an entry-level qualification.
GO TO TRAINING
Solutions Review participates in affiliate programs. We may make a small commission from products purchased through this resource.

Latest posts by Timothy King
(see all)