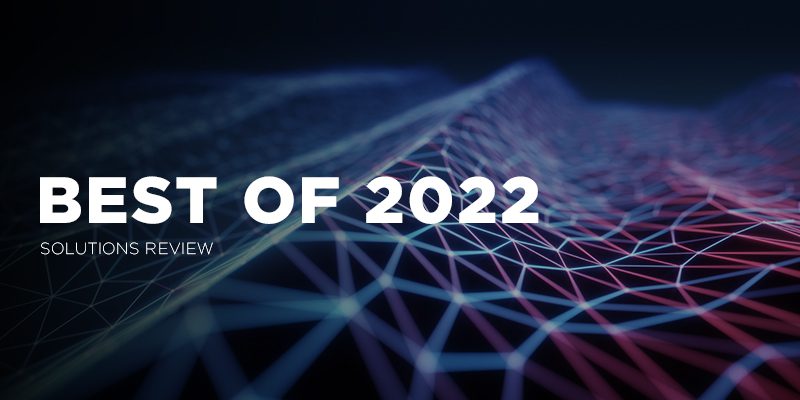 Solutions Review's listing of the best data governance tools is an annual mashup of products that best represent current market conditions, according to the crowd. Our editors selected the best data governance tools and software based on each solution's Authority Score; a meta-analysis of real user sentiment through the web's most trusted business software review sites and our own proprietary five-point inclusion criteria.
The editors at Solutions Review have developed this resource to assist buyers in search of the data governance tools to fit the needs of their organization. Choosing the right vendor and solution can be a complicated process — one that requires in-depth research and often comes down to more than just the solution and its technical capabilities. To make your search a little easier, we've profiled the best data governance tools and software providers all in one place. We've also included platform and product line names and introductory software tutorials straight from the source so you can see each solution in action.
Note: The best data governance tools are listed in alphabetical order.
The Best Data Governance Tools
Platform: Alation Data Catalog
Description: Alation Data Catalog helps you find, understand, and govern all enterprise data through a single pane of glass. The product uses machine learning to index and make discoverable a wide variety of data sources including relational databases, cloud data lakes, and file systems. Alation democratizes data to deliver quick access alongside metadata to guide compliant, intelligent data usage with vital context. Conversations and wiki-like articles capture knowledge and guide newcomers to the appropriate subject-matter expert. The intelligent SQL editor empowers users to query in natural language, surfacing recommendations, compliance flags, and relevant policies as users query.
Platform: ASG Enterprise Data Intelligence
Description: ASG Technologies offers a data intelligence platform that can discover data from more than 220 traditional and big data sources. The tool features automated data tagging by pattern matching, integration of reference data, and enriched metrics. Automated business linage allows users to better understand their data, and governance capabilities include those for tracing data in the data lake and traditional sources. ASG's EDI product offers an impressive capabilities portfolio, with reference customers touting the vendor's support for a variety of business use cases.
Platform: Ataccama ONE
Description: Ataccama ONE is a comprehensive data management and governance platform that also includes master data management and data quality capabilities. The solution touts a machine learning-centric user interface, as well as a data processing engine that is responsible for data transformations, evaluating business rules, and matching and merging rules. The platform supports any data, domain, and a variety of integrations.
Platform: Atlan
Description: Atlan's data workspace platform offers capabilities in four key areas, including data cataloging and discovery, data quality and profiling, data lineage and governance, and data exploration and integration. The product features a Google-like Search interface, automatic data profiling, and a searchable business glossary for generating a common understanding of data. Users can also manage data usage and adoption across an ecosystem via granular governance and access controls, no matter where your data goes.
Platform: Collibra Platform
Related products: Collibra Catalog, Collibra Privacy & Risk
Description: Collibra's Data Dictionary documents an organization's technical metadata and how it is used. It describes the structure of a piece of data, its relationship to other data, and its origin, format, and use. The solution serves as a searchable repository for users who need to understand how and where data is stored and how it can be used. Users can also document roles and responsibilities and utilize workflows to define and map data. Collibra is unique because the product was built with business end-users in mind.
Platform: Claravine
Description: Claravine's Data Standards Cloud lets customers drive internal alignment with standards across data sets, types, and sources. The product enables the creation of easy-to-follow requirements using referenceable fields and descriptions. Users can also audit, manage and standardize data and automatically verify tag placement and configuration across landing pages to maintain standards. Claravine touts the ability to grant users or groups the right roles and permissions with standard and custom settings, and review, audit, and visualize platform activity with dashboards.
Platform: Egnyte
Description: Egnyte offers a content security, compliance, and collaboration solution that governs an organization's files regardless of where they reside. The product features a variety of user access capabilities, lifecycle management, data security, compliance, business process management, and API integration via a unified solution. Information governance functionality includes locating valuable and sensitive data, compliance automation, and more. Egnyte also touts granular policy controls for remote work and modernizing file systems.
Platform: erwin Data Governance
Related products: erwin Data Intelligence Suite, erwin Data Catalog, erwin Data Literacy, erwin EDGE Portfolio
Description: erwin offers a unified software platform for combining data governance, enterprise architecture, business process, and data modeling. The product is delivered as a managed service that allows users to discover and harvest data, as well as structure and deploy data sources by connecting physical metadata to specific business terms and definitions. erwin imports metadata from data integration tools, as well as cloud-based platforms, and can evaluate complex lineages across systems and use cases.
Platform: Immuta
Description: Immuta's automated data governance platform lets users discover and access data through a dedicated data catalog. The product features an intuitive policy builder that provides author policies in plain English, without code so security leaders can write policies across any data. Immuta also enables compliant collaboration via projects, controlled workspaces where users can share data. When users switch projects, they assume the right permissions and controls. Immuta runs as a containerized solution on-prem, in the cloud or via a hybrid model.
Platform: IBM InfoSphere Information Governance Catalog
Description: IBM has data management products for virtually every enterprise use case. Its products can be deployed in any environment, and partnerships with some of the other top names in the marketplace make it an even more intriguing option for organizations with large workloads and expansive data jobs. IBM also offers its Informix database that can integrate SQL, NoSQL/JSON, time series and spatial data.
Platform: Axon Data Governance
Related products: Informatica Product 360, Informatica Customer 360, Informatica Supplier 360
Description: Informatica Axon Data Governance is an integrated and automated data governance solution that enables quick access to curated data. The product ensures teams can find, accessed and understand the data they need via a curated marketplace. Axon also enables data dictionary development for a consistent source of business context across multiple tools. Users can visualize data lineage, automatically measure data quality, and ensure data privacy with this solution as well.
Platform: Oracle Enterprise Metadata Management
Related products: Oracle Cloud Infrastructure Data Catalog
Description: Oracle Enterprise Metadata Management is a metadata management platform that can harvest and catalog metadata from any provider. The product allows for interactive searching and browsing of the metadata as well as providing data lineage, impact analysis, semantic definition and semantic usage analysis for any metadata asset within the catalog. Oracle Enterprise Metadata Management also touts advanced algorithms that stitch together metadata assets from each of the providers.
Platform: OvalEdge
Description: OvalEdge offers an on-prem data catalog and governance toolset that crawls databases, data lakes and back-end systems to create a smart catalog of the information. The product provides a discovery platform that both novice and experienced analysts can use to discover data quickly. OvalEdge includes built-in governance tools that help define a standard business glossary, data assets, PIIs, and limits access by various roles. It also organizes data automatically via machine learning and advanced algorithms.
Platform: Precisely Data360 Govern
Related products: Precisely Data360 Analyze, Precisely Data360 SQ+, Precisely Spectrum Quality, Precisely Trillium Quality
Description: Precisely's data governance solution, Data360 Govern, is an end-to-end enterprise data governance, catalog, and metadata management solution that aims to give businesses confidence in the quality, value, and trustworthiness of their data. Data360 Govern works with Data360 DQ+, Spectrum Quality, and Trillium Quality to improve the quality of metadata and transactional data for enhanced business decisions.
Platform: SAP Master Data Governance
Related products: Master Data Governance on SAP S/4HANA
Description: SAP offers enterprise MDM functionality through its SAP Master Data Governance product. The solution can be deployed on-prem or in the cloud and enables users to consolidate and centrally govern master data. SAP includes support for all master data domains and implementation styles, pre-built data models, business rules, workflow, and user interfaces. Master Data Governance also lets you define, validate, and monitor your established business rules to confirm master data readiness and analyze the performance of data management.
Platform: Segment
Description: Segment offers a customer data platform (CDP) that collects user events from we band mobile apps and provides a complete data toolkit to the organization. The product is available in three iterations, depending on the user persona (Segment for Marketing Teams, Product Teams or Engineering Teams). Segment works by letting you standardize data collection, unify user records, and route customer data into any system where it's needed. The solution also touts more than 300 integrations.
---
Platform: Semarchy xDM
Description: Semarchy offers a master data management solution called xDM. The product utilizes machine learning algorithms to enable stewardship and advanced matching, survivorship, curation, and classification. The tool features a native data model that facilitates transparent lineage, audibility, and governance as well. xDM can integrate any data source via real-time and batch APIs to integrate the data hub with existing applications and business processes. Semarchy offers a 30-day license key free trial of xDM for on-prem and cloud.
Platform: Talend Data Catalog
Related products: Talend Open Studio, Talend Data Fabric, Talend Data Management Platform, Talend Data Preparation, Talend Big Data Platform, Talend Data Services Platform, Talend Integration Cloud, Talend Stitch Data Loader
Description: Talend Data Catalog automatically crawls, profiles, organizes, links, and enriches metadata. Up to 80 percent of information associated with the data is documented automatically and kept up-to-date through smart relationships and machine learning. Data Catalog key features include faceted search, data sampling, semantic discovery. categorization, and auto-profiling. The tool also includes social curation and data relationship discovery and certification, as well as a suite of design and productivity tools.