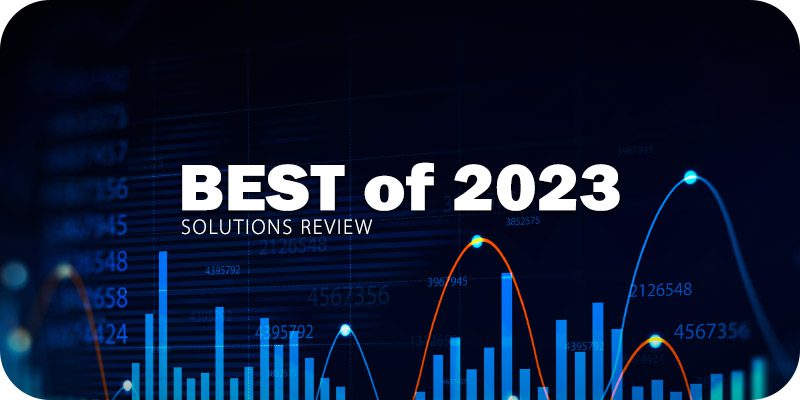 Solutions Review's listing of the best data integrity tools is an annual mashup of products that best represent current market conditions, according to the crowd. Our editors selected the best data integrity tools and software based on each solution's Authority Score; a meta-analysis of real user sentiment through the web's most trusted business software review sites and our own proprietary five-point inclusion criteria.
The editors at Solutions Review have developed this resource to assist buyers in search of the best data integrity tools to fit the needs of their organization. Choosing the right vendor and solution can be a complicated process — one that requires in-depth research and often comes down to more than just the solution and its technical capabilities. To make your search a little easier, we've profiled the best data quality tools and software all in one place. We've also included platform and product line names and introductory software tutorials straight from the source so you can see each solution in action.
For an in-depth breakdown of supporting data quality processes with data lineage, our editors recommend this short guide courtesy of MANTA.
Note: The best data integrity tools are listed in alphabetical order.
The Best Data Integrity Tools
Platform: Ataccama ONE
Description: Ataccama offers an augmented data management platform that features data discovery and profiling, metadata management and a data catalog, data quality management, master and reference data management, and big data processing and integration. The product is fully integrated yet modular for any data, user, domain or deployment type. Ataccama also includes text analytics and machine learning, as well as data enrichment with external sources and data lake profiling.
Platform: Informatica Multidomain MDM
Related products: Informatica Product 360, Informatica Customer 360, Informatica Supplier 360
Description: Informatica offers a modular MDM solution that provides a single view of data. The product enables users to create an authoritative view of business-critical data from disparate, duplicate and conflicting sources. Informatica MDM also features AI and machine learning, and includes data quality, data integration, business process management, and data security functionality that allows you to easily enrich master data records with data from external providers. Informatica's MDM capabilities can be deployed on-prem or in the cloud.
Platform: Innovative Systems Synchronos
Description: The Innovative Systems Synchronos platform is an enterprise MDM solution used for operational or analytical purposes. The product can be deployed on-prem, in the cloud, or via a hybrid environment. Synchronos features data profiling, data discovery and monitoring, as well as a 360-degree view that lets users uncover information about extended relationships within data. Workflow management functionality lets customers construct and modify workflows while hierarchy management enables a graphical display and navigational tools.
Tool: Oracle Cloud Infrastructure Data Catalog
Related products: Oracle Enterprise Metadata Management
Description: Oracle Cloud Infrastructure Data Catalog is a metadata management service that helps organizations find and govern data using an organized inventory of data assets. The product features a modern, intuitive user interface that includes a simple dashboard, search-and-browse capabilities, recommended actions, and shortcuts. Oracle Cloud Infrastructure Data Catalog is included with an Oracle Cloud Infrastructure subscription.
Platform: Precisely Trillium Quality
Related products: Precisely Trillium, Precisely Data360, Precisely Spectrum Quality
Description: Precisely Trillium Quality supports changing needs, data sources, and enterprise infrastructures. Its data cleansing and standardization features automatically understand global data, such as customer, product, and financial data, in any context – making pre-formatting and pre-processing unnecessary. Trillium Quality services deploy in batch or in real-time using the same rule sets and standards.  Data360 DQ+ enables a variety of operational use cases requiring high data volumes, reusable business rules, and complex reconciliation capabilities.
Platform: SAP Master Data Governance
Related products: Master Data Governance on SAP S/4HANA
Description: SAP offers enterprise MDM functionality through its SAP Master Data Governance product. The solution can be deployed on-prem or in the cloud and enables users to consolidate and centrally govern master data. SAP includes support for all master data domains and implementation styles, pre-built data models, business rules, workflow, and user interfaces. Master Data Governance also lets you define, validate, and monitor your established business rules to confirm master data readiness and analyze the performance of data management.
Platform: Syniti Master Data Management
Related products: Syniti Knowledge Platform
Description: Syniti (formerly BackOffice Associates) lets users choose from an array of supported MDM implementation styles. The product enables the creation of a single point of reference to master and application data from multiple domains. Syniti automatically notifies users when work needs to be performed, as well as monitor processes against SLAs. It also links the business semantic later to all master and application data mastered by the solution.
Tool: Talend Data Catalog
Related products: Talend Open Studio, Talend Data Fabric, Talend Data Management Platform, Talend Data Preparation, Talend Big Data Platform, Talend Data Services Platform, Talend Integration Cloud, Talend Stitch Data Loader
Description: Talend Data Catalog automatically crawls, profiles, organizes, links, and enriches metadata. Up to 80 percent of information associated with the data is documented automatically and kept up-to-date through smart relationships and machine learning. Data Catalog key features include faceted search, data sampling, semantic discovery. categorization, and auto-profiling. The tool also includes social curation and data relationship discovery and certification, as well as a suite of design and productivity tools.