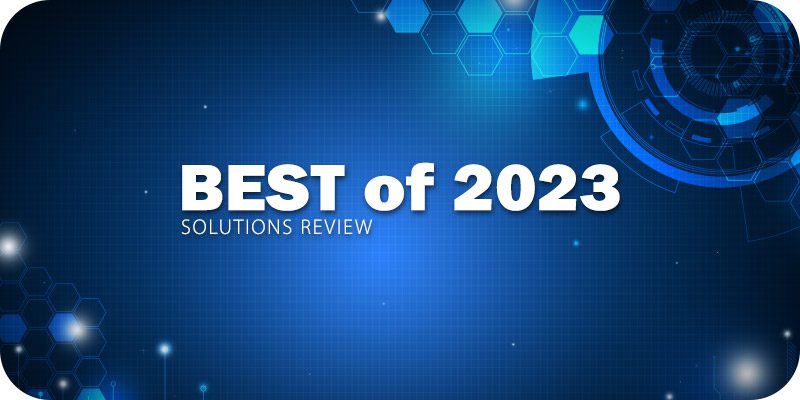 Solutions Review's listing of the best data modeling tools (commercial) is an annual mashup of products that best represent current market conditions, according to the crowd. Our editors selected the best data modeling tools and software based on each solution's Authority Score; a meta-analysis of real user sentiment through the web's most trusted business software review sites and our own proprietary five-point inclusion criteria.
The editors at Solutions Review have developed this resource to assist buyers in search of the data modeling tools (commercial) to fit the needs of their organization. Choosing the right vendor and solution can be a complicated process — one that requires in-depth research and often comes down to more than just the solution and its technical capabilities. To make your search a little easier, we've profiled the best data modeling tools and software providers all in one place. We've also included platform and product line names and introductory software tutorials straight from the source so you can see each solution in action.
Note: The best data modeling tools (commercial) are listed in alphabetical order.
The Best Data Modeling Tools and Software
Platform: erwin Data Modeler
Related products: erwin Data Catalog, erwin Data Intelligence Suite, erwin Data Governance, erwin Data Literacy, erwin EDGE Portfolio
Description: erwin offers a unified software platform for combining data governance, enterprise architecture, business process, and data modeling. The product is delivered as a managed service that allows users to discover and harvest data, as well as structure and deploy data sources by connecting physical metadata to specific business terms and definitions. erwin imports metadata from data integration tools, as well as cloud-based platforms, and can evaluate complex lineages across systems and use cases.
Platform: IBM's InfoSphere Data Architect
Related products: IBM InfoSphere Information Governance Catalog, IBM InfoSphere Information Server, Watson Knowledge Catalog
Description: IBM InfoSphere Data Architect is a collaborative enterprise data modeling and design solution that tackles integration design for business intelligence, master data management, and service-oriented architecture. InfoSphere Data Architect enables you to work with other users at every step of the data design, from project management to application design. The tool helps you align processes, services, applications and data architectures as well. Key features include native data querying, logical and physical data modeling, import and export of constant mappings, and source control management.
Platform: ER/Studio
Description: Idera offers a suite of data modeling tools for enterprise-scale data architecture, headlined by its flagship product ER/Studio. The solution is noteworthy for its features which enable performing change management and impact analyses of new policies or projected changes to data models, databases, or data fields. Idera also ensures consistency between data models and database design while coordinating changes across development and BI teams. The tool can be used for creating a company-wide business glossary as well.
Platform: Oracle SQL Developer Data Modeler
Related products: Oracle Cloud Infrastructure Data Catalog, Oracle Enterprise Metadata Management
Description: Oracle SQL Developer Data Modeler is a free graphical tool that simplifies various data modeling tasks. The freebie lets users create, browse and edit logical, relational, physical, multi-dimensional, and data type models. It also provides forward and reverse engineering capabilities and supports collaborative development through integrated source code control. Oracle SQL Developer Data Modeler can be used in both traditional and cloud environments.
Platform: Toad Data Modeler
Description: Quest Software's Toad Data Modeler is a cross-platform offering that enables you to quickly deploy accurate changes to data structures. It also allows you to construct logical and physical data models, compare and synchronize models, generate complex SQL/DDL, create and modify database schemas and scripts, and reverse and forward engineer databases and data warehouse systems. Key features include multiple database support, in-depth reporting, and model customization.
Platform: SAP PowerDesigner
Related products: SAP Information Steward, SAP Data Intelligence
Description: SAP offers its metadata management capabilities via SAP PowerDesigner, SAP Information Steward, and SAP Data Intelligence. SAP utilizes metadata integration for multiple DBMS platforms, across the SAP ecosystem, with available integrators for BI platforms, data modeling solutions, and other data integration software. Users can ingest metadata from other tools to create reporting and monitoring systems for data migration and data valuation as well. Metadata discovery data modeling and scenario analysis are available via SAP Data Intelligence.