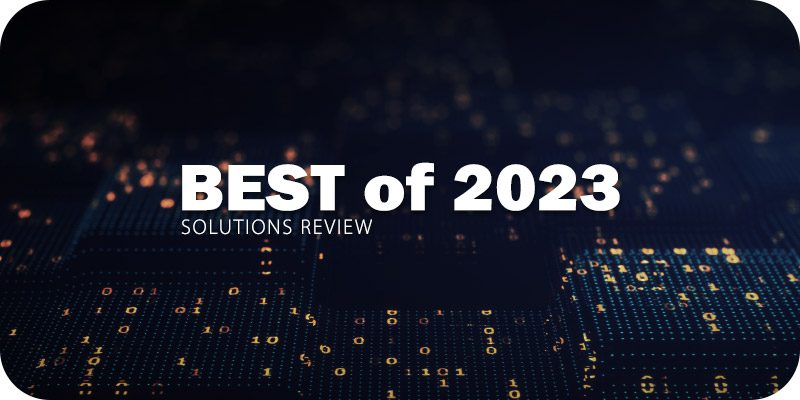 Solutions Review's listing of the best data observability tools is an annual mashup of products that best represent current market conditions, according to the crowd. Our editors selected the best data observability tools based on each solution's Authority Score; a meta-analysis of real user sentiment through the web's most trusted business software review sites and our own proprietary five-point inclusion criteria.
The editors at Solutions Review have developed this resource to assist buyers in search of the best data observability tools to fit the needs of their organization. Choosing the right vendor and solution can be a complicated process — one that requires in-depth research and often comes down to more than just the solution and its technical capabilities. To make your search a little easier, we've profiled the best data observability tools providers all in one place. We've also included platform and product line names and introductory software tutorials straight from the source so you can see each solution in action.
Note: The best data observability tools are listed in alphabetical order.
The Best Data Observability Tools
Platform: Acceldata
Description: Acceldata offers what it calls a "multidimensional" data observability platform for complex environments. The tool predicts and helps fix operational issues before they impact business outcomes, and correlates events across data, compute, and pipeline layers. Acceldata offers three product lines, including: Acceldata Pulse (Compute Performance Monitoring), Torch (Data Reliability), and Flow (Data Pipeline Observability). This solution is best suited for data engineers, data scientists, and data architects.
Platform: Proactive Data Observability Platform
Description: Databand (acquired by IBM) enables users to detect and resolve data issues via a proactive platform that catches bad data before impact. Customers can pinpoint unknown data incidents, reduce the mean time to detection, and improve mean time to resolution with incident alerts and routing. Databand works in four steps, including metadata collection, profile behavior, data incident alert and detection, and automated resolution. The solution also includes an open-source library with a variety of data tools.
Platform: Proactive Data Observability Platform
Description: Datafold is a data reliability platform that helps data teams deliver reliable data products. It has the unique ability to identify, prioritize, and investigate data quality issues proactively before they affect production. The company was founded in 2020 by veteran data engineers. Datafold can find where mismatches reside across databases at scale and can verify 25 million rows in less than 10 seconds. The solution can be used by a variety of data workers, which is a big strength.
Platform: Data Observability Platform
Description: Monte Carlo's data observability platform utilizes best practices and principles of automatic application observability and applies them to data pipelines. This provides data engineers and analysts with visibility across all data pipelines and data products. Monte Carlo also offers machine learning that gives users a holistic view of an organization's data health and reliability for important business use cases.
Platform: Soda Cloud
Description: Soda offers open-source tools and a data observability platform to help teams build data products. The solution automatically monitors and manages data health through anomaly detection and dashboards. Soda lets you use a common language to check and manage data quality across all data sources, including ingestion and consumption. Users can also track data quality agreements made between domain teams to ensure that data is fit-to-purpose.