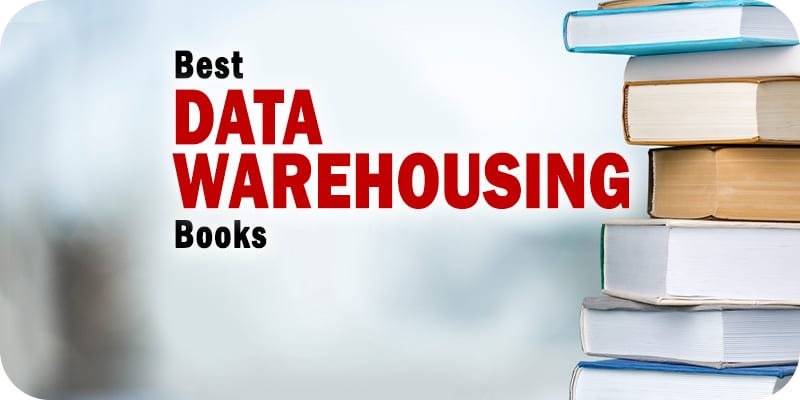 Our editors have compiled this directory of the best data warehousing books based on Amazon user reviews, rating, and ability to add business value.
There are loads of free resources available online (such as Solutions Review's Data Management Software Buyer's Guide, vendor comparison map, and best practices section) and those are great, but sometimes it's best to do things the old fashioned way. There are few resources that can match the in-depth, comprehensive detail of one of the best data warehousing books.
The editors at Solutions Review have done much of the work for you, curating this comprehensive directory of the best data warehousing books on Amazon. Titles have been selected based on the total number and quality of reader user reviews and ability to add business value. Each of the books listed in the first section of this compilation (the first 12) have met a minimum criteria of 15 reviews and a 4-star-or-better ranking.
Below you will find a library of titles from recognized industry analysts, experienced practitioners, and subject matter experts spanning the depths of data warehousing for beginners all the way to data lake best practices for the largest data volumes. This compilation includes publications for practitioners of all skill levels. We've also included a new section below that features recent and upcoming data warehouse book selections that are worth checking out.
The Best Data Warehousing Books
OUR TAKE: Author Ralph Kimball introduced the industry to the techniques of dimensional modeling way back in 1996. This updated version offers 14 case studies, best practices for big data analytics, and guidelines for interactive design,
"The first edition of Ralph Kimball's The Data Warehouse Toolkit introduced the industry to dimensional modeling, and now his books are considered the most authoritative guides in this space. This new third edition is a complete library of updated dimensional modeling techniques, the most comprehensive collection ever. It covers new and enhanced star schema dimensional modeling patterns, adds two new chapters on ETL techniques, includes new and expanded business matrices for 12 case studies, and more."
GO TO BOOK
OUR TAKE: Authored by two of the foremost thought leaders in data warehousing and touting 4.6 stars, one review calls this the "best BI book for dimensional modelling ever written."
"The book describes BEAM, an agile approach to dimensional modeling, for improving communication between data warehouse designers, BI stakeholders and the whole DW/BI development team. BEAM provides tools and techniques that will encourage DW/BI designers and developers to move away from their keyboards and entity relationship based tools and model interactively with their colleagues. Developers understand how to efficiently implement dimensional modeling solutions."
GO TO BOOK
OUR TAKE: Reviewers tout this title as comprehensive with "lots of hands on exercises" and great for any "database newbie." Database Systems is a top-100 seller in Amazon's database storage and design section.
"Designed for use in undergraduate and graduate information systems database courses, this is an introductory yet comprehensive text that requires no prerequisites. Its goal is to provide a significant level of database expertise to students. Students will learn to design and use operational and analytical databases and will be prepared to apply their knowledge in today's business environments. The book's website includes access to the free Web-based data modelling suite ERDPlus designed and developed in conjunction with the text."
GO TO BOOK
Note: the new, 2nd edition is available through Redshelf.
OUR TAKE: This book covers everything users need to create a scalable data warehouse from scratch. Authors Dan Linstedt and Michael Olschimke have a combined 40 years in the field.
"The Data Vault was invented by Dan Linstedt at the U.S. Department of Defense. Building a Scalable Data Warehouse" covers everything one needs to know to create a scalable data warehouse end to end, including a presentation of the Data Vault modeling technique, which provides the foundations to create a technical data warehouse layer. The book discusses how to build the data warehouse incrementally using the agile Data Vault 2.0 methodology."
GO TO BOOK
OUR TAKE: This title was specifically written for professionals responsible for designing, implementing, or maintaining data warehousing systems. It is also relevant for those working in research and information management.
"This practical Second Edition highlights the areas of data warehousing and business intelligence where high-impact technological progress has been made. Discussions on developments include data marts, real-time information delivery, data visualization, requirements gathering methods, multi-tier architecture, OLAP applications, Web clickstream analysis, data warehouse appliances, and data mining techniques. The book also contains review questions and exercises for each chapter, and is appropriate for self-study or classroom work."
GO TO BOOK
OUR TAKE: Author Raph Kimball is the founder of Kimball Group and is one of the leading minds in the data warehousing industry. Nearly 80 percent of reviewers gave this book 5 stars.
"The Kimball Group Reader, Remastered Collection is the essential reference for data warehouse and business intelligence design, packed with best practices, design tips, and valuable insight from industry pioneer Ralph Kimball and the Kimball Group. This Remastered Collection represents decades of expert advice and mentoring in data warehousing and business intelligence, and is the final work to be published by the Kimball Group. Organized for quick navigation and easy reference, this book contains nearly 20 years of experience."
GO TO BOOK
OUR TAKE: Author Ralph Hughes leads business intelligence programs for Fortune 500 companies and is a frequent keynote speaker at various data management events. This first edition text is more than 550 pages.
"Building upon his earlier book that detailed agile data warehousing programming techniques for the Scrum master, the author's latest work illustrates the agile interpretations of the remaining software engineering disciplines. Use this step-by-step guide to deepen your own application development skills through self-study, show your teammates the world's fastest and most reliable techniques for creating business intelligence systems, or ensure that the IT department working for you is building your next decision support system the right way."
GO TO BOOK
OUR TAKE: The reviews on this text speak for themselves, with one reader saying this title is "everything you need on data warehouseing", while another says "excellent roadmap book for building a data warehouse."
"Here is the ideal field guide for data warehousing implementation. This book first teaches you how to build a data warehouse, including defining the architecture, understanding the methodology, gathering the requirements, designing the data models, and creating the databases. Coverage then explains how to populate the data warehouse and explores how to present data to users using reports and multidimensional databases and how to use the data in the data warehouse for business intelligence and customer relationship management."
GO TO BOOK
OUR TAKE: Author Ken Collier has worked with Agile methods since 2003, and pioneered the integration of Agile methods with data warehousing, business intelligence, and analytics to create the Agile Analytics style. He is also the founder and president of KWC Technologies, Inc.
"The author introduces platform-agnostic Agile solutions for integrating infrastructures consisting of diverse operational, legacy, and specialty systems that mix commercial and custom code. Using working examples, he shows how to manage analytics development teams with widely diverse skill sets and how to support enormous and fast-growing data volumes. Collier's techniques offer optimal value whether your projects involve "back-end" data management, "front-end" business analysis, or both."
GO TO BOOK
OUR TAKE: With more than 200 reviews and 4.5 stars, this is one of the most popular Hadook books available. Author Tom White has been an Apache Hadoop committer since February 2007.
"Get ready to unlock the power of your data. With the fourth edition of this comprehensive guide, you'll learn how to build and maintain reliable, scalable, distributed systems with Apache Hadoop. This book is ideal for programmers looking to analyze datasets of any size, and for administrators who want to set up and run Hadoop clusters. Using Hadoop 2 exclusively, author Tom White presents new chapters on YARN and several Hadoop-related projects such as Parquet, Flume, Crunch, and Spark."
GO TO BOOK
OUR TAKE: The goal of the book is to teach you how to think about data systems and how to break down difficult problems into simple solutions. Familiarity with traditional databases is helpful, but not required.
"Big Data teaches you to build big data systems using an architecture designed specifically to capture and analyze web-scale data. This book presents the Lambda Architecture, a scalable, easy-to-understand approach that can be built and run by a small team. You'll explore the theory of big data systems and how to implement them in practice. In addition to discovering a general framework for processing big data, you'll learn specific technologies like Hadoop, Storm, and NoSQL databases."
GO TO BOOK
OUR TAKE: This is the number-one bestseller in MySQL Guides on Amazon. This book is for software engineers, software architects, and technical managers who love to code.
"Data is at the center of many challenges in system design today. Difficult issues need to be figured out, such as scalability, consistency, reliability, efficiency, and maintainability. In this practical and comprehensive guide, author Martin Kleppmann helps you navigate this diverse landscape by examining the pros and cons of various technologies for processing and storing data. Software keeps changing, but the fundamental principles remain the same."
GO TO BOOK
Recent (and Upcoming) Releases Worth Checking Out
OUR TAKE: Authored by Waterline Data founder Alex Gorelik, this title explains why old systems and processes can no longer support data needs in the enterprise.
"This book is based on discussions with practitioners and executives from more than a hundred organizations, ranging from data-driven companies such as Google, LinkedIn, and Facebook, to governments and traditional corporate enterprises. You'll learn what a data lake is, why enterprises need one, and how to build one successfully with the best practices in this book. The author explains why old systems and processes can no longer support data needs in the enterprise."
GO TO BOOK
OUR TAKE: This book is for data analysts, data engineers, and data scientists who want to use BigQuery to derive insights from large datasets. Authors Valliappa Lakshmanan and Jordan Tigani work for Google's big data division.
"Work with petabyte-scale datasets while building a collaborative, agile workplace in the process. This practical book is the canonical reference to Google BigQuery, the query engine that lets you conduct interactive analysis of large datasets. BigQuery enables enterprises to efficiently store, query, ingest, and learn from their data in a convenient framework. With this book, you'll examine how to analyze data at scale to derive insights from large datasets efficiently."
GO TO BOOK
OUR TAKE: This is the sixth edition of this text, but the first that focuses on Python. It covers both statistical and machine learning algorithms for prediction, classification, visualization, dimension reduction, recommender systems, clustering, text mining and network analysis.
"Data Mining for Business Analytics: Concepts, Techniques, and Applications in Python is an ideal textbook for graduate and upper-undergraduate level courses in data mining, predictive analytics, and business analytics. This new edition is also an excellent reference for analysts, researchers, and practitioners working with quantitative methods in the fields of business, finance, marketing, computer science, and information technology. It covers both statistical and machine learning algorithms for prediction, classification, visualization, and dimension reduction.
GO TO BOOK
OUR TAKE: This book provides a comprehensive overview of theory and practical examples for a course on data mining and data warehousing. Author Parteek Bhatia is an associate professor in the department of computer science and engineering at Thapar Institute of Engineering and Technology.
"Written in lucid language, this valuable textbook brings together fundamental concepts of data mining and data warehousing in a single volume. Important topics including information theory, decision tree, Naïve Bayes classifier, distance metrics, partitioning clustering, associate mining, data marts and operational data store are discussed comprehensively. The textbook is written to cater to the needs of undergraduate students of computer science, engineering and information technology for a course on data mining and data warehousing."
GO TO BOOK
OUR TAKE: This book will help onboard you to Snowflake, present best practices to deploy, and use the Snowflake data warehouse. Author Dmitry Anoshin is a data-centric technologist and recognized expert in building and implementing business/digital intelligence solutions.
"Cloud vendors are offering modern data platforms for building cloud analytics solutions to collect data and consolidate into single storage solutions that provide insights for business users. Snowflake was built specifically for the cloud and it is a true game changer for the analytics market. This book will help onboard you to Snowflake, present best practices to deploy, and use the Snowflake data warehouse. In addition, it covers modern analytics architecture and use cases."
GO TO BOOK
Solutions Review participates in affiliate programs. We may make a small commission from products purchased through this resource.

Latest posts by Timothy King
(see all)