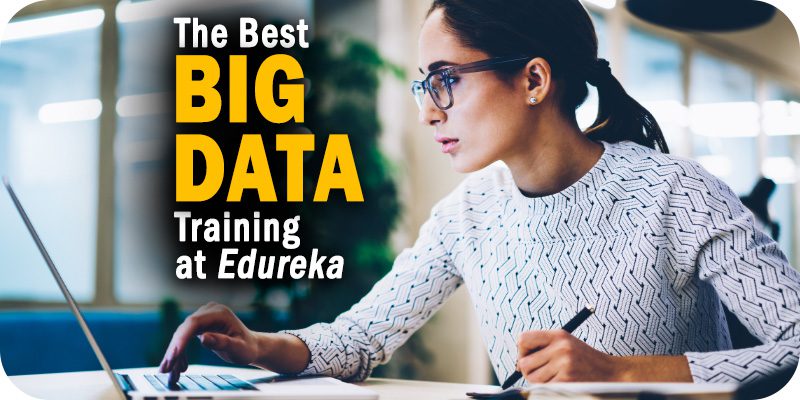 Solutions Review editors have compiled this list of the best Edureka big data courses and data management training to consider.
The growing importance of data management best practices and techniques for delivering against big data are becoming paramount in the enterprise. The big data tools landscape is evolving in real-time, which has organizations scrambling to utilize their data architectures soundly. Data management can sometimes prove to be an overwhelming process. There are inherent risks in moving, mixing, and matching data to meet the needs of an enterprise. The data management market offers a broad spectrum of products that can be used to analyze data from disparate and increasingly diverse sources.
With this in mind, we've compiled this list of the best Edureka big data courses and data management training if you're looking to grow your skills for work or play. Edureka is a leader in the professional e-learning community and touts the highest course completion rate in the industry. Edureka offers 24 x 7 support for students and offers partnerships with large corporations and those in academia. This list of the best Edureka big data courses and data management training below includes links to the modules and our take on each.
The Best Edureka Big Data Courses and Data Management Training
OUR TAKE: This module is great for learning all the different parts of the Hadoop ecosystem, including its architecture, the MapReduce framework, advanced Hadoop, and more.
Description: Edureka's Big Data Hadoop Certification Training course is curated by Hadoop industry experts, and it covers in-depth knowledge on big data and the Hadoop ecosystem tools such as HDFS, YARN, MapReduce, Hive, Pig, HBase, Spark, Oozie, Flume, and Sqoop. Throughout this online instructor-led Hadoop training, you will be working on real-life industry use cases in retail, social media, aviation, tourism, and finance using Edureka's Cloud Lab.
More "Top-Rated" Edureka paths: Big Data Architect Masters Program, Advanced Executive Program in Big Data Engineering
GO TO TRAINING
OUR TAKE: In this module you will gain a brief introduction of big data and how it creates problems for traditional database management systems like RDBMS. You will also learn how Cassandra solves these problems and gain an understanding of Cassandra's main features.
Description: Edureka's Apache Cassandra Certification Training is designed by professionals as per the industry requirements and demands. This Cassandra certification training helps you to master the concepts of Apache Cassandra including Cassandra architecture, its features, Cassandra Data Model, and its administration. Throughout the Cassandra course, you will learn to install, configure, and monitor Cassandra, along with its integration with other Apache frameworks like Hadoop, Spark, and Kafka.
GO TO TRAINING
OUR TAKE: More than 6,000 students have taken this five-week training module on Edureka. It features ten different sections and shows users how to use a variety of popular enterprise data tools.
Description: Become an expert in data warehousing and business intelligence techniques covering concepts like data warehouse architecture, data modeling, ERwin, ETL fundamentals, business reporting, and data visualization. Other topics include top-down vs. bottom-up data warehouse design, schema modeling tools, Dell Toad Data Modeler, Oracle Data Modeler, ETL tools, and a BI tools classification.
More "Top-Rated" Edureka paths: Data Warehousing Certification Training
GO TO TRAINING
OUR TAKE: This five-week training will help you understand where Kafka fits in the big data space. Hands-on portions are headlined by Kafka installation and implementing a single-node broker cluster.
Description: Edureka's Apache Kafka Certification Training helps you in learning the concepts about Kafka's architecture, configuring a Kafka cluster, and backgrounds on Kafka Producer, Kafka Consumer, and Kafka Monitoring. This module was designed to provide insights into the Integration of Kafka with Hadoop, Storm and Spark, as well as understand Kafka stream APIs and the implementation of Twitter streaming with Kafka and Flume via real-life case studies.
GO TO TRAINING
OUR TAKE: This six-week Edureka Informatica training provides hands-on training to install the product on Windows using Oracle as a database, as well as creating the services and connecting clients to a server.
Description: Edureka's Informatica Training will help you master data integration concepts such as ETL and data mining using Informatica PowerCenter. It will also make you proficient in advanced transformations, Informatica Architecture, data migration, performance tuning, installation, and configuration of Informatica PowerCenter. Throughout the Informatica training course, you will be working on real-life industry-based use cases.
GO TO TRAINING
Solutions Review participates in affiliate programs. We may make a small commission from products purchased through this resource.

Latest posts by Timothy King
(see all)