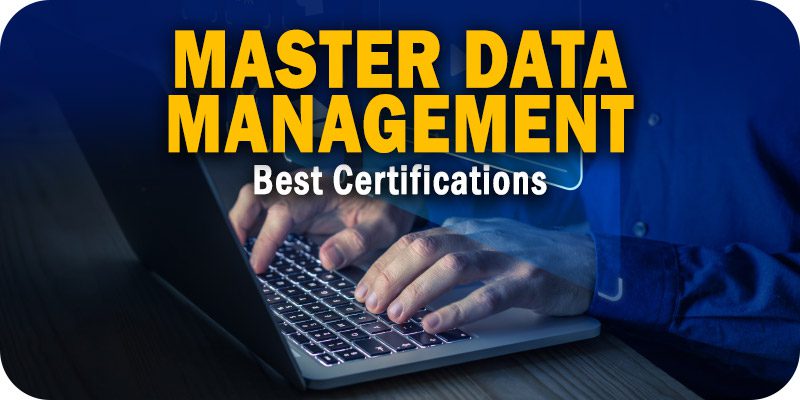 The editors at Solutions Review have compiled this list of the best master data management certifications online to consider acquiring.
Master data management involves the creation of a single master record for each person, place, or thing in a business. Records are then de-duplicated, reconciled, and enriched in order to become a single, reliable source. Once master data records are created, it serves as an authoritative view of mission-critical data that can be managed and shared across departments to enhance data quality and business analytics.
With this in mind, we've compiled this list of the best master data management certifications from leading online professional education platforms and notable experts in the field. The certifications listed offer students the training they need to develop new skills and advance their careers. This is not an exhaustive list, but one that features the best master data management certifications from verified sources. We made sure to include certificate descriptions and Solutions Review's personal take on each.
Note: The best master data management certifications online are listed in alphabetical order by platform.
The Best Master Data Management Certifications Online
OUR TAKE: The Master Data Management Complete Certification Kit is a complete guide for anyone looking to gain an understanding of Master Data Management and its practical application in an IT and non-IT environment.
Platform: The Art of Service
Description: The Art of Service's introductory Master Data Management training and certification helps IT practitioners develop the skills that are crucial, as businesses embark on this massive transformation. It provides an industry credential for IT professionals to help them transform into the world of Master Data Management.
GO TO TRAINING
OUR TAKE: DAMA's Reference and Master Data Management exam comes in two different languages and will be recognized by any data and analytics leader during your next interview process.
Platform: DAMA
Description: The Reference and Master Data Management exam is a specialist exam that can be used for CDMP Practitioner and Master level certification. The cost includes a proctor fee. Exam purchases are non-refundable through this outlet.
GO TO TRAINING
OUR TAKE: This series of seven courses include an in-depth discussion about MDM program operating models and frameworks that encompass the critical disciplines of Data Governance, Data Quality, Metadata Management, and program marketing.
Platform: DATAVERSITY
Description: In the Mastering a Master Data Management Program Learning Plan, instructor Frank Cerwin highlights the knowledge required for learning the many elements of an MDM program. t covers how to properly govern master data, set up a master data marketplace, select from various tools available, follow best practices, and more. If all seven courses are completed, a certificate of completion will be awarded.
GO TO TRAINING
OUR TAKE: This popular Master Data Management certification package includes 8 different courses (and 8 associated exams), and more than 35 hours of education in total. Each course helps you prepare for the corresponding online CIMP exam.
Platform: eLearningCurve
Description: CIMP Ex MDM Package offers comprehensive education in master data management capped off with the highest level of Certified Information Management Professional designation (CIMP Ex) in the MDM track. The CIMP Ex credential signifies that you have a thorough understanding of master data management and are a true standard bearer in the industry.
GO TO TRAINING
OUR TAKE: Informatica offers two different MDM certification modules based on your role. They test on installation and upgrade, performance tuning, where to find information, troubleshooting, batch processes, managing metadata, and more.
Platform: Informatica
Description: The Informatica family of Master Data Management (MDM) products improves operations and decisions with consolidated and reliable data. Demonstrate your ability to deploy MDM via two levels of certification exams. While one exam measures your competency as a member of a master data management administration team while the other measures your competency as a member of a project implementation team.
GO TO TRAINING
OUR TAKE: To ensure success, SAP recommends combining education courses and hands-on experience to prepare for your certification exam as questions will test your ability to apply the knowledge you have gained in training. You are not allowed to use any reference materials during the certification test.
Platform: SAP
Description: The SAP Certified Application Associate – SAP Master Data Governance certification exam validates that the candidate possesses the fundamental and core knowledge required of the application consultant profile. This certification proves that the candidate has an overall understanding and in‐depth technical skills to participate as a member of a project team in a mentoring role. This certification exam is recommended as an entry-level qualification.
GO TO TRAINING
OUR TAKE: The Academy is built to address the needs of anyone seeking to advance their knowledge of MDM, specific Stibo Systems' solutions, or of STEP, the foundational technology platform that powers their approach. Courses held at Stibo Systems' locations offer networking opportunities with industry experts.
Platform: Stibo Systems
Description: The Stibo Systems' MDM Academy offers a world-class training and education program designed to empower you to take master data management beyond the status quo and elevate it to become a competitive asset to accelerate success. The Academy integrates role-based training to create a blueprint for confidence, self-reliance, and superior ROI.
GO TO TRAINING
Solutions Review participates in affiliate programs. We may make a small commission from products purchased through this resource.

Latest posts by Timothy King
(see all)