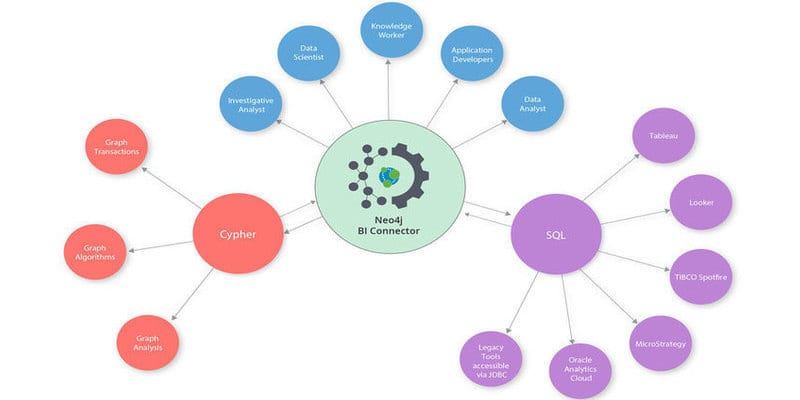 Graph database provider Neo4j has announced its new Neo4j BI Connector for Tableau, Looker, TIBCO Spotfire, Oracle Analytics Cloud, MicroStrategy and more. The connector lets users analyze graph data alongside traditional data stored in relational or NoSQL databases with BI software. Then you can create visualizations and dashboards that will enrich traditional SQL-based analysis.
Neo4j offers a graph database that helps organizations make sense of their data by revealing how people, processes and systems are related. Neo4j natively stores interconnected data so it's easier to decipher data. The property graph model also makes it easier for organizations to evolve machine learning and AI models. The platform supports high-performance graph queries on large datasets as well.
The Neo4j BI Connector is built on the Java Database Connectivity standard and translates SQL into Neo4j's native, graph-optimized Cypher language. The tool makes connected data insights accessible in real-time to users without the need for scripting or code. The connector is also fully supported and ready for in-enterprise production deployment.
In a media statement about the release, Neo4j SVP of Business and Corporate Development Fawad Zakariya said: "The Neo4j BI Connector democratizes access to graph data for millions of business intelligence analysts, representing a market segment valued at well over $20 billion. Neo4j graph data plays an increasingly pivotal role in enterprise innovation and transformation and we continue to invest in our ecosystem to further our product and market leadership as well as meet rapidly growing customer demand."
The Neo4j BI Connector is included with a Neo4j Enterprise Edition subscription. Learn more about the connector here, and get started using it here.

Latest posts by Timothy King
(see all)