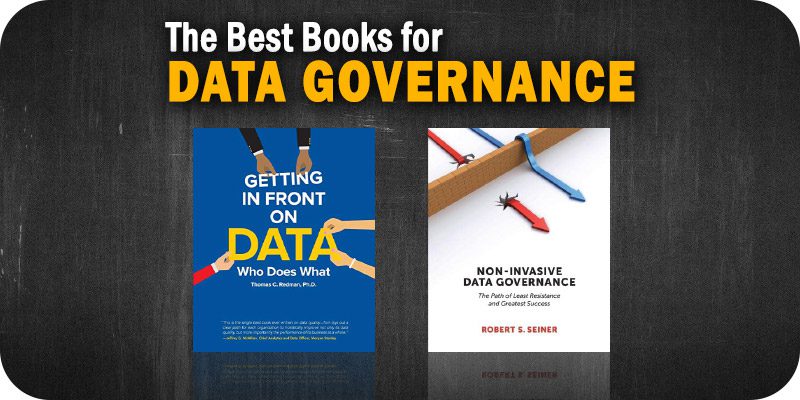 A collection of the best data governance books. These publications have something to offer even the most tenured data worker.
There are loads of free resources available online (such as Solutions Review's buyer's guides and best practices), and those are great, but sometimes it's best to do things the old fashioned way. There are few resources that can match the in-depth, comprehensive detail available in the best data governance books.
Solutions Review has done the research for you, having reviewed many of these titles. We've carefully selected the best data governance books based on relevance, popularity, ratings, publish date, and ability to add business value. Each book listed has a minimum of 5 Amazon user reviews and a rating of 3.5 or better.
Below you will find a library of books from recognized leaders, experts, and technology professionals in the field. From data quality to GDPR and regulatory compliance, these publications have something to offer even the most tenured data worker.
The Best Data Governance Books
"
Data-governance programs focus on authority and accountability for the management of data as a valued organizational asset. Data Governance should not be about command-and-control, yet at times could become invasive or threatening to the work, people and culture of an organization. Non-Invasive Data Governance focuses on formalizing existing accountability for the management of data and improving formal communications, protection, and quality efforts through effective stewarding of data resources."
GO TO BOOK

"This book lays out the roles everyone, up and down the organization chart, can and must play to ensure that data is up to the demands of its use, in day-in, day-out work, decision-making, planning, and analytics. As Tom Redman, "the Data Doc," explains in Getting in Front on Data, the secret lies in getting the right people in the right roles to "get in front" of the management and social issues that lead to bad data in the first place. Everyone should see himself or herself in this book. We are all both data customers and data creators–Getting in Front on Data proposes new roles for data professionals."
GO TO BOOK

"This book is for any manager or team leader that has the green light to implement a data governance program. The problem of managing data continues to grow with issues surrounding cost of storage, exponential growth, as well as administrative, management and security concerns – the solution to being able to scale all of these issues up is data governance which provides better services to users and saves money. With the provided framework and case studies you will be enabled and educated in launching your very own successful and money saving data governance program."
GO TO BOOK

"Get Governed is the textbook for data governance professionals. Templar delivers complex information in an approachable style while offering the most accurate and easy to comprehend path toward proper and complete Data Governance for businesses of all sizes and types. No other book on Data Governance provides such a clear roadmap to success while keeping you awake and entertained with stories of how Data Governance has made a difference in the lives of customers and employees."
GO TO BOOK
"The second edition of DAMA International's Guide to the Data Management Body of Knowledge (DAMA-DMBOK2) updates and augments the highly successful DMBOK1. An accessible, authoritative reference book written by leading thinkers in the field and extensively reviewed by DAMA members, DMBOK2 brings together materials that comprehensively describe the challenges of data management. DAMA-DMBOK2 provides data management and IT professionals, executives, knowledge workers, educators, and researchers with a framework to manage their data and mature their information infrastructure."
GO TO BOOK
"

Data stewards in business and IT are the backbone of a successful data governance implementation because they do the work to make a company's data trusted, dependable, and high quality. Data Stewardship explains everything you need to know to successfully implement the stewardship portion of data governance, including how to organize, train, and work with data stewards, get high-quality business definitions and other metadata, and perform the day-to-day tasks using a minimum of the steward's time and effort."
GO TO BOOK
"

The guide describes the relationship between the CDO and the data governance team, whose task is the formulation of policy to optimize, secure, and leverage information as an enterprise asset by aligning the objectives of multiple functions. Soares provides unique insight into the role of the CDO and presents a blueprint for implementing data governance successfully within the context of the position. With practical advice CDOs need, this book helps establish new data governance practices or mature existing practices."
GO TO BOOK

"Helmut Schindlwick proposes a solution for these headaches through IT governance. You must put a system in place for inaccurate or redundant data, as well as data that becomes obsolete, and then continuously monitor data quality to ensure optimization. Instead of focusing on software, you should first take time to determine the structure of your master data. Schindlwick shares all the knowledge and experience he's gleaned from eighteen years of consulting work, approaching a complex topic in a way that's practical and easily understood."
GO TO BOOK

"Now in its sixth edition, IT Governance provides best-practice guidance for companies looking to protect and enhance their information security management systems.  The book has been fully updated to take account of current cyber security and advanced persistent threats.  It also reflects the latest regulatory and technological developments, including the 2013 updates to ISO27001/ISO27002, and key international markets, including the UK, North America, the EU, and Asia Pacific."
GO TO BOOK

"Master Data Management and Data Governance, Second Edition provides up-to-date coverage of the most current architecture and technology views and system development and management methods. Discover how to construct an MDM business case and roadmap, build accurate models, deploy data hubs, and implement layered security policies. Legacy system integration, cross-industry challenges, and regulatory compliance are also covered in this comprehensive volume."
GO TO BOOK

"Written by a leading expert in the field, this guide focuses on the convergence of two major trends in information management—big data and information governance—by taking a strategic approach oriented around business cases and industry imperatives. With the advent of new technologies, enterprises are expanding and handling very large volumes of data; this book, nontechnical in nature and geared toward business audiences, encourages the practice of establishing appropriate governance over big data initiatives and addresses how to manage and govern big data, highlighting the relevant processes, procedures, and policies."
GO TO BOOK

"The Data Governance Imperative is written from a business person's view of data governance. This practical book covers both both strategies and tactics around managing a data governance initiative, and enables readers to understand their business at a deeper level and handle support issues more smoothly. Steve Sarsfield is a leading expert in data quality and data governance, focusing on the business perspectives that are important to data champions, front-office employees and executives. Understand how proper data governance can transform your business – buy this book today and gain an edge over your competitors."
GO TO BOOK
Solutions Review participates in affiliate programs. We may make a small commission from products purchased through this resource.