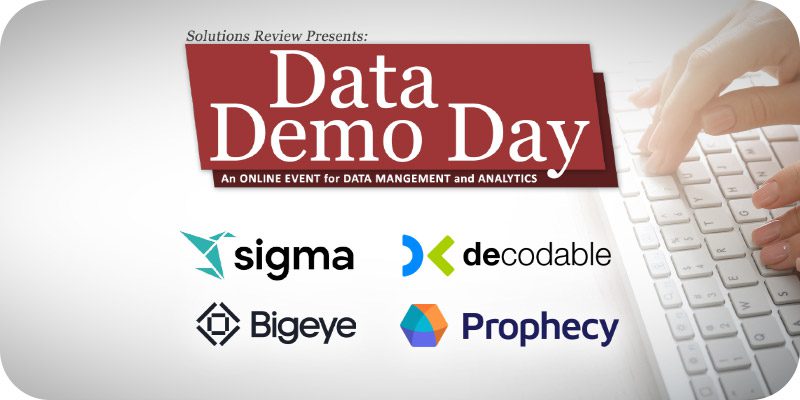 Data Demo Day Q1 2023 will feature live product demonstrations from leading data management and analytics vendors Sigma Computing, Decodable, Bigeye, and Prophecy.io.
What is Data Demo Day?
Data Demo Day for Q1 2023 is an exclusive virtual event featuring an inside look at the technologies of prominent data management and analytics solution providers. Solutions Review is hosting this online event as a way to present the latest data management and analytics tools from the comfort and safety of your own desk, and the best part? It's free to attend!
Join the largest data management and analytics practitioner community
Solutions Review Data Management and Analytics is the largest data software buyer and practitioner community on the web. Our Universe of Influence reach is more than 7 million business and IT decision-makers, as well as C-suite and other top management professionals. Our readers primarily use us as an enterprise technology news source and trusted resource for solving some of their most complex problems.
Our Expert Insights Series resources are designed to provide forward-thinking analysis that helps business software practitioners and buyers remain on-trend, offer best practices for successful implementation, deployment, and piloting, and provide decision support during product/vendor evaluations. Solutions Review's collection of vendor-agnostic buyer's resources also aims to help data management and analytics practitioners during the research and discovery phase of a buying cycle.
Featured Solution Providers
Sigma Computing offers a no-code business intelligence and analytics solution designed for use with cloud data warehouses. The product features an intuitive, spreadsheet-like user interface that provides users with the familiarity of Excel. Guided data warehouse access ensures that data remains secure, compliant, and in context. When users take action in Sigma, it automatically translates them into SQL. All queries are run live against the cloud data warehouse, and the results are passed back to Sigma.

Decodable offers a real-time data engineering service for developers and data engineers. The product lets producers of data can serve data directly to the consumer with no intermediary, and data consumers can tailor the data to their needs without any back and forth. Built on the proven stream processing capabilities of Apache Flink, Decodable fully manages the underlying operations, providing engineers with a simple, easy-to-use development and implementation environment.
Bigeye is a data observability platform that helps teams measure, improve, and communicate data quality. The product enables users to find missing and busted reporting data before executives see it in a dashboard. Customers are then warned about data issues in training data before models ger retrained on it. Bigeye also lets users monitor for freshness, volume, formats, categories, outliers, and distributions. The solution can be connected to your infrastructure with APIs as well.
Prophecy.io is a cloud-native data engineering product built on Apache Spark and Kubernetes. They help enterprise organizations to modernize their data engineering via open runtimes and hybrid cloud deployments. Prophecy does this by automatically migrating existing ETL workflows to Apache Spark and providing a full-stack data engineering product on cloud infrastructure.

FAQ
What: Solutions Review's Data Demo Day, Q1 2023
When: Thursday, February 23, 2023, from 12:00 PM to 2:30 PM Eastern
Where: Zoom meeting (see registration page for more detail)