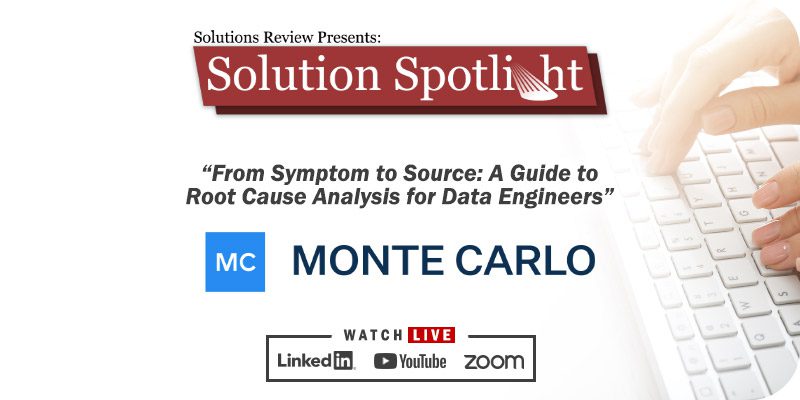 Solutions Review's Solution Spotlight with Monte Carlo is entitled: From Symptom to Source: A Guide to Root Cause Analysis for Data Engineers.
What is a Solutions Spotlight?
Solutions Review's Solution Spotlights are exclusive webinar events for industry professionals across enterprise technology. Since its first virtual event in June 2020, Solutions Review has expanded its multimedia capabilities in response to the overwhelming demand for these kinds of events. Solutions Review's current menu of online offerings includes the Demo Day, Solution Spotlight, best practices or case study webinars, and panel discussions. And the best part about the "Spotlight" series? They are free to attend!
Why You Should Attend
Solutions Review is one of the largest communities of IT executives, directors, and decision-makers across enterprise technology marketplaces. Every year over 10 million people come to Solutions Review's collection of sites for the latest news, best practices, and insights into solving some of their most complex problems.
With the next Solutions Spotlight event, the team at Solutions Review has partnered with leading reliability vendor Monte Carlo to provide viewers with a unique webinar called From Symptom to Source: A Guide to Root Cause Analysis for Data Engineers. By leveraging best practices from DevOps and software engineering, we've found that data teams can resolve broken pipelines faster, and long before stale dashboards, null values, or duplicate data issues impact downstream data consumers.
During this workshop, we'll share a five-step process analytics engineering teams can use to conduct root cause analysis in a collaborative, quick, and effective manner.
Speakers
Francisco Alberini, Product Manager
About Monte Carlo
Monte Carlo's data observability platform utilizes best practices and principles of automatic application observability and applies them to data pipelines. This provides data engineers and analysts with visibility across all data pipelines and data products. Monte Carlo also offers machine learning that gives users a holistic view of an organization's data health and reliability for important business use cases.
FAQ
What: From Symptom to Source: A Guide to Root Cause Analysis for Data Engineers
When: Tuesday, May 23, 2023, at 12:00 PM Eastern Time
Where: Zoom meeting (see registration page for more detail)