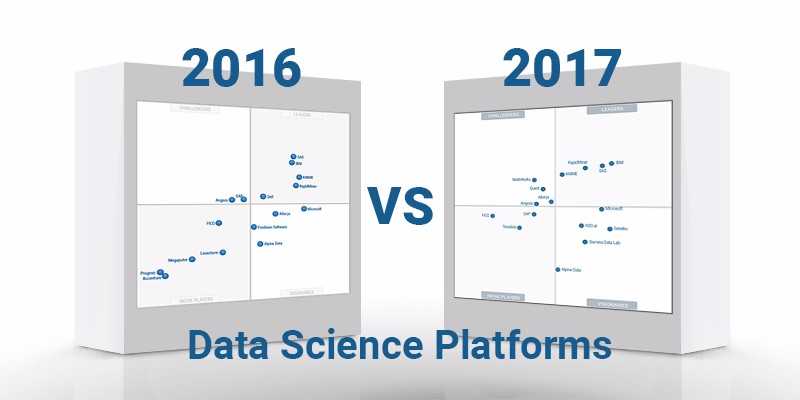 Analyst house Gartner, Inc. has officially released their 2017 Magic Quadrant for Data Science Platforms. This report replaces the researcher's annual Magic Quadrant for Advanced Analytics Platforms. Use of solutions that offer predictive capabilities are widespread in the enterprise, but Gartner believes the term data science is more appropriate since the users that typically operate predictive tools are data scientists.
[Compare the top-28 BI and data analytics solution providers side-by-side with our popular BI Buyer's Matrix Report]
Gartner defines a data science platform as a "cohesive software application that offers a mixture of basic building blocks essential for creating all kinds of data science solution, and for incorporating those solutions into business processes, surrounding infrastructure and products."
Changes in Gartner's proprietary methodology for inclusion have provided them the ability to open up their market analysis to smaller and more innovative solution providers. According to the technology research giant, there are more than 100 relevant data science platform vendors within this marketplace.
In this Magic Quadrant, Gartner evaluates the strengths and weaknesses of 16 providers that it considers most significant in the marketplace and provides readers with a graph (the Magic Quadrant) plotting the vendors based on their ability to execute and their completeness of vision. The graph is divided into four quadrants: niche players, challengers, visionaries, and leaders. At Solutions Review, we read the report, available here, and pulled out a few observations.
New vendors in this year's report include Dataiku, Domino Data Labs, H2O.ai, MathWorks, and Teradata. Solution providers that no longer meet the criteria for inclusion in Gartner's newest research are Accenture, Lavastorm, Megaputer, Predixion Software, and Prognoz. With the exception of a missing Dell, the leaders quadrant in the 2017 remains the same. However, IBM and SAS have traded places, with the former now leading the pack. KNIME and RapidMiner round out the market leaders, and are hot on the heels of the two mega-vendors to challenge for data science supremacy.
Angoss is the only returning challenger for 2017, and remains in an identical spot on the graph. MathWorks, Quest and Alteryx were also named challengers by Gartner. MathWorks is headquartered in Natick, MA and offers advanced prototyping for data scientists in engineering settings. As a result of Dell Software selling off the Statistica Analytics Platform to Fransisco Partners and Elliot Management, Quest now represents Dell's former offering. Alteryx is on the cusp of pushing past the east-west boundary into the leaders graph as a result of strong adoption and a high score in ability to execute.
Microsoft saw their standing improve slightly in the upper portion of the visionaries quadrant, and like Alteryx, remains a slight gust of wind from a stay in the leaders bracket. H2O.ai and Dataiku are two lesser-known data science providers, but both have solid positions among the market visionaries. Newly added Domino Data Lab offers a wide range of open-source capabilities and touts high scores in customer satisfaction for collaboration functionality. Alpine Data took a minor tumble in ability to execute because of poor marker visibility, though the vendor does continue to grow in enterprise data science settings.
SAP was downgraded from challenger to niche player this year, though the provider is well within striking distance of returning to form for next year's report. FICO and Teradata are also niche players, though FICO fell back a bit in their completeness of vision. According to Gartner, FICO is a strong choice for those in the financial services industry. Teradata's Aster Analytics has three layers and can be shipped as software only, as an appliance, or as a service in the cloud on AWS or their own managed cloud.
Gartner's data science honorable mentions include: Amazon, BigML, Dassault Systèmes, Databricks, DataRobot, Google, Infosys, Oracle, Salford Systems, and Yhat. Perhaps we'll see some of these providers in future Magic Quadrant graphs.

Latest posts by Timothy King
(see all)