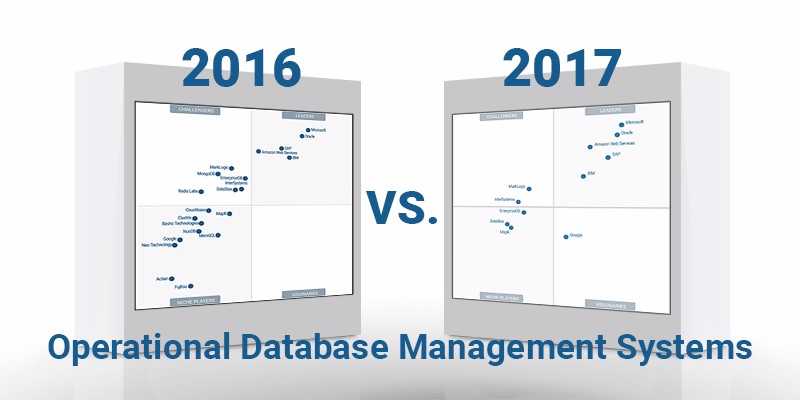 Analyst house Gartner, Inc. recently released the 2017 version of its Magic Quadrant for Operational Database Management Systems (OPDBMS). The advisory firm updated its research methodology in this space due to the prominence of cloud and fully managed options. The company advises data and analytics leaders to balance current and future needs against the changeover in available offerings. Gartner believes three features define current tools, including machine learning, serverless scenarios, and streaming integration.
Operational database management system (DBMS) tools include both relational and nonrelational DBMS products for enterprise transactional applications. Gartner defines a DMBS as a "complete software system used to define, create, manage, update and query a database." They go on to describe a database (hey, you never know) as an "organized collection of data that may be in multiple formats and may be stored in some form of storage medium."
[Compare the top-28 data management solution providers with Solutions Review's free 35-page buyer's guide]
In this Magic Quadrant, Gartner evaluates the strengths and weaknesses of 11 providers that it considers most significant in the marketplace, and provides readers with a graph (the Magic Quadrant) plotting the vendors based on their ability to execute and their completeness of vision. The graph is divided into four quadrants: niche players, challengers, visionaries, and leaders. At Solutions Review, we read the report, available here, and pulled out the key takeaways.
No new providers were added to the report. However, Gartner drastically changed revenue requirements for inclusion, and as a result, axed 10 providers (Actian, Basho Technologies, Clustrix, Couchbase, Fujitsu, MemSQL, MongoDB, Neo4J, NuoDB, and Redis Labs) that were included last year.
Microsoft has put a little distance between itself and Oracle for the top spot in the space. The two mega-vendors remain the class of this Magic Quadrant. SAP took a minor step back from the pack on the vertical axis, allowing Amazon Web Services to sneak through and supplant itself as the only real competition Microsoft and Oracle have left. IBM's regression in leaders column was both horizontal and vertical, and comes as a result of low customer reference scores for documentation and training.
Due to Gartner's changed inclusion criteria, only two providers remain in the challengers bracket. MarkLogic, who's standing so notable movement in either direction, offers a nonrelational multimodel DBMS in two editions that can be deployed on-prem or in the cloud and virtualized platforms. The other challenger, InterSystems, saw a decreased placement in both directions. The Massachusetts-based vendor has had trouble making progress in non-healthcare verticals. Solutions Review recently named InterSystems a Data Integration Tools Vendor to Watch  in 2018.
Google dramatically increased its placement horizontally, shooting from an overlooked option last year to the report's only market visionary this time around. The company offers several dbPaaS solutions inside its Google Cloud Platform, including Cloud Spanner RDBMS, Cloud Datastore and Cloud Bigtable for nonrelational data warehouses users, and Firebase Realtime Database for mobile applications. Google's organizational strengths are obvious, however, support and product functionality are major cautions.
EnterpriseDB and DataStax saw major downgrades in market presence, resulting in niche player status this year. EnterpriseDB's reference customers worry about functionality and a lack of transparency in plans for the EDB Advanced Server. Although DataStax has expanded its cloud offerings, varying customer support experiences and increased competition have really hurt its prestige. MapR also fell back as a result of a poor pricing model, functionality concerns, and issues with the company's proprietary software package.
According to Gartner, the OPDBMS market shifted from a phase of explosive growth last year. This software marketplace is mature, and nearly all of the software providers offer comparable features, making differentiating between offerings a difficult task. However, the general belief is that machine learning capabilities will spurn new innovation among the vendors.

Latest posts by Timothy King
(see all)