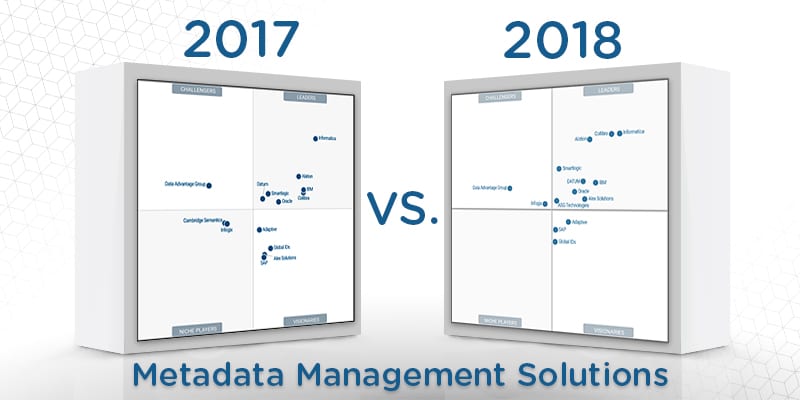 Analyst house Gartner, Inc. recently released the 2018 version of its Magic Quadrant for Metadata Management Solutions. The need for metadata management solutions is largely being driven by an increasing need for data governance, risk and compliance. Gartner notes that data analytics remains the leading use case for these products. As a strategic planning assumption, the researcher notes that most data analytics use cases will require connecting to distributed sources in the near-term, further making metadata management a necessity.
Gartner explains that the market for metadata management is complex due to the fact that all the solutions are not "identical in scope or capability." There are a long list of capabilities that make up this technology category, including metadata repositories, business glossaries, data lineage, impact analysis, rules management, semantic frameworks, and metadata ingestion and translation. Not all of the solution providers listed in the report offer each capability, and even fewer offer them in a single, unified product.
Gartner defines the space as being "about an organization's management of its data and information assets. Metadata describes the various facets of an information asset that can improve its usability throughout its lifecycle. It is important to note that this understanding of metadata and its uses goes far beyond just the technical facets. Metadata is used as a reference for business-oriented and technical projects and builds the foundations for describing, inventorying and understanding data for multiple use cases."
In this Magic Quadrant, Gartner evaluates the strengths and weaknesses of 14 providers that it considers most significant in the marketplace, and provides readers with a graph (the Magic Quadrant) plotting the vendors based on their ability to execute and their completeness of vision. The graph is divided into four quadrants: niche players, challengers, visionaries, and leaders. At Solutions Review, we read the report, available here, and pulled out the key takeaways.
Gartner adjusts its evaluation and inclusion criteria for Magic Quadrants as software markets evolve. As a result, ASG Technologies is a new addition to the 2018 report. Cambridge Semantics has been removed from the report as its Anzo Smart Data Lake 4.0 solution falls outside the realm of this particular category.
The metadata management space is quite top-heavy, as nine of the 15 solution providers included in the Magic Quadrant reside in the leaders column. Informatica remains the top-performing provider but faces stiff competition from both Collibra and Alation after the two vendors made serious gains from 2017. Collibra is now in a virtual tie with Informatica on the vertical, "ability to execute" axis, and given Alation's climb during the last calendar year, the battle for metadata management supremacy will rage on.
The other market leaders are clustered closely in the lower left-hand corner of the column. Headlined by San Jose-based Smartlogic, a provider that offers a metadata hub with semantic capabilities, the grouping also includes mega-vendors like IBM and Oracle. ASG Technologies makes its debut here as well, and users cite comprehensive data lineage capabilities of EDI as a major plus. DATUM was able to improve its completeness of vision notably, offering diverse use case support an easy-to-use interface that's designed for non-technical users.
With Infogix's jump from the niche players column, the report features two challengers. Infogix Data3Sixty offers strong data governance capabilities for risk and compliance, as well as data analysis functionality in some scenarios. The other challenger is Data Advantage Group, a California-based provider that offers a metadata management product with low overall cost, something that Gartner reference customers cite as a key differentiating factor. DAG's MetaCenter solution is mature and customers scored it higher on average for ease of integration using standard APIs.
Alex Solutions' meteoric rise to the leaders column means that just three metadata management visionaries remain. What's interesting is that all three providers (Adaptive, SAP, Global IDs) improved their standing to the point that they are within a stone's throw of becoming leaders themselves. Adaptive is an industry veteran that offers hastened deployment speeds as a result of its partnerships with service providers. The vendor is also in the process of adding graph and machine learning to ease metadata collection and semantics discovery. Global IDs bases its product on machine-centric automated learning that enables data curation. The vendor also offers support for complex ecosystems.
Read Gartner's Magic Quadrant.

Latest posts by Timothy King
(see all)