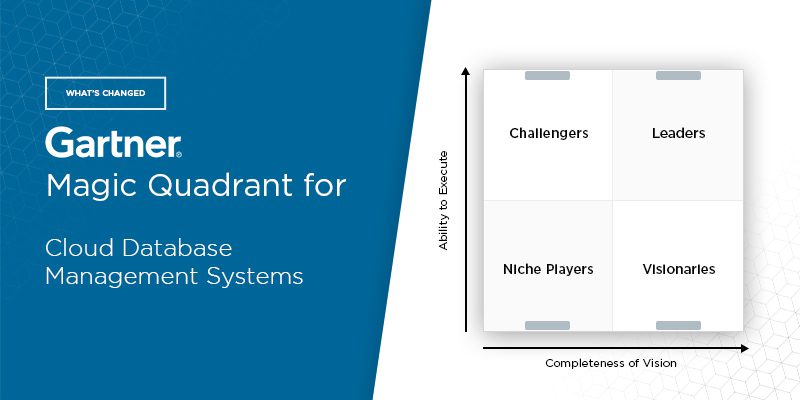 The editors at Solutions Review highlight what's changed since the last iteration of Gartner's Magic Quadrant for Cloud Database Management Systems and provide an analysis of the new report.
Analyst house Gartner, Inc. recently released the 2021 version of its Magic Quadrant for Cloud Database Management Systems. Gartner defines the market as being for products from vendors that "supply fully provider-managed public or private cloud software systems that manage data in cloud storage. Data is stored in a cloud storage tier (such as a cloud object store, a distributed data store or other proprietary cloud storage infrastructure), and may use multiple data models — relational, nonrelational (document, key-value, wide-column, graph), geospatial, time series and others."
Vendors listed in this space reflect optimization strategies designed to support transactions or analytical processing for one of several important use cases. The researcher does not include vendors that only provide DBMSs hosted in infrastructure as a service. In terms of strategic planning, Gartner projects that 75 percent of all databases will be deployed or migrated to a cloud platform by the end of this year. By 2023, cloud preference for data management will "reduce the vendor landscape while the growth of multicloud increases the complexity for data governance and integration."
While the cloud DBMS market is now new, what is new, according to Gartner's client inquiry service, is the growth in cloud revenue, the percentage of revenue in the cloud versus overall DBMS revenue, and the decreasing interest in on-prem products. There are also several major trends currently underway in this space, including multicloud, intercloud and hybrid cloud, flexible pricing models and financial governance, open-source software, serverless and cloud object stores multimode versus "best-fit engineered" dbPaaS, and cloud data ecosystems.
In this Magic Quadrant, Gartner evaluates the strengths and weaknesses of 20 providers that it considers most significant in the marketplace and provides readers with a graph (the Magic Quadrant) plotting the vendors based on their ability to execute and their completeness of vision. The graph is divided into four quadrants: niche players, challengers, visionaries, and leaders. At Solutions Review, we read the report, available here, and pulled out the key takeaways.
Gartner adjusts its evaluation and inclusion criteria for Magic Quadrants as software markets evolve. As a result, Cockroach Labs, Couchbase, Exasol, MariaDB, and SingleStore have been added for 2022. Tencent was dropped because it did not meet Gartner's criteria for inclusion.
Amazon's brief stint alone at the top of this Magic Quadrant appears to be over as Microsoft and even Oracle make a run for the top position. However, AWS is the largest cloud vendor in the world by revenue and touts excellent performance and a breadth of services. Microsoft's cloud data management offerings are comprehensive and include a clear migration path, as well as integrated multimodel capabilities. Oracle has clients in virtually every industry and vertical while also offering a rich portfolio of cloud database solutions and a complete hybrid cloud environment for sharing data.
Google's position among the Leaders remained similar, with the search and cloud mega-vendor owning a spot just outside the other dominant players. Google offers an open platform (BigQuery Omni), a multi-cloud offering, and augmented data management capabilities. Google differentiates itself with a growing vertical and industry focus.
Newly minted leaders Snowflake and Databricks make the left-hand side of the Leaders column home for 2021, alongside major cloud database vendor Alibaba Cloud. Snowflake has a strong market presence and rapidly growing partner program, as well as unique data sharing and operational ease of use features going for it. Alibaba Cloud is quickly becoming known for its operational database services while also innovating at scale. The vendor is expanding into Asia, Europe, and Latin America as well. Databricks touts its popular Lakehouse Concept, openness, and Solution Accelerators as key value-adds.
Redis retains its position in the Challengers bracket, joined this year by InterSytstems. InterSystems has a large presence in the healthcare industry and it offers a proven and reliable solution, according to Gartner. InterSystems' loyal customer base and varying cloud deployment methods make it an interesting consideration. Redis offers an enterprise cloud on the three major cloud vendors. The product (Redis Enterprise Cloud) offers "extreme" high performance and caters well to growing artificial intelligence and machine learning use cases.
The Visionaries column features returnees Cloudera (though with a greatly improved position along Gartner's Ability to Execute axis), and MarkLogic. Cloudera's recent investments have focused on cloud-native services, DBMS improvements, and aligning former Cloudera and Hortonworks products. Cloudera offers a strong on-prem offering, excellent standing in the open-source community, and varying different cloud deployment types.
The Niche Players quadrant is crowded for 2022, headlined by a cluster of vendors (Couchbase, SingleStore, MariaDB) in the upper third of the graphic. Couchbase offers high-performance multimode capabilities, a number of choices when it comes to deployment, and excellent sentiment from Gartner reference customers. SingleStore makes its debut as a result of integrated transactions and analytics, high performance for large transaction counts, and strong capabilities for data in motion. MariaDB is strong in unified operational and analytics, touts multicloud, hybrid, and Oracle compatibility, and a vision best suites for financial governance use cases.
HUAWEI CLOUD, Exasol, and Cockroach Labs round out the Niche Players and the 2022 Magic Quadrant. HUAWEI is mostly an Asia-only solution right now but does have expansion plans and breadth of cloud portfolio and ecosystem optionsto choose from. Exasol is a mainstay in the data warehousing space and has traditionally focused on its analytics database system, but the vendor offers notable price and performance upside. Cockroach Labs is specifically architected for use cases that require write operations across geographically distributed systems with consistency. Cockroach also touts multicloud, intercloud and hybrid

Latest posts by Timothy King
(see all)