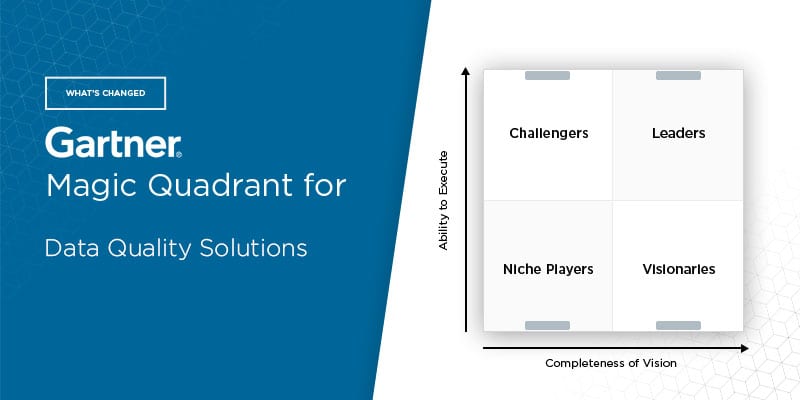 The editors at Solutions Review highlight what's changed since the last iteration of Gartner's 2021 Magic Quadrant for Data Quality Solutions and provide an analysis of the new report.
Analyst house Gartner, Inc. recently released the 2021 version of its Magic Quadrant for Data Quality Solutions. The data quality management practice has evolved in recent years. The vendor landscape offers more than just software tools and has grown to include workflow, roles, collaboration, and processes like monitoring, reporting, and remediating data quality issues. The analyst also sees "end-user demand expanding toward broader capabilities that span data management and D&A governance."
Gartner defines data quality solution as ensuring that data is "fit for purpose" and "and trusted by users in the context of existing business operations, analytics and emerging digital business scenarios. Increasingly, data quality also becomes a necessity when amplifying analytics for better insights and for making trusted, data-driven decisions. Data quality is a competitive advantage that data and analytics (D&A) leaders must continuously engage with in order to achieve those goals."
Driven by metadata and artificial intelligence, the practice of augmented data quality is top-of-mind for buyers in this space. The marketplace also continues its shift toward other data software segments, including those for data integration tools, metadata management solutions, and master data management offerings. These factors make evaluating data quality solutions much less of a specialized IT task than before, now requiring more collaboration with business leaders and users. Data analytics leaders should utilize this research to understand the vendor landscape.
While evaluating a data quality vendor's technology is important, it's not the only criteria buyers should consider. Gartner also recommends analyzing providers by non-technical means, such as "acquisitions, processes, pricing models, speed of deployment, the total cost of ownership, availability of skills, and support and service capabilities." This space remains highly bright due to increasing demand and continued innovation in automation.
Gartner adjusts its evaluation and inclusion criteria for Magic Quadrants as software markets evolve. As a result, TIBCO Software and Datactics have been added to the report while Oracle, Infogix, and Information Builders were removed for no longer meeting the criteria for inclusion.
In this Magic Quadrant, Gartner evaluates the strengths and weaknesses of 15 providers that it considers most significant in the marketplace, and provides readers with a graph (the Magic Quadrant) plotting the vendors based on their ability to execute and completeness of vision. The graph is divided into four quadrants: niche players, challengers, visionaries, and leaders. At Solutions Review, we read the report, available here, and pulled out the key takeaways.
Informatica, SAP, and IBM once again lead the pack. Informatica paces the field and retains the overall leader in this Magic Quadrant through impressive market understanding and execution, as well as innovation that includes integrated data management solutions that are underpinned by active metadata and AI. The vendor also offers a range of data validation, enrichment, and standardization services. SAP touts strong growth in overall market share and a comprehensive portfolio of data quality tools which is highlighted by hybrid data management. Like SAP, IBM offers a comprehensive product and features perhaps the best market understanding of any provider in the space.
SAS retained its position as Leader via a unique product strategy where data quality and governance tools are the default for its Viya customers. SAS also offers real-time data quality in stream. Talend has what Gartner refers to as "good" market understanding while its Data Fabric solution is rapidly increasing in mind share among buyers in the market. Talend has a large peer user community with nearly 50,000 users as well. Precisely's acquisition of Infogix was a major move, and the firm will continue forward with a strong market strategy and unique address validation and geocoding capabilities.
Ataccama makes its debut in the Leaders column after earning Visionary status in 2020. Ataccama offers an augmented data management platform that features data discovery and profiling, metadata management and a data catalog, data quality management, master and reference data management, and big data processing and integration. Ataccama reference customers report high satisfaction with customer support as well.
Experian heads the Challengers column through excellent ease of use and integration features, a customer domain focus, and massive market growth. Innovative Systems remained a Challenger as well by responding to market demand for hosted/managed data quality services. The vendor has deep knowledge of data quality and great customer feedback as well. Like Experian, Redpoint offers a customer domain focus that's integrated into its Customer Data Platform. Redpoint also has the best-rated customer support in the marketplace and high scores for performance and scalability.
TIBCO Software makes its entrance into this report as a Visionary after acquiring Information Builders in January 2021. TIBCO is strongest in cloud and hybrid architectures and owns a robust directory of go-to-market partnerships. Syniti made a large improvement in its Completeness of Vision across the Magic Quadrant's horizontal grid. Syniti now offers a consolidated list of data management capabilities, a jump-start package for fast deployment, and a global partnership and alliance with SAP. MIOsoft is best suited for real-time data processing of stream or IoT data, according to reference customers. The vendor also offers entity resolution and has excellent customer support.
Creeping up Gartner's vertical axis for Ability to Execute, Melissa Data offers data validation services through its data quality suite, targeted tool-based deployment, and what Gartner calls "a sophisticated identity verification process." Melissa mainly serves clients in communications, financial services, and healthcare. First-time entrant Datactics touts strong AI capabilities across its data quality tools and ease of use and implementation according to Gartner reference customers. The vendor also provides user-focused and no-code tools to address business-led data management challenges.

Latest posts by Timothy King
(see all)