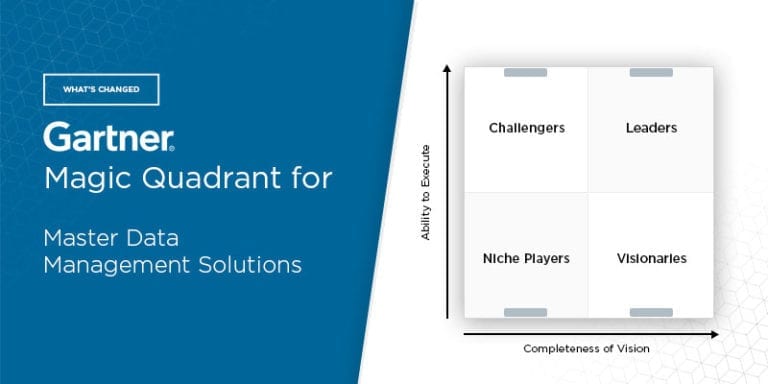 The editors at Solutions Review highlight what's changed since the last iteration of Gartner's Magic Quadrant for Master Data Management Solutions and provide analysis of the new report.
Analyst house Gartner, Inc. recently released the 2021 version of its Magic Quadrant for Master Data Management Solutions. Gartner defines the software category as a "technology-enabled business discipline in which business and IT work together to ensure the uniformity, accuracy, stewardship, governance, semantic consistency and accountability of an enterprise's official shared master data assets." The researcher also notes that the marketplace is undergoing an evolution as organizations seek to benefit from business agility through mastering critical data during times of change.
Master Data Management (MDM) products are offered in both on-prem and cloud-based deployments. Gartner's analysis focuses solely on packaged MDM software that brings together different technologies to help organizations sustain the idea of a trusted "golden record" for master data. Packaged MDM solutions can support the global identification, linking, and synchronization of master data, help users to create and manage a central, persisted system or index of record, support the four main implementation styles, enable generation and delivery of a trusted version of one or more data domains, and more.
While many of the smaller vendors experienced double-digit growth during Gartner's research period, the overall market was tempered by a decrease in year-over-year revenue, mainly due to larger providers transitioning their offerings. Buyers should be aware of the current shift from perpetual to subscription pricing for both on-prem and cloud offerings. This shift is said to be lowering the barrier to entry for organizations interested in MDM.
MDM deployment time continues to shorten as well. Gartner adds "In 2019, the average time was 6.2 months, but we have also observed deployments as fast as three months. These deployments are likely to be limited in domain and use case support. However, this is outweighed by the ability to deliver value to business rapidly." Gartner recommends that buyers use this and the other advice present in the report to inform their MDM solution choices "beyond vendor marketing hype."
In this Magic Quadrant, Gartner evaluates the strengths and weaknesses of 15 providers that it considers most significant in the marketplace and provides readers with a graph (the Magic Quadrant) plotting the vendors based on their ability to execute and their completeness of vision. The graph is divided into four quadrants: niche players, challengers, visionaries, and leaders. At Solutions Review, we read the report, available here, and pulled out the key takeaways.
Gartner adjusts its evaluation and inclusion criteria for Magic Quadrants as software markets evolve. As a result, Syniti and PiLog have been added for 2021. EnterWorks is now represented by Winshuttle in the report.
There is more competition among Magic Quadrant Leaders this year with two new providers claiming a spot in Gartner's most prized position. However, Informatica continues to solidify its spot as the top dog with excellent standing ahead of the next closest competitor TIBCO Software. Informatica MDM Multidomain Edition and Product 360 are broadly focused on multiple domain master data use cases. Informatica offers strategy and support for all the major use cases, is top of mind for business users and IT, and continues to churn out innovation whether developed internally or acquired.
TIBCO retains its position as Leader via geographical diversity and a client base filled with medium and large organizations. In addition to finishing its integration of Orchestra Networks in 2020, TIBCO offers a best-of-breed approach while maintaining consistent MDM functionality. Gartner reference customers also enjoy TIBCO EBX's data modeling and hierarchy management features.
Semarchy and Riversand round out the Leaders quadrant, both vendors making an upward push from their respective 2020 positions on the graph. Semarchy's xDM solution focuses mainly on multidomain and augmented MDM use cases. The provider touts a broad diversity of customers across industries, domains, and deployments, and offers what Gartner refers to as "exceptional" customer service and support. Riversand offers a cloud-native MDM platform with subscription licensing. The company has a strong partner network and is strongest across retail, consumer packaged goods, and food.
This Magic Quadrant features a very busy Challengers bracket with 7 MDM providers. It is headlined by mega-vendors in SAP and IBM who have strong positions on the far-right side of the column. SAP offers support for various MDM use cases through its Master Data Governance product. SAP has a mature partner ecosystem and a product strategy which Gartner calls a strength. IBM is currently aligning its MDM strategy with Watson-enabled augmented data management and relationship-driven insights. IBM has a global footprint and domain focus via the relaunch of IBM Product Master.
Profisee, Stibo Systems, and Ataccama are all challenging the mega-vendors above for dominance in the Challengers space, trailing them by only a fractional placement each. Profisee 2020 focuses on broad multidomain MDM use cases for medium and large organizations across multiple vertical markets. The company has a presence in all industries covered and uses a Business Impact Roadmap to help clients achieve tangible benefits.
Stibo Systems primarily services the EMEA, and retail customers are its bread and butter. Stibo also scored well year over year for overall customer satisfaction via around-the-clock support and a mature training and certification process. Ataccama offers a broad spectrum of data management functionality through Ataccama ONE. Ataccama enjoys above-average Gartner Peer Insights scores for the overall rating of service and support and the likelihood of recommending the service provider. The company also has a strong partner ecosystem and customer centricity.
Contentserv and Reltio are also 2020 Challengers, both having improved their positions from Niche Players last year. While Contentserv Product Experience Management is mainly focused on sell-side product data use cases, the provider has a strong customer experience focus and a cloud-native strategy. Contentserv mainly serves medium and large EMEA clients. Reltio's Connected Cutomer 360 is mainly focused on using MDM to provide 360-degree views across multiple domains. The company has excellent market momentum,  a mature cloud offering, and remains strong in industries that require real-time B2B and B2C interactions.
Winshuttle (formerly EnterWorks) leads the Niche Players quadrant with an improved position along Gartner's vertical axis for Ability to Execute. Winshuttle EnterWorks focuses on sell-side product data use cases and offers strong data sharing capabilities and a positive sales experience according to Gartner reference customers. Winshuttle could find its way into the Challengers bracket in 2021. Viamedici also saw an improvement in its vertical positioning for 2020. The provider offers an EPIM solution for sell-side product data use cases. The vendor touts a strong understanding of target market needs, geographic expansion through strategic investments, and innovation by acquisition.
New inclusions PiLog and Syniti fill out the Niche Players column. PiLog specializes in master data governance for manufacturing clients in EMEA. It is the only vendor with commitments to the support of multiple ISO standards for data quality and master data. PiLog also solves for complex process manufacturing supply chains. Syniti offers turnkey data management by providing MDM within an integrated suite of tools. Thus, the platform is best suited for organizations in need of an all-in-one data management solution. The company also has a strong partner network and straightforward pricing model.

Latest posts by Timothy King
(see all)