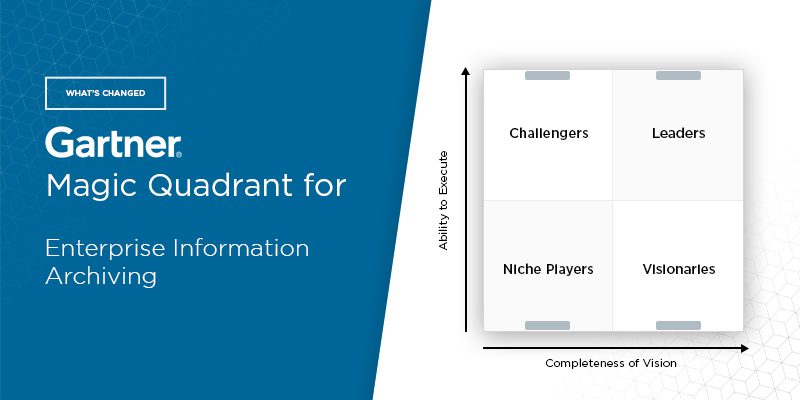 The editors at Solutions Review highlight what's changed since the last iteration of Gartner's Magic Quadrant for Enterprise Information Archiving and provide an analysis of the new report.
Analyst house Gartner, Inc. recently released the 2022 version of its Magic Quadrant for Enterprise Information Archiving. According to Gartner, the rapidly growing deployment of digital communication tools and application data is requiring enterprises to reconsider their regulatory compliance functionality. The researcher defines the market: "Enterprise information archiving (EIA) solutions are designed for archiving data sources to a centralized platform to satisfy information governance requirements, including regulatory and/or corporate governance and privacy."
Core capabilities of providers in this marketplace include archiving digital communication content (email, workstream collaboration, instant messaging, and SMS), classifying data and enabling retention management of archive content, creating a searchable index of content, and providing tools for data discovery. Forward-thinking vendor capabilities are headlined by ways to discover, classify, and manage additional data types. Enterprise information archiving solutions vary wildly by the vendor and come in various deployment types (on-prem, cloud, or hybrid).
The trend toward SaaS-based information archiving solutions is a prominent feature of this industry. These solutions have also "emerged as a commonly used technology underpinning for higher-level use cases supporting compliance, information governance, e-discovery and the historical preservation of data" according to Gartner. Tools vendors in this place evolved from an origin of solving for email applications specifically.
In this Magic Quadrant, Gartner evaluates the strengths and weaknesses of 12 providers that it considers most significant in the marketplace and provides readers with a graph (the Magic Quadrant) plotting the vendors based on their Ability to Execute and their Completeness of Vision. The graph is divided into four quadrants: niche players, challengers, visionaries, and leaders. At Solutions Review, we read the report, available here, and pulled out the key takeaways.
Representative vendors include Microsoft, Smarsh, Proofpoint, Mimecast, Global Relay, Veritas Technologies, Micro Focus, ZL, Archive360, SolicTechnologies, Barracuda, and Jatheon. Gartner adjusts its evaluation and inclusion criteria for Magic Quadrants as software markets evolve. As a result, Jatheon and Solix Technologies were added while Everteam was dropped.
Microsoft, Smarsh, Proofpoint, and Mimecast all form a tight cluster in the middle of this Magic Quadrant's Leaders column, though in 2022 they are joined by Global Relay which made a move up Gartner's vertical axis. Built on its 365 SaaS platform, Microsoft is designed for digital communication and user/application-generated data sources. Smarsh supports multiple digital communication data sources, operates mainly in North America and Europe, and its Professional Archive is now available as a multi-cloud offering.
Proofpoint's Enterprise Archive is a SaaS tool that runs on private cloud infrastructure. The company operates mostly in North America and Europe and has a specialization in financial services, healthcare, and government. Mimecast has added a ton of new features, like native archive and backup of Microsoft Teams, discovery, and new supervision advanced lexicons with Boolean search, in recent months. A major reason for Global Relay's move up the graph is due to its recent addition of a new connector framework and enhanced support for Refinitive trade tickets.
Making its debut among the Leaders, Veritas Technologies offers a strong portfolio of compliance tools that address information governance. It has also recently added new supervision, e-discovery modules, targeted collecting of Teams content, privileged delete of sensitive items, and expanded classification policies.
Micro Focus headlines the Visionaries column for 2022 and offers two solutions that support a number of digital communication and user/application-generated content. Micro Focus is best suited for heavily-regulated and complex environments. Though ZL Tech is a 2022 Visionary after being a leader last year, it retains a strong position while serving companies in large financial enterprises, manufacturing, and healthcare. Archive360 also retains its standing as a market visionary by supporting a broad range of data sources and advanced data migration services. Solix Technologies makes its debut in this report with a focus on structured data archiving. Solix is a worthwhile consideration for compliance and e-discovery.
With no Challengers in this 2022 report, the Niche Players column featured Barracuda and Jatheon. Barracuda touts excellent scores for customer support, a simple licensing model for its Cloud Archiving Service, and a focus on email archiving for corporate compliance. Jatheon mainly serves clients in education and government and offers all-inclusive pricing and 24/7 proactive monitoring support.
Honorable mentions for this Magic Quadrant include Aware, Bloomberg, Onna, and Theta Lake.