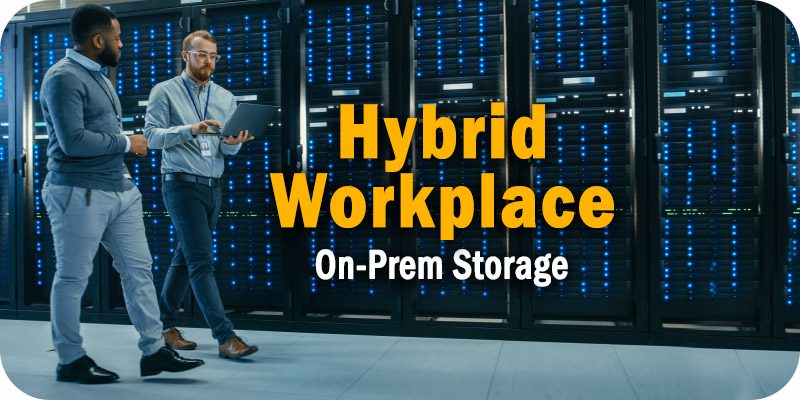 This is part of Solutions Review's Premium Content Series, a collection of contributed columns written by industry experts in maturing software categories. In this submission, Object First VP of Product Tony Liau offers his take on hybrid workspace storage solutions (on-premise) in the post-COVID era.
When the COVID-19 pandemic first struck, and everyone started working from home, the immediate reaction was to move all data to the cloud. Following the drastic surge in cloud migration, digital transformation emerged as a buzzword among organizations, with everyone from small businesses to large enterprises and Fortune 500s accelerating cloud adoption to keep pace with new workforce and customer demands. Though cloud adoption was already on course for growth before the pandemic, the global health crisis arguably established cloud computing as a necessity to remain competitive in the market – so much so that the slow adopters who stayed reliant on legacy systems were categorized as technology laggards, left falling behind the digital transformation curve.
Public and multi-cloud services are excellent for organizations, providing flexibility, high scalability, lower costs, and little to no maintenance. So, at the start of the pandemic, the rapid adoption of these services made sense. But then, reality set in, and organizations learned that when all of one's data resides in the cloud, and an outage occurs, regaining access to that data is difficult. This realization, occurring in tandem with tech's most prominent names announcing new requirements for employees to return to the office (the latest coming from Apple, stating employees must come in for at least three days a week to restore "in-person collaboration"), has influenced organizations to reconsider their cloud strategies.
Now, as more companies map out their return-to-office plans, it's becoming essential that they also adopt modern tech solutions that mirror their hybrid work environments. Organizations must begin shifting away from an "all in" approach to cloud computing and instead look towards implementing a hybrid strategy – with some workloads remaining in the cloud while others stay managed on-premises.
Where Public and Multi-Cloud Services Fall Short
There is no denying the advantages of public and multi-cloud services. It makes instant access to storage, compute, and other digital resources available, so organizations omit purchasing hardware or software, paying only for the services needed. On top of this, cloud service providers handle all maintenance and offer near-unlimited scalability. The ever-growing nature of data makes these cloud services highly appealing.
However, public or multi-cloud services also come with disadvantages. For one, an organization cannot control the platform's security and privacy. This often leaves businesses open to public cloud security risks, especially when users access services from various locations on different devices. Furthermore, many businesses remain unaware that it is the organization's (not the provider's) responsibility to protect data stored in the public cloud. This leaves a wide margin for error that gives bad actors open doors to attack public cloud environments and jeopardize an organization's data. While solutions such as object storage are available in the cloud, should an organization run into a situation where they need to recover data, retrieving that data with any sense of urgency is near impossible.
For industries dependent on workloads stored in the cloud (think lawyers, health care providers, etc.), issues and delays in data recovery can put the success of their businesses in danger.
Why a Hybrid Solution is the Best Method for Today's Workforce
The market is witnessing a panic "flip flop" – first, panic spurred from the remote work shift, which drove businesses to push all data to the cloud; now, those same businesses are encountering difficulties in recovering that data with urgency on the public cloud and are recognizing that recoverability is quicker and easier on-premises. As a result, organizations are reevaluating the benefits of the cloud.
Organizations need to leverage a combination of cloud and on-premises software to meet the demands of a modern workforce. This way, companies can ensure information backups are safe from attacks like ransomware by storing them on immutable storage hardware, utilizing a hardened backup system that keeps malicious actors out while remaining performant enough to recover data rapidly should cloud environments fall victim to attacks.
To maintain control over data and the recovery of that data, the "3-2-1 Rule" is a directive for organizations to live by. The rule states that every business should ensure that they have at least three copies of data stored on two different media types, one off-site and offline. Object storage helps companies adhere to this rule by ensuring backups are effortlessly immutable, further secured by a hardened operating system, and have the necessary performance to instantly recover any data that is no longer accessible on the production servers. By implementing these tactics, businesses can deliver a hybrid IT strategy that leverages the cloud for data storage while guaranteeing security and protection to safeguard the rapid recoverability of that data.
The Benefits of On-Premises Object-Based Backup Storage
So, why on-premises object-based backup storage? Simply put, it takes the storage methodology that captivated the cloud market and goes a step further, providing a backup option that is localized, scalable, reliable, and immutable. And while historically, IT teams have not wanted physical hardware, modern on-premises object-based backup storage doesn't have to mean clunky hardware or a giant data center. Object storage can be optimized to take advantage of the local data center, meaning optimal performance for both ingest and recovery where the work is taking place.
Modern object-based backup storage is an effortlessly immutable solution with all the benefits of simplicity and affordability found within public and multi-cloud services, but with enhanced features designed and optimized to provide maximum backup and recovery performance. This solution can be installed in minutes, not days, and eliminates the need to sacrifice performance, availability, or recoverability to meet budget constraints. Object-based backup storage is essential in the way that traditional storage is vital: You cannot operate without it. It allows businesses to continue to use storage as they always have, with new levels of unlimited scalability, performance, and ransomware resiliency.
As enterprise data grows in volume and value, more protection is needed. It is now exponentially more difficult to meet business requirements for data protection. To meet the demands of the modern workplace, the market needs a hybrid solution that is extremely easy to deploy and scale, ransomware-proof right out of the box, and can run production environments right from backup storage for disaster recovery.
Object storage is the future; one can expect to observe increased adoption of object storage across all industries moving forward. Cloud has been a considerable driver and will continue to play a vital enterprise role, but we will see more on-premises adoption as hybrid environments prevail.
Latest posts by Tony Liau
(see all)