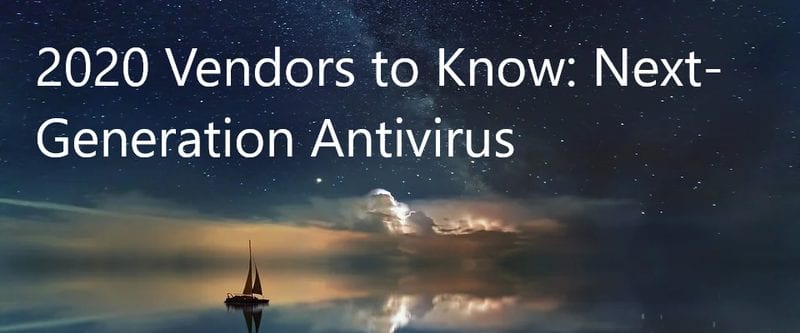 Solutions Review's listing of the Vendors to Know: Next-Generation Antivirus is a mashup of products that best represent current market conditions, according to the crowd. Our editors selected the next-generation antivirus products listed here based on each solution's Authority Score, a meta-analysis of real user sentiment through the web's most trusted business software review sites, and our own proprietary five-point inclusion criteria.
What are the five Vendors to Know in Next-Generation Antivirus in 2020? 
The editors at Solutions Review continually research the most prominent and influential next-generation antivirus vendors to assist buyers in search of the tools befitting the needs of their organization. Choosing the right vendor and solution can be a complicated process; it requires constant market research and often comes down to more than just the solution and its technical capabilities. 
Additionally, understanding the components of next-generation antivirus can prove daunting to IT decision-makers. What capabilities make up a comprehensive next-generation solution? What threats should they protect against? To make your search a little easier, we listed the Vendors to Know in Next-Generation Antivirus.  
Note: Companies are listed in alphabetical order.
2020 Vendors to Know: Next-Generation Antivirus
GoSecure
In 2019, GoSecure launched Next-Generation Antivirus to its Managed Detection and Response portfolio. GoSecure EDR uses EDR, machine learning, and behavioral analysis to catch threats missed by legacy signature-based detection methods. Further, its Memory Analysis monitors the behavior of a malicious process and scans it once it decloaks in memory. This helps with fileless malware threat detection.
Blackberry Cylance
Blackberry Cylance's signatureless anti-malware provides an alternative to traditional, signature-based technology. It builds its reputation on proactive and preventive antivirus technology based on proprietary artificial intelligence, machine learning, and algorithmic science. Additionally, it appeared as a Strong Performer by Forrester in its Cybersecurity Incident Response Forrester Wave report.   
FireEye
FireEye incorporates firewalls, IPS, antivirus, and gateways as a means of supplementing signature-based detection methods. It offers cybersecurity solution architecture with a wide range of capabilities to help security teams detect, analyze, and protect against the advanced threats targeting enterprises today. Through the Exploit Guard, FireEye assesses and analyzes endpoint behavior to reveal and block application exploits from executing.
McAfee
McAfee continues to innovate its next-generation antivirus, moving away from the signature-based malware detection. Instead, it moves more to machine learning, behavioral analysis detection and prevention endpoint security methods with low user impact. McAfee's Real Protect applies machine learning and signature-less analysis of programs' appearance and behavior to recognize and protect against potential malicious behavior before it can execute. 
SentinelOne
SentinelOne provides behavior-based anti-malware, anti-exploit, and EDR capabilities as an integrated endpoint solution. It incorporates prevention, detection, and remediation capabilities in one program, which can be deployed on-premises or via the cloud. The Dynamic Behavior Tracking Engine uses sophisticated machine learning to predict threats across any vector, aiding prevention.
To learn more about the 2020 Vendors to Know: Next-Generation Antivirus, check out Solutions Review's other resources, including our Endpoint Security Buyer's Guide. We cover the top providers and their key capabilities in detail, as well as providing Bottom Line analyses on each.

Latest posts by Ben Canner
(see all)