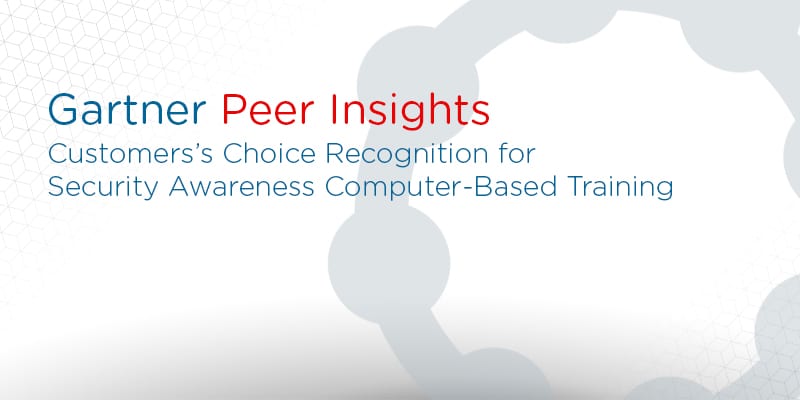 Recently, technology research firm Gartner released the 2018 Gartner Peer Insights Customers' Choice Recognition for Security Awareness Computer-Based Training. According to Gartner, this recognition is awarded by end-user responses rather than Gartner's evaluation itself via their reviews and the overall user ratings on the Gartner website.
Executive vice president of Products and Services at Gartner Ken Davis said in a statement: "Gartner Peer Insights Customers' Choice is designed to help IT professionals make better purchase decisions by leveraging the knowledge and feedback by fellow verified end users."  
Gartner defines security awareness computer-based training as "end-user-focused security education and training…[This] is a rapidly growing market…People impact security outcomes much more than any technology, policy or process. Interactive computer-based training (CBT) is a central component of a comprehensive security education and behavior management program. It is a mechanism for the delivery of a learning experience through computing devices, such as laptop computers, tablets, smartphones and Internet of Things (IoT) devices."
Security awareness computer-based training should be a consideration for any enterprise looking to revamp their cybersecurity platforms. As we've stressed repeatedly, your employees are your largest attack vector, albeit usually unintentionally. Phishing, social media attack, and myriad other hacking tactics take advantage of employee's ignorance or carelessness to gain access to your network. What's worse, these tactics are often successful.     
Education needs to be part of any serious enterprise cybersecurity plan. Employees need to absorb their responsibilities in preventing a data breach or a compromised endpoint, and a single lecture once a year will no suffice. Education needs to be ongoing and incorporated into employee evaluations and expectations in order to be truly effective.
The 6 Gartner Peer Insights Customers' Choice Vendors for Security Awareness Computer-Based Training are:
Each of these vendors received praise for easy deployment, solid tracking capabilities, and solid content, especially concerning phishing.
You can read Gartner's full press release here.   

Latest posts by Ben Canner
(see all)