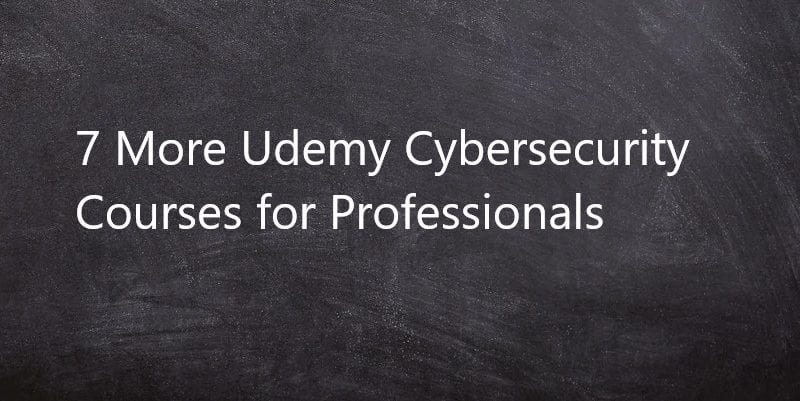 Solutions Review lists seven of the best cybersecurity courses you can take right now that every security professional should consider taking.
Are you a security operations professional or cybersecurity engineer looking to gain new knowledge in InfoSec or brush up your skills? Do you want to earn a cybersecurity certification but you don't know how to prepare yourself for the exams? Online courses offered through websites like Udemy allow cybersecurity professionals to practice their InfoSec knowledge and sharpen their skills through digital lectures and interactive guides.
Below, we've listed seven of the best cybersecurity courses you can take right now that are great resources for networking professionals. We've also included links to the courses on Udemy's website where you can enroll in any course you want. Udemy gives you lifetime access to each course you sign up for, and all courses are backed by Udemy's 30-day money-back guarantee.
*Note: Prices of courses may vary among Udemy cybersecurity courses.
7 Best Cybersecurity Courses for Professionals
Our Take:
Nathan House is CEO of Station X and is highly qualified to lead these courses on enterprise cybersecurity. 
Description: Part Four of a larger series on cybersecurity, this course covers antivirus and antimalware, disk encryption, and removing hackers. In fact, it teaches a practical skill-set in securing laptops, desktops, and mobile devices from advanced hackers, trackers, and exploit kits. Additionally, the course covers methods like application control, execution prevention, machine learning, and AI as well as deception and detection technologies.
Our Take:
Packt Publishing creates developer learning courses and has an extensive library of content. 
Description: This video course, targeting system administrators and information technology staff with limited budgets, helps to close the gap in basic security knowledge. Lessons include secure infrastructure, wireless access points, firewalls, and servers. Also, students can learn how to secure applications and data via vulnerability scanning and patching, encryption, and data loss prevention. Finally, the course covers how to protect users from malware, phishing, and social engineering.
Our Take:
Rahul Jamgade is a certified CISSP and a speaker at numerous cybersecurity conferences and summits. 
Description: Designed for technology students, information technology professionals, and beginners in IT security, this course offers a refresher on "ethical hacking." It tries to avoid a too-technical perspective. Instead, it focuses on providing a broad sense of cybersecurity; lessons include vulnerabilities, threats, identity management, advanced persistent threats, and ransomware.
Our Take:
Sikandar Shaik is a highly experienced and extremely driven senior technical instructor and network consultant. 
Description: Here, we see a course designed to help CCNA security candidates to prepare for exam topics covered by the 210-260 IINS exam. Concepts explored in the class include network security concepts, basic authentication, authorization, secure routing, and switching infrastructure, and firewalling services. As such, it is ideal for network security specialists, security technicians, security administrators, and principal system engineers. 
Our Take:
Jonathan Elliott is a focused cybersecurity teaching with a focus on different programming languages, network security, and endpoint hardening. 
Description: Students in this course can learn the fundamental cybersecurity principles allowing them to defend their networks against hackers of all skill levels. Instead of offering a course on how to operate in an attacker (red-team) capacity, the lessons here focus on defense. The class provides an opportunity to learn all of the information security principles alongside new technologies professionals use to stop hackers from breaching their networks. Students beginning their careers in cybersecurity can find a lot to learn here. 
Our Take:
Roy Davis has 14 years in IT and 5 in security specifically now focused on sharing his considerable expertise with fellow students. 
Description: Ideal for managers as well as employees dependent on computers for their jobs (i.e. most employees), this course covers a broad spectrum. As such, it teaches social engineering, how to spot red flags, password best practices, ransomware prevention, and internet safety. Students can learn what as well as why and how cyber attacks work. The course can help with both individual and organizational cybersecurity. 
Our Take:
Michael Goedeker Cyber Security Researcher, Speaker & Trainer with experience at multiple cybersecurity firms and providers worldwide. 
Here's a course designed for true beginners, as well as anyone interested in cybersecurity and securing data. In fact, it covers cybersecurity areas, including cyberwar, espionage, and hackers. Additionally, it covers basics based on actual literature reviews, academic research, and personal experience in global projects in cybersecurity, focusing on cyber warfare, espionage, crime, and defenses as well as attacks used. 
You can learn more about Udemy cybersecurity courses here. Additionally, you can also check out our Buyer's Guide for information on the top solution providers in Endpoint Security.
Solutions Review participates in affiliate programs. We may make a small commission from products  purchased through this resource.

Latest posts by Ben Canner
(see all)