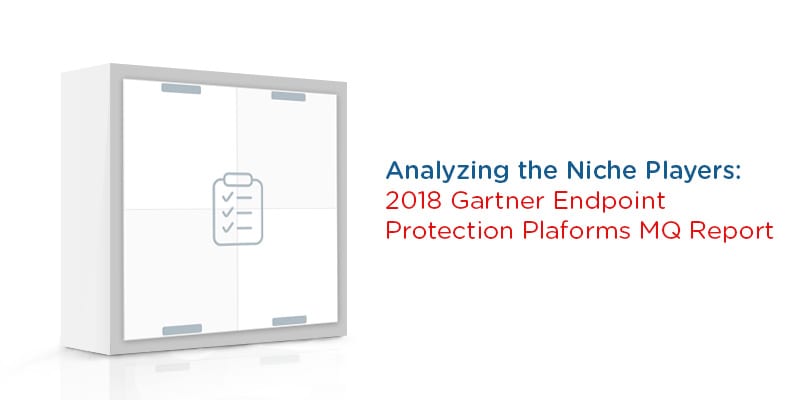 When technology research firm Gartner released their Magic Quadrant for Endpoint Protection Platforms for 2018, they identified five solutions providers as Niche Players. Those five vendors are Palo Alto Networks, Bitdefender, Comodo, FireEye, and Fortinet.
In the report, Gartner defined the Niche Players as the providers who met the strict inclusion criteria for the 2018 Magic Quadrant for Endpoint Protection Platforms; they offer anti-malware and EDR yet might prove more beneficial to specific use-cases than other buyers. These use-cases might relate to certain geographic areas or delivery methods. However, in these use-cases Niche Players can outperform other vendors.     
What are these use-cases? Who are the Niche Players in the Gartner 2018 Magic Quadrant for Endpoint Protection Platforms? We analyzed the report once more to gain some insights:
Bitdefender
Bitdefender offers endpoint protection and EDR on the same cloud-based, single agent platform, and Gartner praises them for their capabilities. They're working to expand their customer base past the consumer segment and their brand awareness via their exceptional EDR capabilities.  
Comodo
Comodo offers web filtering, malware protection, and sandbox analysis, among other EPP capabilities. Additionally, they provide web gateways and mobile device management for small-to-medium sized businesses. Comodo also offers managed endpoint protection.   
FireEye
FireEye joined the Magic Quadrant for Endpoint Protection Platforms for the first time in 2018. Their Helix security suite offers web and network security in addition to endpoint security. FireEye allows customers to store 30 days of endpoint data in the cloud by default.
Fortinet
Fortinet, much like FireEye, originally joined the Endpoint Protection Platforms Magic Quadrant in 2018. Gartner describes their solution as easy to deploy and manage, and their customizable modules support solution consolidation.
Palo Alto Networks
Palo Alto Networks offers its highly-regarded Next-Generation Firewall. Gartner notes their endpoint security solution, Traps, offers diverse capabilities such as machine learning and other non-signature detection tools. Palo Alto also offers cloud-based threat analysis.      
EDR appears to influence Gartner's' picks for the Niche Players in the 2018 Magic Quadrant for Endpoint Protection Platforms. Gartner considers EDR one of the most important considerations for their vendor selections; they devoted a large section to the capability in their report.
On the other hand, some of Gartner's language suggests the heavy focus on EDR stems as much from customer satisfaction issues. Gartner states in the EDR section: "Even the most damaging and high-profile attacks in 2017…could have been mitigated or the impact reduced by better IT operations, and by better education and communication from security vendors to their customers."
"The most visionary and leading of vendors in 2018 and 2019 will be those that use the data collected from their EDR capabilities to deliver actionable guidance and advice that is tailored to their clients."     
We believe the Niche Players, like the other Endpoint Protection Platforms, will continue to innovate and refine their EDR. However, we also predict serious investment in customer service and improving the user experience of their products. In a cybersecurity paradigm shifting to threat detection and remediation, this might be a critical consideration.
You can download the full 2018 Magic Quadrant for Endpoint Protection Platforms provided by Carbon Black here. You can check out our other thoughts on the MQ report here.     

Latest posts by Ben Canner
(see all)